Submitted by Assistance League of Bellingham
Eating Healthy is the newest philanthropic program at Assistance League of Bellingham. It was designed to enhance community programs that teach children to enjoy, prepare, and grow healthy, organic food. This new program came about after several years of research and discussion regarding pressing needs in Whatcom County.
Our initial goal was to partner with and empower the existing program, Common Threads Farm to help children whose families could not afford the cost of participation in their camps. We would also give Common Threads Farm some of our excess donations that could be used in their cooking classes at Whatcom County schools, in the school gardens, and arts and crafts materials for their camps.
As with so many other community programs, the onset of the COVID virus and the need to restrict social interaction forced us to rethink how we could help children experience the positive benefits of eating healthy food. When the WWU Outback farm, where the Common Threads Farm camps were held, had to close, we realized that our plan to provide camp scholarships to lower income families was no longer possible. Instead we found other ways to assist them.  We provided cloth face masks for their AmeriCorps volunteers and encouraged our members to help maintain school gardens so food produced could be distributed to those in need. At-home activity materials could also be translated when needed.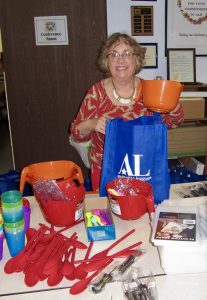 Most recently, we assembled 150 "Grab n' Go" bags with basic child-friendly food preparation equipment in an Assistance League tote bag that could be used to send the children home with fresh produce for their families.
Member volunteer JoAnne fills each tote bag with new items purchased by Assistance League. They include a child-friendly knife, cutting board, peeler, mixing spoon plus a plate, cup, spoon and fork.
These "Grab n' Go" bags are being distributed to children in need this summer at the training camp activities organized by Common Threads Farm. It has been a busy year, but we are pleased to play a part in helping children learn more about eating healthy food.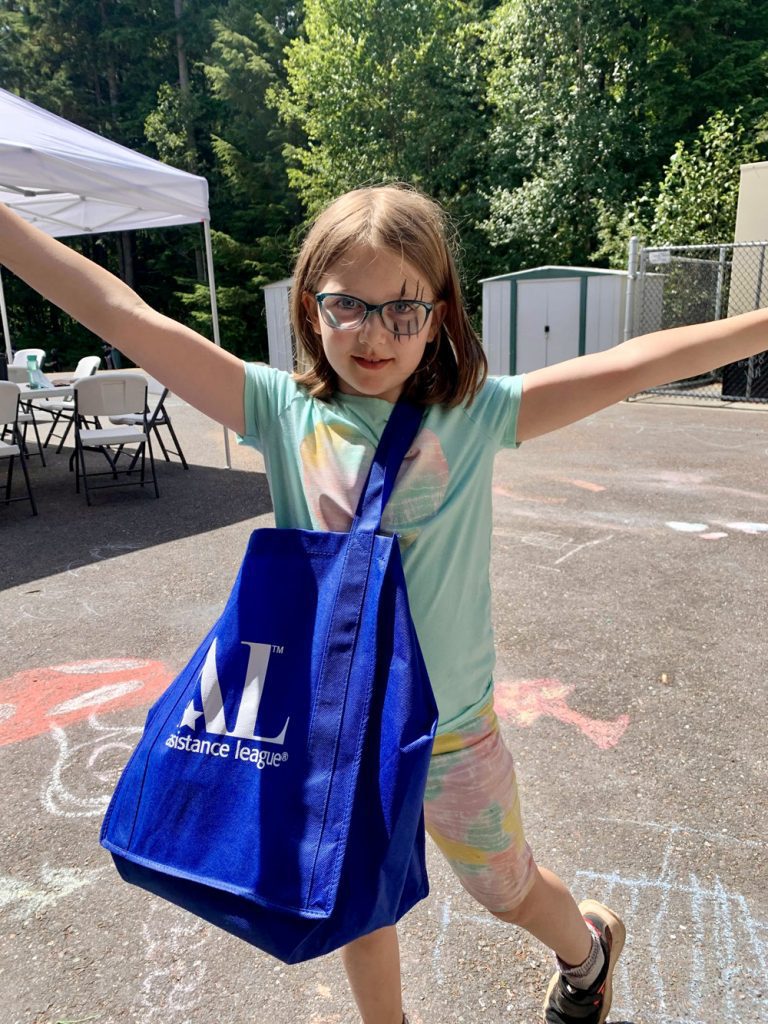 Next summer we hope to return to our scholarship program so that all Whatcom County children have an opportunity to have this experience. These scholarships will be different from Assistance League of Bellingham's existing Enrichment Scholarship Program because our Eating Healthy Program scholarships will be needs-based.
Assistance League of Bellingham is a nonprofit 501(c)(3) organization and all funds raised stay in Whatcom County. Our philanthropic programs are funded by sales of donated items at our Thrift & Gift Shop and two major fundraisers.
To learn more about what we are doing in the community and what is being highlighted at our shop every week, visit assistanceleague.org/bellingham or follow us on Facebook and Instagram.