The last year hasn't been easy for anyone. Many people and businesses were forced to alter plans, for better or worse, as COVID-19 uprooted normal life. CorePhysio, a longtime local leader in orthopedic manual and physical therapy, was no exception.
Two years ago, the company purchased property at 1825 Grant Street—the former Stampadoodle and Skipper's location—in downtown Bellingham, with plans to renovate the building and relocate their existing practice from 1514 12th Street in Fairhaven. Things were supposed to be wrapped up by June 2020, but once the pandemic struck, renovations weren't completed until September. The plan for the new space, however, was also altered.
"We found ourselves, as a company, with a lot of space, during a pandemic, when space equals safety," says Elizabeth Hampton, CorePhysio CEO and clinic director.
So, the decision was made to remain in Fairhaven, using the Grant location as a third clinic space (their second location is a pelvic health clinic located inside the PNW Urology building near PeaceHealth St. Joseph Medical Center). This decision maximized CorePhysio's square footage per person in a world where social distancing had become the norm.
The company's entire staff had input regarding the new clinic's design, Hampton says, and the building was completed with the help of local contractors Chuckanut Builders, Spiral Design Studios, RMC Architects and Signs Plus.
CorePhysio's administrative staff moved to the building from the Fairhaven location, while other staff in departments like billing and authorization worked from home. CorePhysio also continued doing everything they could to keep staff and clients safe, slowing down appointment scheduling by 25 percent and continuing to stagger appointments so no more than three people at a time could check in.
After all the renovations, equipment purchases, and decision-making, the Grant clinic opened to physical therapy and personal training clients in the fall of 2020.
"We've taken this last year to set the stage," Hampton says. "Slowly tricking everything out. We have three clinicians who treat at Grant, and it's enabled us to essentially beta-test our new site to prepare for our grand opening this fall."
The new location also reorganizes CorePhysio's team of business and clinical professionals, Hampton says. Some will shift solely to the Grant clinic, while others stay in Fairhaven. Saturday appointments will be exclusively at Grant starting in September 2021.
The Grant clinic features a sizeable gym area with a large garage door to provide outdoor airflow, and additional workout space planned with a covered outdoor pavilion for purposes of air circulation and daylight. The new equipment is sure to satisfy any client, whether they're a youth athlete working on vertical jumping or ACL rehabilitation or an active adult working on building muscle mass, bone density and balance.
"All of our clinicians at Fairhaven and Grant are experts at designing challenges for an active or athletic person of any functional level," Hampton says. "At Grant we have a push sled you can load down with 100+ pounds, and you can sprint or walk and push it across the gym. Our weightlifting capacity at Grant expands our clinicians' and trainer's ability to physically challenge our active and athletic clients."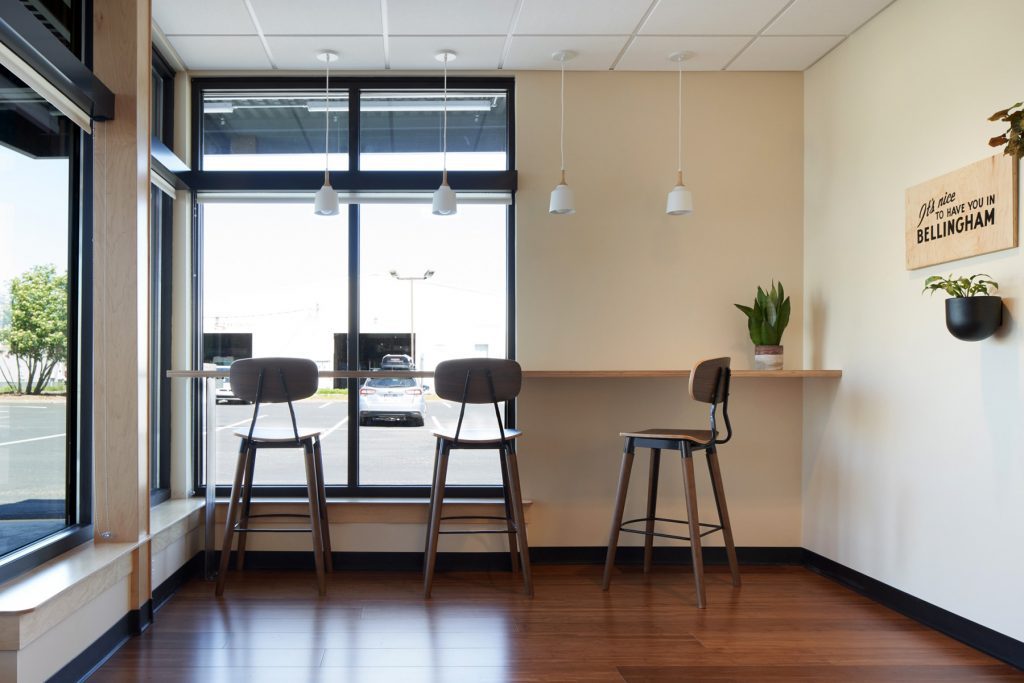 The new location is all part of continuing CorePhysio's mission of being a fitness-forward physical therapy clinic.
"We don't want people to come to PT for a little artificial window, and then go back to what they were doing before," Hampton says. "Our goal is to link them with regular fitness and physical challenges so that they can return to what they love to do."
In addition to also having ample parking (34 spaces and a bicycle rack), the new Grant location was designed to be as environmentally friendly as possible.
CorePhysio relied on the expertise of local contractors like EcoTech Solar for their solar energy array and are working with Northwest Rain Solutions for a rainwater catchment system in the future. The building also has automatic water bottle filler stations. Windward Landscaping helped plant seven street trees, and Hampton says neighbors are overjoyed at how nice the building and surrounding area now looks.
One beneficial side effect of the pandemic at CorePhysio was properly addressing indoor air quality. Inside both the Fairhaven and Grant locations, building HVAC systems were upgraded to use MERV 13 filters, the best air filters for COVID, interior allergens, and other viruses, Hampton says.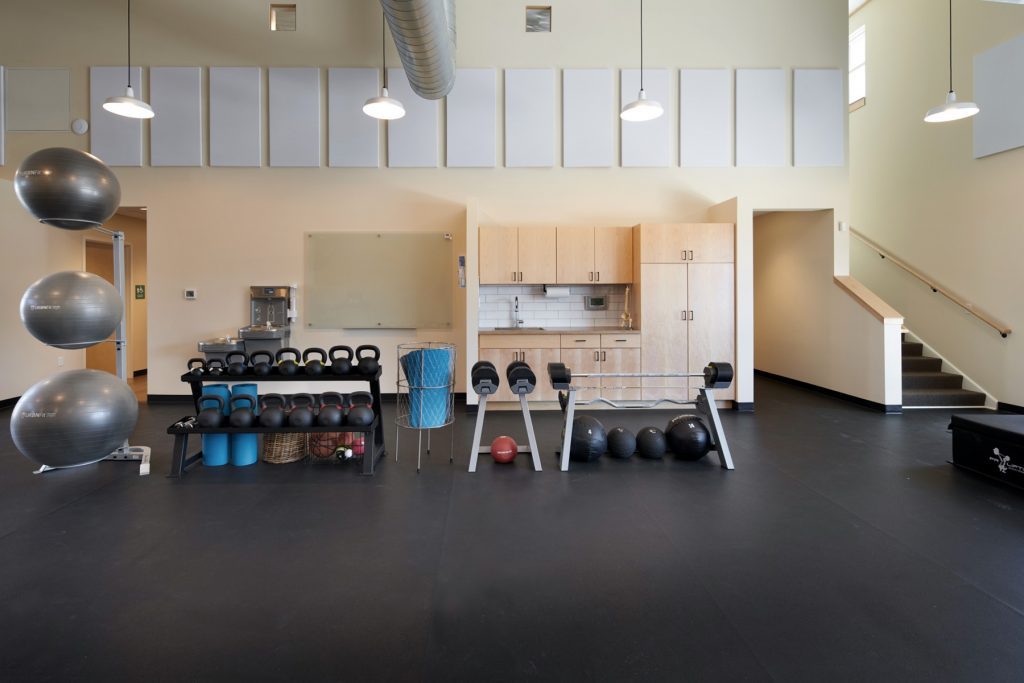 Even with top-quality air circulation, CorePhysio remains committed to enforcing the continuing indoor mask mandate for healthcare facilities. Upon entering any clinic location, clients are provided a procedure mask for the best practice of standardized masking. The only exception is for vaccinated fitness patrons exercising in the outdoor pavilion, or with the gym garage door open.
To date, there have been no COVID-19 cases directly associated with CorePhysio from either clients or staff, and the company continues to make the health and safety of its clients and staff a top priority.
"As hard as this past year has been, we're so proud to be part of this incredible community," Hampton says. "We're grateful that we made it through the pandemic. That our staff is safe, their families are safe. Our clients are safe, and they continue to trust us for their care. We're really excited to welcome everyone to the new Grant space, and continue to serve the Southside with our Fairhaven clinic."
Sponsored