Two years ago, Michael Cox's wife, Abby Koehler, purchased an e-bike—a pedal-assisted electric bicycle—after rupturing the ACL in her knee. Prior to that injury, she'd always ridden her bike to work at Western Washington University. Getting an e-bike helped her continue her bike commute habit— and also turned Michael into an e-bike convert. A year later, Abby bought Michael his own bike, because he borrowed hers so often.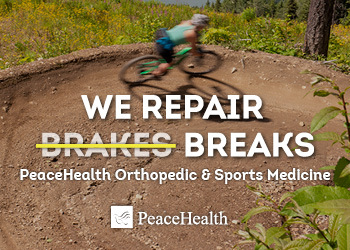 Both ride Trek brand Verve bikes. Cox read in their manual that each time you replace your car or an emissions-emitting vehicle with a bike trip—to the gym, grocery store, work, or wherever you need to go —you make a small contribution towards the carbon neutrality of your bike. If you ride a collective 430 miles—a little over a mile a day for a year—that you would have otherwise used a vehicle for, you've saved the carbon equivalent of what it took for Trek to make your bike. Anything above 430 miles? Your bike is now carbon-negative.
For two years, Michael commuted to work on his non-e-bike.
"I felt like the only tie-wearing bike commuter in Bellingham," he says. Arriving to work sweaty and out of breath caused him to eventually stop. "Getting an e-bike was a game changer for me. The lights are bright and built-in, so I no longer need to change those batteries. I can choose my level of assist, allowing me to get a good workout when I want it and to pull into work without feeling over-exerted as needed, so I'm back to commuting by bike."
Also, he says, the e-bike feels safer, allowing him to keep up with traffic through roundabouts.
"I do feel a little ashamed when I pedal by riders on an uphill slope. I tell them that they're doing great and that I am cheating because I have a battery," Michael says. "At the same time, I feel great because I'm back to choosing my bike over my car for my daily commute."
Bellingham musician Chuck Dingee lives on Alabama Hill and first considered purchasing an e-bike because he wanted to better negotiate his neighborhood. He's now owned four.
"I was given three cheap Chinese bikes with [permanently] dead batteries," he says, "and I tried to make them work with new batteries, but they had broken parts and no replacements available."
After shopping around and educating himself about e-bikes, Chuck decided to get a pedal-assist bike with no throttle. (The motor is on the pedal, not the wheel.) "They're easier to work on, if needed, and I only wanted pedal-assist."
"I wanted a good bike with gears and easy to use power," Chuck continues. "I settled on a Raleigh, and I really like it. I can use it as a regular bike until I need the assist and quickly engage up to four levels."
"One thing to keep in mind," Chuck cautions, "is if you have a throttle [motor on wheel] and are going up steep hills, you should also pedal because the motor will not last long otherwise."
Rick Aydelotte and his wife, Rita Kraft, are admitted adventure junkies. They were looking for the ability to make longer rides with less effort on steep hills.
They tried four different bikes. In November 2019, Rita purchased a Rad City model and Rick purchased a Rad Rover, both online from Rad Seattle.
They mostly ride as a couple, averaging 10 to 15 miles per ride but they both take solo rides, too.
"We also enjoy riding with other couples and the electric power allows us to stay together regardless of physical conditioning."
They've been to Lummi Island, the San Juans, Guemes Island, Death Valley, Mount Rainier, Deception Pass, and north Whidbey Island.
"Any cheap aerobic high brings joy," Rick says, "but the sustained peddling is great for complete oxygenation. I'm always amazed how often I resolve problems, think of great solutions, and find inspiration when reaching/grasping for breath, whether hiking, skiing, or riding. Riding in really strong winds is exhilarating. Having strong legs and lungs as a result of frequent rides makes dancing more fun."
They recently purchased helmets with Bluetooth communication between riders, which improved the riding experience, making it more of a couples activity, with the ability to share things they see and just have general conversation.
The downfalls? All bikes are dangerous, Rick says.
"We ride more miles and more often since we got e-bikes. Since the exposure is more time on a bike, the risk is greater," he says. "That said, the improved disk brakes and lights add to safety. When mounting, the throttle gives a little boost to get going easier, and certainly the throttle helps to cross traffic at intersections, which gets us out of the way sooner, all adding to a safer riding experience."
Be mindful of choosing places where there are wider shoulders, fewer cars, and more bike trails, Rick cautions, and watch out for soft sand and really loose gravel.
Fairhaven resident Debby Meyers says she's always enjoyed biking but, as she aged, had a harder time with hills—and keeping up with her husband.
"I went to just about every bike shop around, even driving down to Seattle to try the Rad bikes," she says.
"I finally settled on the Allant 7S by Trek because it's a bit lighter and very comfortable. They also had nice color choices."
She uses her bike to get around town and for leisure rides.
"I zip up hills like I did when I was in my 20s," she says.
Her advice? Really shop around and keep in mind they are a bit harder to transport by car; you need a bike rack that mounts on a trailer hitch in the back of your car. E-bikes are heavy and loading them onto a rack or van can be difficult. Thule makes a bike carrier with a ramp, but Debby says it can still be tricky.
"Riding my bike just feels really good," she says. "It's a great way to get around and get exercise at the same time. It's a fun activity I enjoy sharing with my husband and friends. Getting an e-bike was a great choice for me. If you've always enjoyed riding and notice that you are doing it less, now is the time to think about getting an e-bike."
Places to buy e-bikes in Bellingham: