Over the last year, many of us have read more than ever before. That's not just my opinion, there are articles supporting this statement all over the place—just Google the question!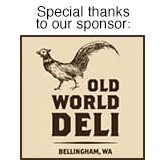 A few weeks ago, my friend Kate Ristau in Portland released a young-adult novel, "Clockbreakers: The End of Time." Book releases are typically done live at the writer's home bookstore, with fans, friends, and family gathered in the seats. I would normally have taken the train down and joined our friends to cheer her on. Kate bravely spoke into the ether for her virtual release party on Zoom. After her reading, participants could ask questions in the chat box and Kate addressed them, her audience in boxes on her screen like the old Hollywood Squares. At the end, we all unmuted ourselves and gave a shout-out to our friend before clicking "Leave Meeting."
I thought about my own book release at Village Books in Fairhaven, in 2015, where I looked into the faces of my audience and fed off their energy. I can't imagine not having that. I wanted to learn more about how book releases are changing because of the pandemic. Will they go "back to normal," or will elements of the experience carry over into the future? My question led me to Village Books Event Coordinator Claire McElroy-Chesson.
There's no doubt that the virtual release format has been great for authors published by small independent presses. "They're no longer limited by geography," McElroy-Chesson says. Authors do their own publicity on social media these days, and people can attend virtual events from all over the world. Where authors once did book tours in many cities, their virtual events can reach an entire fan base in a single event. The tradeoff is no live interaction, no selfie with the author at the signing.
McElroy-Chesson mentions that, in rare cases, live events would have no attendees. With the virtual format, every release they've done for adult readers has had at least 10 people join online. Events for children have been less successful, unless a school or library is involved.
The biggest change in release format due to the pandemic has been the shift to an interview-style talk rather than a reading at a podium. Another author is brought in to interview the featured author, or two authors may do a joint release and interview each other, like friends Lisa Dailey and Cami Ostman did. Both small-press publishers, they're no strangers to innovation.
Dailey's Sidekick Press published an anthology of pandemic poetry from the local writing group Red Wheelbarrow Writers, titled This Uncommon Solitude. Dailey's own book, Square Up: 50,000 Miles in Search of a Way Home, was released in March 2021, and she did a live (masked and distanced) signing on the Fairhaven Village Green before her online talk at Village Books.
Ostman, creator of The Narrative Project, a small press for memoir writers telling their own stories, released True Stories, Volume III, an anthology of personal stories in a concurrent event with Dailey's poetry anthology. Ostman had her writing students choose one chapter in the memoir books they were writing and make it stand alone, and then published the chapters in her anthology.
The pandemic has forced people to be more resourceful. Dailey discovered the podcast circuit for book marketing and publicity. Cami Ostman says that online materials remain available in perpetuity, and become part of an author's media kit. "You can reach a universal audience," she says. "On the other hand, you don't get gratification from your audience the way you do with a live event. Pandemic marketing has shifted to breadth rather than depth."
Laura Stanfill of Forest Avenue Press had a particularly sad introduction to pandemic marketing. She was scheduled to release The Royal Abduls, by Ramiza Shamoun Koya, in May 2020. Koya was diagnosed with terminal brain cancer a few months before, and a live event was too risky for her with the threat of the virus looming. It became apparent that she might not make it to May, and Stanfill chose to push the publication date and do a virtual release party in March, before lockdowns were even a reality. Koya passed away June 8, 2020. This, combined with losing several loved ones to COVID-19, led Stanfill to write a "zine" called Sad House, about parenting while grieving through the pandemic.
When asked if people are buying more e-books as opposed to physical books, McElroy-Chesson says the popularity of e-books seems to have plateaued—but Village Books' online sales for physical books have increased. Village Books offers the option to ship, pick up online orders in the store, or pick up curbside, and many people prefer that local touch to the anonymity of a large online retailer. Also, with businesses struggling during the pandemic and neighbors losing their livelihoods, public awareness of local shopping has become personal.
The owner group at Village Books is discussing when to resume in-person book release events. They think it may be this fall, but it's hard to predict the end of the pandemic and how long it will take people to get comfortable with contact again.
The virtual format has taken down barriers for people with disabilities and chronic illness to attend events. This is a benefit they're aware of and don't want to lose in the future. A hybrid format—a live talk that's recorded for an additional remote audience—may be the answer. McElroy-Chesson says they would have to provide additional staffing for the audio-visual support.
Bookstore owners everywhere are discussing streamlined ways to provide a hybrid format, and one idea is to charge a fee for virtual attendance. McElroy-Chesson says it would be a small amount, like $3, as opposed to $20 or more that people pay for concerts and other online events. They are brainstorming possible ways to waive the fee for disabled users. Typically, live events make money for the store and the author by selling copies of the book on-site for the author to sign.
There's a lot of talk about getting back to normal, or not getting back to normal, because in many instances, normal wasn't working for us. With book releases, the pandemic will leave permanent changes in the way we do things. Bookstores will keep the greatest of the changes while happily reclaiming the best parts that were lost. Ultimately, the experience will probably be better.