Looking for some good news? The City of Ferndale is hosting a full slate of summer parks activities this year! After careful consideration and consultation with health experts, the city is moving forward with its "2021 Summer of Fun."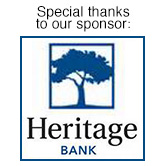 These free events will be held outdoors in Ferndale parks, and require all attendees practice social distancing and wear a face covering to ensure everyone can have a safe experience.
"We know everyone is excited to get out of the house and do something fun this summer," says Mayor Greg Hansen in a press release. "We believe we have a way to come together as a community in a safe and responsible way."
Aeden Hunter, whose group SpaceBand plays July 17 at Pioneer Park, says COVID has certainly affected the band's gigs.
"Aside from a couple online streaming shows," he says, "we haven't played together for well over a year. We got together recently to practice for the first time in a long time in preparation for a bunch of shows lined up starting in June and it felt really good to knock the dust off, find our groove, and visualize a packed dance floor again—with everyone staying safe and wearing masks, of course."
"Besides the weddings and private parties coming up, we're excited about summer events in Ferndale," he continues. "We can't wait to perform again and hope we can all stay safe and healthy while having a blast. It's been a long time coming!!
Following is the full list of activities:
Food Truck Fridays will be held on the first Friday of each month at Star Park. Food trucks from around Whatcom County will sell hot meals starting at 5:30 p.m. and will keep serving until they run out of food or customers, whichever happens first.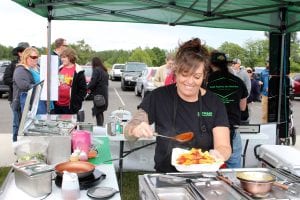 Riley Sweeney, communications officer and recreation coordinator for the City of Ferndale, says that Sage Against the Machine has been a great participant the last couple of years. Tara Folenius-Johnson, with her husband Nate Johnson, has owned and operated the plant-based food truck since 2018. She says they never shut down during the pandemic and that their success comes from customer service, as well as serving amazing food made from plants.
Here's which trucks you can expect to see on Food Truck Fridays, and when you'll be able to visit them:
June 4
July 2
August 6
Music in the Park will be held on Saturday nights on June 19, July 17, and August 14 on the stage in the historic Pioneer Village. Seattle-area rock cover band 3 Trick Pony will play June 19, Bellingham R&B/hip-hop sensation SpaceBand on July 17, and Vaudeville Etiquette on August 14. Gates open at 5:30 p.m.; music starts at 6 p.m. and runs until 7:30 p.m. Sit on a bench or bring your own blanket for the grass.
WECU presents Flicks in the Park held Friday nights at dusk in the historic Pioneer Village. Bring something to sit on—a chair or blanket—and enjoy a family film after the sun goes down. Doors open at 9 p.m.; the movies start at 9:30 p.m.
What's playing:
June 25: "Coco" (2017)
July 9: "Labyrinth" (1986)
July 16: "Indiana Jones and the Last Crusade" (1989)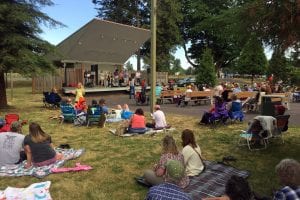 The Great Ferndale Frontier Folly is a citywide scavenger hunt with riddles and prizes. This event will be held throughout the month of July. Follow clues published on the city website and social media to locate hidden banners in Ferndale parks. Solve riddles, discover new parts of your community, and complete other activities to score points and win prizes.
Stargazing with the Perseids Meteor Shower will be held on August 13 after dark at VanderYacht Park. Identify constellations with glow-in-the-dark star charts, observe the moon and other celestial objects through larger telescopes provided by amateur astronomers, or just relax and enjoy the peak of the Perseids meteor shower. Riley Sweeney says glow-in-the-dark star charts will be available to locate your favorite constellations, and amateur astronomers from the Olympic Astronomical Society (OAS) will be on hand with larger telescopes to offer looks at the moon, Mars and Jupiter and any other neat things they can locate that night. There will be plenty of red solar lights, so no one trips. Viewing begins at sundown, approximately 8:30 p.m.
As required by Governor Inslee's Proclamation 20-25.2 (Healthy Washington Roadmap to Recovery), face coverings and social distancing protocols will be required for all attendees. This is an essential and necessary component to making these events safe and successful.
The only mask exception the city will allow is for persons with a medical condition, mental health condition, developmental or cognitive condition, or disability that prevents them from wearing a facial covering. The city is not allowing exceptions for any other attendees, even when six-foot distancing can be maintained from non-family members.
City staff will have face shields and masks available at no cost for those who need them. This requirement may be lifted at a later date as public health conditions improve.
More information is available at www.cityofferndale.org/parks.