Anxiety disorders affect about 40 million adults in the United States—nearly 20 percent of the country's population. Major depressive disorder, according to the Anxiety & Depression Association of America, affects at least another 16 million.
In an age where the mounting stresses of modern life can trigger feelings of despair and hopelessness, it's no surprise that many doctors are seeing a rise in patients struggling with common mental health conditions like anxiety and depression.
That's why PeaceHealth is working to establish an integrated approach to care for patients. Based on clinically proven research and using the University of Washington's AIMS Center Collaborative Care model, PeaceHealth's goal is to enhance how mental health clinicians, like social workers, provide treatment and coordinate care with patients, primary care physicians, and psychiatric consultants. This support includes various evidence-based treatments including medication management, when needed.
Rebecca Springer, a Bellingham social worker with more than two decades of experience, is PeaceHealth Medical Group's new lead behavioral health clinician. Having trained with consultants from the AIMS Center, Springer says that rather than only having the ability to access outside referrals—some of which may take weeks or months to fulfill—the goal of this model of care is to provide timely, brief treatment proven effective in primary care settings, increasing access to treatment for patients when they need is most.
"We want to really transition from a reactive approach to more of a proactive approach," Springer says. "The tools are focused on supporting the person with here-and-now symptoms or stressors interfering with quality of life and self-care."
Hope From Struggle
All too often, when a primary care doctor refers a patient to a community-based mental health provider, it's on the struggling patient to establish contact with the provider. But for various reasons, including the obvious fact that they're already struggling to get through the day, up to 50 percent of patients don't follow through with their referrals, Springer says.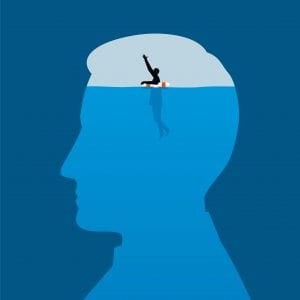 In the AIMS model of care, a primary care doctor sends a referral to a mental health clinician, who then typically reaches out to the patient within a day or two. Following an assessment, a mental health clinician like Springer meets frequently with the patient—who is the center of care—and consults regularly with the primary care physician and a psychiatric consultant to assess the best course of treatment.
If symptoms of anxiety or depression are not improving, and a patient is interested, then medication or modifications to current medication can be offered. Whether it's trying a medication for the first time, or switching to a new one because the old one isn't working as well as it used to, weekly one-hour discussions between a psychiatric consultant and mental health clinician ensure an updated treatment plan gets to a patient's primary doctor often within a week so any needed changes get made.
Behavioral interventions, meanwhile, focus on the here-and-now symptoms and stressors interrupting healthy routines and keeping us from engaging in activities we once enjoyed. Different from traditional, longer term community-based mental health, this model is intended to be brief and provided in the primary care setting. Community specialty care remains an immensely valued, necessary, high-quality resource and when this type of care is needed, or desired, the clinician can provide support in getting connected with someone they trust.
Goals of this model are intended to be targeted and practical, meeting the individual where they are at, in that moment. One example, Springer says, is exercise. If a patient used to walk or run five miles a day and is struggling with depression, getting them back on track might begin with an initial, simple goal—like putting running shoes by the door and thinking about where their ideal exercise location would be.
"We know that, for all of us, when we start being more active, engaging in relationships and activities we enjoy—whether it's for anxiety or depression—it helps us manage those symptoms better," Springer says. "But taking those first steps to do that can be really overwhelming and our focus is on supporting people in doing that."
Body and Soul
A clinician reaching out to someone when they're unable or reluctant to reach out by themselves is different from the way a referral has traditionally been provided in primary care settings. Supporting this engagement in treatment not only has a positive effect on our mental health, Springer says, but can also be essential to our physical health.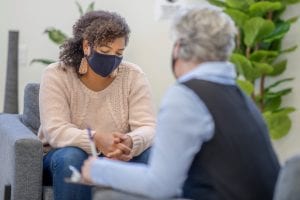 "Mental health and physical health are strongly tied," she says. "It's the whole person that we're treating.
The long-term consequences of common but untreated mental health concerns can become a health crisis, whether it is mental or physical in nature, she adds. Timely treatment can possibly prevent a person from ever reaching a crisis
The team approach of the collaborative care model commonly results in better outcomes for those struggling with symptoms of anxiety and depression. When combined with societal efforts to de-stigmatize discussing and seeking mental health treatment, those struggling can get their lives back.
"I think that the more we become aware of how closely related our physical health and our mental health are," Springer says, "and the more we're willing to talk about and address this connection, the healthier we'll be."
Sponsored