For nearly 50 years, the national Meals on Wheels program has supplied nutritious meals to senior citizens, delivering to their front doors and offering hot meals at senior centers. In the midst of a pandemic, things look a little different, and the folks who would have "dined in" now drive to the Bellingham Senior Activity Center to pick up to-go meals. That's where you'll find Chris Orr, executive director of the Whatcom Council on Aging, greeting and sharing smiles with the seniors he serves.
Originally from Anacortes, Orr found that he had "a heart for service." He attended the University of Washington to study economics, where that belief in service led him to what he now describes as a six-month internship that lasted 26 years. "The fraternity I was involved with does philanthropy for kids with disabilities, and we ran a charity bike ride that went from San Francisco to D.C. every summer. I participated in that twice, then went to intern with that organization in North Carolina, and ended up running the event for six years."
Living in Charlotte and raising a young family, Orr took another unpaid position that led him to another leadership role, this time as the executive director of his local YMCA. "I started volunteering, coaching soccer and basketball, and doing community work with the Y in Charlotte—and that turned into a 19 year career," Orr says. "But as my parents were aging, we were anxious to get back to this side of the country and be closer to family."
Orr's experience in North Carolina helped guide him when he returned to the Pacific Northwest. As he settled in, he toured the Whatcom community, meeting with elected officials, other non-profits and business people.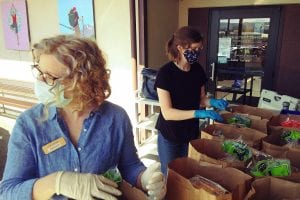 "Folks were really welcoming, and there's a spirit of willingness to collaborate that I haven't experienced all the time," he says. One group he worked with early on was Aging Well Whatcom. "They've been doing great work, and it was inspiring that a local foundation had taken up the cause of seniors and what it means to age well in this community."
That collaborative spirit is also found in the Meals on Wheels and More program, which unites Bellingham with senior centers all over Whatcom and San Juan Counties. "Bringing meals to people's homes is huge not only from a nutrition standpoint, but also as a health and wellness check-in, a social connection," says Orr. "When I first got here, I did a ride-along with a volunteer that had been driving for us for 19 years—the care and relationships he had with everyone on his route was just amazing."
In 2010, the Meals on Wheels and More program delivered 47,000 meals to home-bound seniors. It had reached nearly 57,000 in 2014, jumped to nearly 100,000 people in 2019, and leapt to over 145,000 in 2020—a 46% increase in a single year. Then, as COVID hit, they saw they would have to change the way they catered to clients that preferred to enjoy their meals in person.
"When we had to make the decision to close the senior centers down, we all pivoted. We wanted to continue to serve people that joined us for meals at the center, so we started with a daily walk-up service," Orr says.
But it became clear that inviting people to line up together wasn't ideal, either. "So we went to the weekly distribution that you see today, and we've been doing that for a year, rain or shine."
Another new partnership emerged recently when Bellingham Public Schools and Bellingham Food Bank took the lead in creating the Farm to Freezer program.
"Last spring, they got some grant money to provide for local farmers who were unsure about what they should plant, what they may be able to distribute, what was going to happen with farmer's markets and other networks," says Orr. "That produce then came to the school system, who prepared soups and other meals that they were able to freeze, and this last winter we've been distributing that along with other partners."
In addition to developing partnerships, Orr has seen the pandemic as a reason to invite his team to get creative. "For 10 years we've done a program called Senior Day at the Park, and it would bring seniors from around the county for a big cookout. We'd have vendors there to share resources with around 450 seniors," Orr says.
Since they couldn't do that last year, they hosted a drive-up cookout instead, and distributed bags that included contact information for 50 different organizations. "And we had close to 900 people. It was great to keep people connected with resources, and it was nice for people to get out of their houses."
Orr is well aware that there's another large group of people he couldn't do any of this without: the Council on Aging staff and volunteers from the community. He's quick to thank those who are serving now, and is always on the lookout for new faces. "We had a lot of early support that enabled us to never have to turn anybody away. This year is a little more challenging, because we've been doing this for a while now," Orr says. "I've been inspired by seeing that people aren't territorial, that they're very willing to collaborate. I love that about my job—and this community."