If you were to ask what the tech industry, a live turkey named Butters, and French fries topped with cheese curds and gravy all have in common, the answer would be Peter Hauser.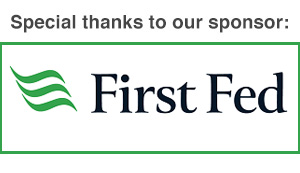 Hauser is the man behind Pete's Poutine, a Whatcom County food trailer that opened its doors last year and specializes in the beloved Canadian dish known as poutine.
"It's kind of the ultimate Canadian comfort food," Hauser says of poutine, which isn't widely available in Whatcom County, despite the proximity to its country of origin. A continuing pandemic-related border closure makes good poutine even harder to obtain these days.
The Pete's Poutine team, however, is happy to feed both poutine diehards and novices. Hauser says it surprises him that more local residents don't know what poutine is, but he's happy to educate them.
"Once they try it, they're sold," he says. "They become our evangelists. It's super fun to be able to see people go from being new to poutine as a food to being the biggest proponents of what it is to their friends and family."
Trying Something New
Hauser was born in Germany, but his family relocated to Vancouver's North Shore when he was two years old. After attending Simon Fraser University, Hauser moved to the United States in 1997 to become an engineer at Boeing. Eventually, he left the company for Microsoft, and then continued working at other tech companies.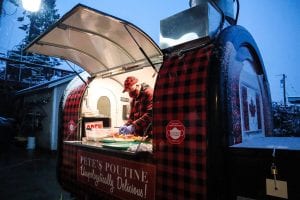 In 2016, Hauser and his wife, Rosie, decided to leave Seattle to be closer to Canada and family, and settled in Whatcom County. Hauser continued working in the tech industry, and the couple lived in France from 2017 to 2018 as part of a tech-related business venture. Still, he wanted to try something new.
"I was getting burnt out by the tech world," he says. "I really wanted to do something that had significance."
In France, a small food truck would park nearly every Sunday near Hauser's home. The idea of a grassroots project like a food truck sounded appealing. At the same time, a longtime friend who'd attended culinary school was succeeding with a Sydney, Australia-based gourmet burger business.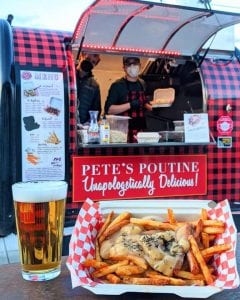 When Hauser and his wife returned stateside and were living in a cabin in Glacier, Hauser said he dwelled on what kind of food to serve. As an avid skier, poutine fit the bill as fun and filling. It also related to his larger goal of starting a food truck enterprise: feeding those in need.
Partnering with community organizations like Lighthouse Mission Ministries and the East Whatcom County Regional Resource Center, Hauser says Pete's Poutine will eventually donate 10 percent of its revenue into feeding those suffering from food insecurity. Plans involve having three total food trucks in the Whatcom County area.
"If I'm gonna do something to feed the hungry, I wanna do something that is truly a comfort food," he says. "Something that has high calories, maybe not particularly healthy, but satisfying and really fills that void. Poutine just jumped out to me as the Canadian food. After that, it kind of all fell into place."
Take the Turkey
After a soft opening in May 2020, Pete's Poutine briefly closed to perfect its recipes and its trailer, which has the look of a large, red flannel lunchbox. Prominently displaying their slogan of "unapologetically delicious," the trailer is affectionately known as "The Lil' Curd," Hauser says.
Pete's Poutine re-opened in October 2020, and has remained open since. So far, business has been brisk, Hauser says. The trailer frequently shows up in Birch Bay on weekends, where it has completely sold out at times. Weekdays at various Bellingham and Ferndale breweries have proved less hectic, but still popular with local beer drinkers. Hauser says they enjoy partnering with local breweries to properly pair beers with their poutine offerings.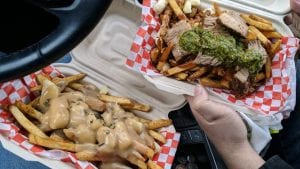 The trailer has rotating monthly specials to keep both their menu and two poutine chefs fresh. Their original poutine dish actually deviates slightly from traditional poutine, which usually relies on brown, beef gravy. Instead, they smother their fries and curds with turkey gravy, which Hauser describes as the perfect combination of American and Canadian comfort food.
"When I think of American comfort food, I think of Thanksgiving dinner," he says. "We created a gravy that kind of puts a Thanksgiving dinner onto a poutine."
Using turkey gravy on some of their poutine is especially interesting when you consider that Pete's Poutine has a live turkey mascot. His name is Butters.
Hand-raised by Hauser's wife from the time he was a chick, Butters is a four-year-old Royal Palm heritage breed turkey, and is thankfully exempt from ever becoming poutine toppings. Hauser's wife has raised turkeys for years, for both food and non-food purposes.
"He's super friendly," Hauser says. "He struts around, and people can walk around and pet him. One of the reasons he became the mascot is because he's such a friendly and docile turkey. He's pretty smart, too. He's quite the character."
Due to health code regulations, Butters usually never gets too close to the food trailer or local brewery crowds, but Hauser says they manage to bring him out for some public appearances. Butters, he adds, loves the attention.
And because Butters is likely to live to about age 16, there's a good chance he will remain the amusing face of Pete's Poutine for years to come.
You can count—and probably gobble—on it.
To find when Pete's Poutine will be near you, check out their location schedule and hours at their website or Facebook page.