It's spring, and school gardens across Bellingham and Whatcom County are beginning to show signs of new growth. Pea shoots spring up beneath bamboo trellises and flowers start to bloom. These gardens aren't just beautiful decorations. They're part of a larger movement across Washington State to nourish and support students' health and wellbeing.
Common Threads Farm is a local food and gardening education nonprofit that gardens, cooks, and eats with more than 7,000 students across the county. Common Threads "connects kids to healthy food in the garden, in the kitchen, and at the table. [They] want kids to grow up making food choices that are good for their bodies, their communities, and the environment."
Connection is at the heart of the work Common Threads puts out into the community, and its impact touches not only students, but teachers, parents, and organizations across Whatcom County. Laura Plaut is the executive director of Common Threads, which means she "connects people and resources in service of healthy kids and healthy communities. When we started, the original idea was much more a residential program focused on food and farming. And then we realized that if you really want to connect people to their food, you have to go to where the people are."
And that's just what they've done. Common Threads has 24 school partnerships in Whatcom County, as well as three state-wide sites. They partner with schools to deliver high-quality and equity-driven cooking and gardening classes, and also have expanded their programs to include affordable housing complexes and community centers.
The COVID-19 pandemic only highlighted the importance of Common Threads' programs, as they've pivoted to provide crucial food access, as well as moments of joy and delight, to people across Whatcom County.
As Plaut recalls, "The pandemic hit right at the start of planting season. Making shifts felt really time-sensitive, because nature wasn't going to wait for us to figure it out. The first shift we made was recognizing that just because kids weren't in schools didn't mean schools gardens shouldn't get planted. We hoped that if we grew it, someone would get to eat it. That turned out to be true."
All the food these gardens grew got distributed to hungry families alongside emergency food boxes sent out by Bellingham Public Schools. Earlier in the pandemic, hunger relief experts like the Bellingham Food Bank and the school district were "so maxed just getting calories to people," says Plaut. "There were so many restraints around COVID that they understandably moved to more shelf-stable products."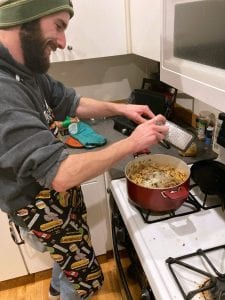 Plaut and her team of staff and Americorps members saw a need in the community that Common Threads could fill. "What we do isn't hunger relief, it's food education and food engagement," Plaut says. The pandemic offered a unique opportunity for Common Threads to marry those two things to best serve their community.
"Families that were hungry got access to delicious, nutritious produce without putting an additional burden on food relief organizations," says Plaut. "We got the produce in peoples' hands within hours of harvest."
Common Threads was able to be part of the Farm to Freezer Program; the Bellingham Food Bank got a substantial grant to purchase food from farmers whose market had been compromised by the pandemic, with a focus on supporting BIPOC farms. The Central Kitchen has the infrastructure and expertise to turn seasonal produce into hearty soups, etc., and Common Threads Americorps members were able to do shifts in the kitchen to prepare the food for delivery.
The team has also been involved in other multi-stakeholder collaborations, like the Sterling Paz Garden, next to the Sterling Meadows Apartments. Various groups like Common Threads, Miracle Food Network, Master Gardeners, and folks from the apartments have dedicated their time and energy to create a nourishing space for growth. There's also a new learning garden that Common Threads is helping to install at the East Whatcom Regional Resource Center, which is also the home of the Foothills Food Bank.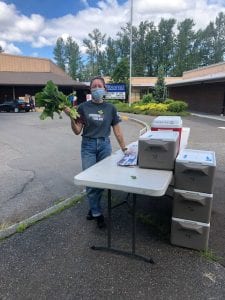 Equity has always been a core value of Common Threads, and more so this year than ever. "There's so much we've learned through this double pandemic, this national reckoning with systemic racism," Plaut says. "My job as a white person, a white leader, and Common Threads as a white-led organization, is to get up every day and do better. This is a topic that has our full attention. We've been looking at screening our recruitment, training, and support systems for racial bias. This one's going to last a whole lot longer than COVID."
What will also last longer than COVID is the impact of Common Threads' programs on all who participate. "I've had multiple teachers and parents say to me their kids were showing up as more joyful, more collaborative, and more brave," Plaut says. "I remember one teacher showing me a picture on her phone of a child in the garden with a clipboard and pencil, and saying 'This is the first time this boy has imagined himself as a scientist.'"
Common Threads grows more than just food: they cultivate community, wonder, and equity in whichever garden or heart they touch. To support their work, donate or find an exciting way to get involved.