Bellingham resident Rena Priest made a deal with herself: she would apply for two positions that help her follow her artistic dreams, and if she got either one, she could quit her "day job." I recently spoke with her about her art and her future, on what just happened to be the end of her last day at said job.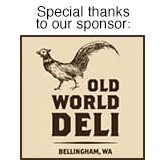 Priest was raised on the Lummi Reservation, and then attended Western Washington University, where her first year was spent studying theater. "It's funny," Priest says with a smile, "when you're into something and then you study it around a lot of people who are really, really into it, you realize maybe you're not that into it."
Priest delved into what other subjects were of interest to her and decided to give poetry a chance. "I took Jim Bertolino's Poetry 351 course, and I really felt I clicked into place there," she says. "People would ask what I was going to do with that degree, and I would defend it—it's not just creative writing. And then, in graduate school, somebody told me about a quote from Percy Shelley, that poets are the unacknowledged legislators of the world. So now, 10 years later, I have a clever comeback."
After graduating from Western, Priest headed east, to New York. While there, she earned a graduate degree in writing, with a focus on poetry, from Sarah Lawrence College. Returning home, she found she needed to work herself out from under some difficult personal obstacles. "I didn't write for a long time," Priest says. "I was really isolated. And then I met Dee Dee Chapman at Film Is Truth."
Outside of her job at the popular video rental store, Chapman was an organizer and emcee for a monthly poetry event called Kitchen Sessions. She invited Priest to attend, and to share her work. "I started going to this reading and found an amazing community of writers. That community really helped me reintegrate poetry back into myself, and I was able to come back to who I really am," she says. "I owe a lot of the progress I made to the writers at Kitchen Sessions—like Liz Vignali and Dee Dee—and the wonderful people who gathered there."
It wasn't long before her first book, Patriarchy Blues, was published by MoonPath Press. It reflects her time in New York. "I think it has to do with place, where you are at a particular time in your life," Priest says. Her second book, Sublime Subliminal, was published just over a year later. "I think it's a lot stronger as a body of work. I was happy to be writing poetry again, celebrating language and making a lot of discoveries." It can be ordered from Floating Bridge Press, and both books are available on her website.
In 2019, Priest was granted a residency at Hawthornden Castle in Scotland, another at Hedgebrook here in Washington State, and the chance to work through the National Geographic Explorer Program. This year has already brought two more opportunities. One was a Washington State Artist's Trust Fellowship, which she received from the Vadon Foundation.
"The other position that I applied for—and that I've just been awarded—is the Poet Laureate of Washington State," Priest says. She'll be stewarding poetry in Washington State for the next two years, as well as answering invitations to speak, teach workshops, and author poems commemorating events. "My focus in this role is going to be on visiting tribes, bringing poetry out into the natural world to celebrate beautiful places in Washington, and writing poems based on ecology and environmental restoration and preservation."
While her first book was informed by the culture of toxic masculinity so prevalent in New York City, and the second was inspired by reviving and reinventing herself, Priest says her newest work reflects Washington's natural beauty, and her tribal language and indigenous identity. "I've come into a space where I want to write about, and explain, a different worldview."
She's also part of a team that's been awarded a collaboration grant by the National Geographic Society to undertake a project looking at Indigenous exclusion from fisheries management in the Salish Sea, and imagines just futures going forward. "It includes a documentary photographer named Amy Romer, a social scientist and a conservationist named Lauren Eckert, and a fisheries biologist named Andrea Reid. We're all excited to pool our talents and see what we can make out of it."
When she finds free time, Priest still indulges in her love for the local terrain. "I like the trail to Boulevard Park, and really like Whatcom Falls a lot. But when I'm at a loss for something to do, the default is to go to Lafeen's and get a doughnut," Priest says. "I also love a spot on the rez, but I'm not going to tell you where. I'm keeping that one a secret."