Submitted by Unity Care NW, written by Kate Wojnicki, ARNP
This past year presented so many different challenges and obstacles that tested our strength and resiliency. The global pandemic forced us to cope with situations we never even imagined, and a lot of us struggled with our mental health as a result. The good news is that there are tools and resources available that can support the well-being of individuals and communities.
Accessing Mental Health Care
A great starting point for anyone who is ready to address mental health concerns is to speak to your primary care provider. They can help identify if you're in need of specialist care and find a mental health provider covered by your insurance.
Psychologytoday.com offers a therapist search function where you can look for providers in your area and narrow your search based on a range of criteria including the provider's specialty, pricing, the insurance they accept, even their sexuality and gender identity.
In the wake of a nation-wide shortage of mental health care professionals, platforms like BetterHelp Counseling and Talkspace Online Therapy, offer flexible tailored plans for remote care that can be a great option for many people.
Accessing mental health care and finding a therapist that works for you can take time and energy. It can be helpful to explore strategies to support you as you navigate your own path to accessing mental health care.
Radical Acceptance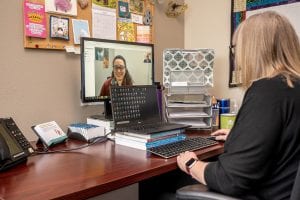 The past year forced many to accept tough situations that they had no control over. One method some find helpful to challenge negative thinking patterns that can come up in times of stress is called radical acceptance. Radical acceptance is about fully accepting your reality in situations that are beyond your control and can be one tool to manage anger or anxiety. It doesn't mean you approve of the situation, are giving up, or that it isn't painful. You still feel however you feel, but by accepting that it is what it is, you may give the problem less power over you.
A few things to try:
Notice when you're fi­ghting against reality. The first step in accepting reality is gaining awareness that you're resisting it. It may seem like this would be easy to spot, but there are a lot of subtle ways that people push against reality. If you're feeling bitter or resentful, wishing things were different, or thinking about how life isn't fair, you might be fighting reality.

Remind yourself that you can't change what has already happened. Before you can make peace with reality, you have to acknowledge that there's no going back to the way things were. Doing this may be challenging and painful, but by identifying what you can and can't control, you can turn your energy towards coping with the things you can't change.

Embrace your feelings. You might still be angry, scared, overwhelmed, or lonely—that's okay. Accepting reality includes everything that you're feeling. When you accept these feelings and let yourself experience them without judgement, it can help you work through them in a healthy way.

Pretend that you're accepting reality. Even if you're still struggling to fully accept reality, think about what it would look like if you did. How would you act if you simply accepted things as they are? What would your next step be? Changing your behaviors and actions to reflect "pretend acceptance" can help you to shift your thoughts.

Use coping statements. These are sentences that remind you that different, healthier ways of thinking are possible. Repeating them can help you get through difficult moments—you can focus on just one or make a long list of your own. Some examples are: It is what it is. I can't change what has already happened. I can only control my own actions and reactions. If it helps, set an alarm/create an event on your phone with a coping statement to pop up with a reminder every now and again.
Keep in mind that there are no one-size-fits-all solutions when it comes to improving your mental health. Ultimately, I want to remind you that mental illnesses are real, and recovery is possible. By reaching out for mental health care and developing your own coping strategies, it is possible to find balance between life's ups and downs and continue to cope with the challenges brought on by the pandemic.
Need Affordable Health Coverage?
Is lack of insurance keeping you from getting tested? If you need or have lost health care coverage or had a qualifying life like losing your job or getting divorced, you can call our office and speak to one of our health insurance navigators who can help you find a plan that works for you. President Biden recently opened a special enrollment period to help anyone who has lost or needs health benefits to be able to apply for insurance through the Affordable Care Act. Call 360.788.2669 or go online at bit.ly/3bBx8qs to sign up for health insurance.
For more health information, please follow @UnityCareNW on Instagram, Facebook, or Twitter.
Content source: Mental Health America, mhanational.org.
I'm a Family Nurse Practitioner and HIV Specialist at Unity Care NW. I hold a Bachelor of Science from the University of Washington and a Master of Science in Nursing/ Nurse Practitioner degree from Seattle Pacific University. After spending 6 years in the Neonatal Intensive Care Unit at UW and volunteering in Uganda, I completed a Community Health Residency in Tacoma with a focus on caring for persons living with HIV. I joined Unity Care NW in 2014 as an opportunity to serve the community where I spent much of my childhood. I earned my HIV credential through the American Academy of HIV Medicine in 2016.