Just a few months ago, Mount Baker senior Ayden Rodriguez didn't know if he would ever play competitive football again. His senior season was in question and, while the desire was there, he had no plans in place to play college ball. What Rodriguez did know was that he had to keep doing what he could to be the best football player he could be—so he'd to be ready when opportunities arose.
Outside of football season in the past, he played for the Northwest Wolfpack, a seven-on-seven league that travels to play against tough competition across the country. Here he was able to battle against top athletes, pushing himself to be better and letting people know he was out there.
"It's nice to get to see where you compare to some of the best people in the country," Rodriguez says.
When COVID limited playing opportunities, Rodriguez focused on getting stronger in the weight room. With more than a year off from football and living in a strange, new world, staying motivated could be a challenge. But Rodriguez says he and his childhood friends and teammates, Mason Jacoby and Garrett Smith, pushed each other to put in the work. With Jacoby as his quarterback and Smith playing receiver, Rodriguez he gives them a lot of credit for his overall success.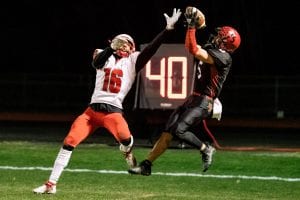 In February, he was finally able to begin his senior season, playing an abbreviated six game schedule where the Mount Baker Mountaineers went 5-1. The season wasn't what Rodriguez had envisioned for his senior year, but he and his teammates took the same approach, even though there was no opportunity for a championship at the end of the year.
"We went out to win every game and just tried to be the best team we could be," Rodriguez says. They were able to have Senior Night, which was the highlight of the season because he was out there with teammates he'd played with for years.
With the goal of playing college football always on Rodriguez's mind, he did what he could to get recognized by posting to Twitter, sharing film of him playing and working out.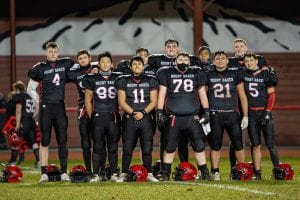 All the extra time and hard work paid off when he received a recruiting letter from Sterling College in Sterling, Kansas. They offered him a scholarship to play wide receiver on the football team—Rodriguez's preferred position. He also played defensive back in high school.
Rodriguez accepted their offer and has officially committed. "Being able to keep playing football, which is something that I've always wanted to do since I was little, is a dream come true—to be able to play four more years," he says.
Rodriguez has yet to visit Sterling—or even Kansas, for that matter—but plans to do so soon. The college is small, about 650 students, yet competes in NAIA for football. This high level of football will once again give Rodriguez the opportunity to test his skills against top talent. Heading there in the fall, he's excited to live somewhere new and has his eyes on a business degree.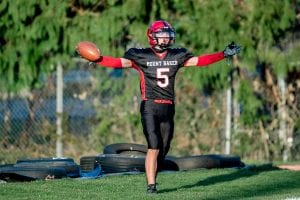 Not one to settle, Rodriguez isn't planning on just playing football and getting a degree—he also hopes to play on Sterling's golf team. Currently wrapping up a modified senior golf season, which also will have no post season, he's Mount Baker's number one golfer and consistently shooting in the low to mid 80s. At the time of this writing, he'd reached out to the Sterling golf coach but not yet heard back. Determined as always, if he's not able to work his way onto the team ahead of time, he plans to walk on and is confident that he'll do what's needed to make the team.
Like so many in the class of 2021, Rodriguez's senior year didn't unfold the way he expected—both school and sports looked very different. but he, like so many others, adapted to make the best of the situation. He kept a positive attitude and never lost sight of his goals to compete alongside his friends one last time, as well as doing all he could to continue his playing career. With his competitive drive always pushing him forward, Rodriguez can't wait to show people what he can do on the next level.