I was raised in a home with "older" parents; at the time of my birth, my mom was 41 and my dad 51. As a result, I have a half-sibling 28 years older than me and my parents didn't read about the Great Depression and World War II—they lived through it.
While my friends anticipated their upcoming childbirth experiences, I faced a very different scenario: "parenting" or caring for my own parents. My mother and I took care of my father 30 years ago, at home, until a few days before his passing from cancer in his late 70s. My mom continued to work part-time into her 80s, but after a car accident, went into a decline.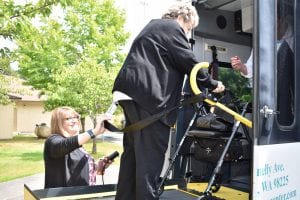 I took care of her at home, but eventually realized she was lonely. I then faced my own health crisis and had to make wise choices—not only for me, but for her.
One of the biggest questions folks face as they consider next steps when caring for an aging loved one is the choice between a nursing home or assisted living facility.
Mount Baker Care Center and Summit Place Assisted Living offer what is known as a continuing care retirement community (CCRC). These types of facilities offer multiple levels of care with a goal of reducing the severity of transitions later in life, if and when care needs change.
"For instance, you might live at Summit Place, go to Mount Baker Care Center for a rehabilitative stay, and then return to Summit Place—and all of this can happen under one roof," says Director of Operations Pete Wolkin. "Another common scenario is when a couple have different needs or age differently. CCRCs allow them to continue to live in one community while receiving different care levels."
I recently spoke with Catherine Reis-ElBara, administrator at Bellingham's Mount Baker Care Center & Summit Place Assisted Living, and their Director of Nursing Catherine Thomas.
They and their staff successfully weathered the past year of COVID-19, and residents weren't subjected to the same level of isolation that many seniors endured because of 24-hour staffing, activities, and neighbors. "We were also able to assist residents with technology to facilitate virtual visits and to make accommodations for outdoor and compassionate visits throughout the pandemic," says Wolkin.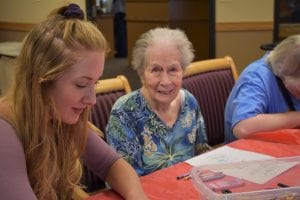 Communal dining and group activities, while still socially distanced, are again taking place. And because residents were among the first to get the vaccines, they're now back to being able to hug their children and grandchildren; visits from family and friends are back, on a structured basis.
Our discussion looked at a generalized perspective of this decision-making process in a more typical year—and details some of the differences to consider between a skilled care facility and assisted living.
Interview facilities and look for the best fit
Reis-ElBara suggests you first call different types of facilities and ask for the admissions department. Be candid about your family or personal needs, finances, and other concerns. They will tell you if their facility is a good fit or not. You can also ask for tours to see the facilities and activities.
A nursing home follows a medical model
Nursing homes contain more medical and support staff than their counterparts and provide total care, relying on access to nursing staff available 24/7. The licensing and inspection is done by federal agencies.
An assisted living facility follows a social model
Summit Place Assisted Living residents have their own apartments, are considered stable medically, and have help with medication support. They, too, have some nursing staff but less than at Mount Baker Care Center. Summit Place offers 34 apartments and licensing and inspection is done by state agencies.
Mount Baker and Summit Place share some facilities
Their residents can enjoy activities together, although Mount Baker has more available. And sometimes they also share residents who need more—or even less—care. Reis-ElBara and Thomas have both seen some residents begin in assisted living, and then move to Mount Baker as their needs increased; however, they also have residents of the care center who come for rehab, improve, and need less care. While the apartments at Summit Place have kitchenettes with small fridges and microwaves to prepare simple meals, communal meals are served three times a day—similar to the care center. Residents can even make choices for what they wish to eat, much like a restaurant.
Both facilities provide individualized care to each resident being served, based on their unique needs and personal preferences. No two care plans are the same.
Intergenerational interaction brings together the seniors and children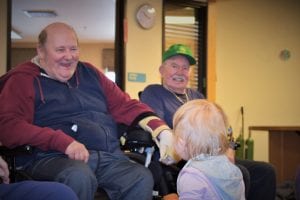 In typical years, the facility also hosts a daycare of children ages five and under who not only interact with each other, but also with the residents. It has been a popular feature. The children are not only family members of staff, but also come from the community. Since the children couldn't interact as much with the seniors during COVID-19, they did a parade outside the windows for the seniors during Halloween and other holidays.
Comprehensive care is costly and can vary for those needing more memory care
Don't have "sticker shock," but do anticipate that care facilities cost much more than renting a home. Nursing homes are a general monthly fee, with a few add-ons for things such as haircuts, in contrast to the à la carte approach of assisted living. Mount Baker Care Center costs approximately $10,000 a month, while Summit Place Assisted Living is closer to half of that; apartments start at $3,500 a month with additional costs added for care and services.
"That may seem high," Wolkin says of Summit Place Assisted Living's cost, "but it includes all utilities, including internet and satellite TV, three meals a day, transportation, and vibrant daily activities. Similarly, the cost at Mount Baker Care Center is relatively inexpensive when compared to 24-hour in-home nursing care."
Reis-ElBara and Thomas agree these charges are competitive with the current market in our community. Families need to be aware that assisted living facilities generally require being able to self-pay for the first two or three years before other payment options kick in. Specialized memory care facilities require more care and are more expensive.
Seek out additional resources for you and your loved one
While caring for my mother, a coworker who was also facing a loved one with memory loss, took me to a caregivers support group affiliated with the Northwest Regional Council on aging and disability (600 Lakeway Drive in Bellingham). I soon found I wasn't alone, though I was caring for my mother by myself at home. I also discovered the council had personnel and help for not only stressed-out caregivers but also for handling the decision-making process, filling out paperwork for governmental programs such as Medicaid for funding, and lists of different kinds of facilities in one place.
More about Mount Baker Care Center and Summit Place Assisted Living
For more information about Mount Baker Care Center or Summit Place Assisted Living, please visit their website at www.mtbakercarecenter.com To reach out with any questions or to schedule a facility tour, please call 360.734.4181 or send a message through their website, here.
Sponsored