When Mary Kipp was hired as the CEO of Puget Sound Energy (PSE), one of her key priorities was decarbonization. The Texas native was intrigued by the work she saw occurring in Washington State around climate change, especially after the passage of the Clean Energy Transformation Act (CETA) in 2019. "This state is moving forward in talking about true decarbonization," says Kipp. "The opportunity to be part of what's happening here was really inspirational to me." Now, she is leading PSE in an ambitious initiative to reduce its carbon emissions to net zero by 2045.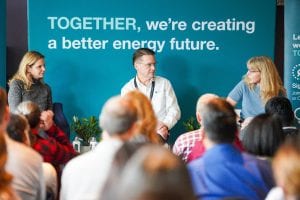 Beyond Net Zero Carbon is the company's three-pronged approach to addressing emissions, one of the root causes of climate change. The first goal is to decarbonize PSE's electric supply and operations. To that end, PSE leaders recently met with their partners at the Washington Utility and Transportation Commission to ensure CETA compliance. "We have a roadmap for what we need to accomplish and the various milestones we need to meet," says Kipp.
Helping PSE customers decarbonize is the second goal, to be achieved by supporting the electrification of vehicles, eliminating high sulfur diesel for maritime shipping and reducing emissions in homes and businesses. Progress is already underway on that front with 10 pilot programs in place around the state to educate customers about the benefits of electric vehicles and expand the number of charging stations.
The third goal is a bit more challenging: decarbonizing PSE's gas system. The company has been researching how other businesses worldwide have tackled the issue and conducting tests with various potential energy sources. "We have some small-scale experiments to learn about the impacts of hydrogen on our existing pipe system and how to make sure those pipes will remain safe if they have hydrogen running through them," says Kipp. In the meantime, PSE has implemented a program to ensure that no methane leaks occur within its distribution system.
As the company moves into this new territory, listening to outside input is critical. Kipp has been inspired by the example of Challenge Seattle, an alliance of CEOs from 21 of the region's largest employers focused on collective action to address urgent challenges. "They're bringing together stakeholders who may have competing or disparate interests or even be competitors to solve bigger problems," she points out. "I'm hoping we can bring that same spirit to attacking climate change. It's going to take those of us on the utility side being open-minded and willing to have our assumptions challenged."
To that end, PSE plans to convene a group representing different interests to talk about how to safely and effectively decarbonize while keeping energy affordable for PSE customers. They will include tribal members, industry representatives, leaders from environmental groups and nonprofits, BIPOC, and the economically disadvantaged. "My goal is to have a diverse group of people along with technical experts who are willing to help us by talking about this issue," says Kipp. "It's important that we have people from traditionally underrepresented communities who may not have been part of the dialogue around energy previously."
She points out that trust can be a challenge when groups who are typically on opposite sides of issues come together. One main criteria for participation will be a willingness to listen and speak to one another with respect. "What often happens when we start talking about energy issues are misunderstandings between the various parties," she notes. "We tend to lose sight of our goal. This issue is so much bigger than all of us."
Thus far, response to the Beyond Net Zero Carbon initiative has been positive from both customers and PSE employees. Many PSE customers are concerned about climate change and interested in green energy, particularly those who have enrolled in the company's Solar Choice and Green Power programs. Staff members have been actively contributing ideas to support the company in not only meeting CETA standards but exceeding them.
"The thing I love about utility employees, especially the operational folks who go out during storms and in difficult times to restore power, is that they're very service-oriented," says Kipp. "It permeates the organization. So many of our employees tend to become energized around this idea and they're proactively trying to move the needle on the solution."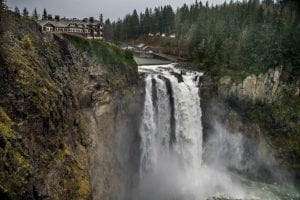 She hopes that the example of a large utility demonstrating a willingness to invite community participation as it transitions to clean energy will inspire companies in other sectors. "The call to action on climate change has been around for a while," Kipp says. "Industry needs to listen to what our customers want and what they voice through their elected officials. Other industries can see that it's okay to put your stake in the ground with a pledge like this, even when you don't quite know how you're going to get there."
Learn more by visiting the Puget Sound Energy website or visiting the Beyond Net Zero Carbon page.
Sponsored