In Bellingham, passersby don't have to look far to find sculptures, murals, or other art that enliven our cityscape.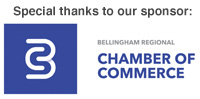 In addition to many businesses commissioning local artists, public parks and establishments feature eclectic art from Bellingham and beyond. The City of Bellingham dedicates one percent of its budget to public art, which has made several areas ideal for self-guided walking tours.
Cordata
Mary Kuebelbeck's "The Gate" decorates the roundabout between Cordata Parkway and Westerly Road. For Cordata Community Park's grand opening in 2020, the City installed three lighted "gateway" sculptures by Andersen Studios.
Big Rock Garden Park
In the Silver Beach neighborhood, Big Rock Garden Park displays over 35 sculptures from local and international artists alongside hundreds of azalea, rhododendron, maple, and evergreen species. George and Mary Ann Drake started 2.5-acre "Big Rock Garden Nursery" in 1981, and the City of Bellingham purchased the collection in 1993.
Whatcom County artists featured at Big Rock Garden Park include C.A. Scott, Michael Jacobsen, Shirley Erickson, Pat Kuehnel, Aaron Loveitt, Russ Beardsley, and Scott F. Emory. International artists include Sebastián, Jan Zach, Georg Schmerholz, Kenji Gomi, and Alexei Kazantsev. Sculptures scattered along Big Rock Garden's trails represent natural beauty, cultural heritage, and dreamlike abstractions.
Maritime Heritage Park
Since Maritime Heritage Park's establishment in 1979, the city, Bellingham Technical College, and Nooksack Salmon Enhancement Association (NSEA) have restored salmon habitats and spearheaded public education. The Whatcom Creek Salmon Art Trail connects park visitors with natural history, approximating the shape of a salmon across the map.
Park visitors will find Gerard Tsutakawa's 2001 bronze fountain "Confluence," Elizabeth Conner's 2008 concrete "Quiet Middens, Noisy Waters," Phillip Baldwin's 2000 aluminum "Four Ages of the Seas," and interpretive signs on native plants. Steve Seymour's "Steel Salmon Going to Salmon Woman" complement the Lummi House of Tears Carvers' "Salmon Woman Totem," both installed 1997 to represent the traditional story of Salmon Woman and Raven.
On a northwest trail, Seymour's 1997 steel "Returning Salmon" sculptures accompany Mike McRory's 2000 wooden "Eagle Memorial Totem" commemorating the Olympic Pipeline explosion victims. Salmon Art Trail continues downtown, where Joseph Hillaire's 1953 cedar "Centennial Story Pole" and East Los Streetscapers' 1990 "Centennial Mural" honor Bellingham and Coast Salish history.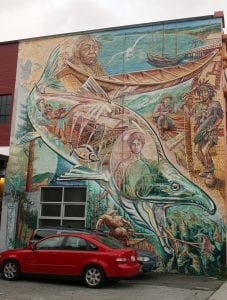 City Center
Downtown Bellingham features sculpture collections scattered throughout its streets and clustered around public building such as the Bellingham Public Library. "Japanese Stone Lantern" was a 1965 gift from Bellingham's sister city of Tateyama, Japan. The library gained Andrew Wachs' metal "Upright Observation Table" in 1994 and Kay Kammerzell's 1992 iron and wood "Amending Table for Talking." 2003 installations include Ed Haddaway's painted steel "Meeting of the Minds" and steel giraffe "Delilah" by Cheryl Box, Mary Kuebelbeck, Bob Larson, and Stan Richardson. The 2018 "Arch of Healing and Reconciliation" honors immigrants in the Pacific Northwest.
Whatcom Museum Foundation owns three sculptures on its campus: Phillip McCracken's "Heron," Michael Jacobsen's "Tocco," and George Rickey's "Two Lines Oblique." Nearby on Holly Street, one of Jacobsen's 2004 granite and bronze cornerstones marks the original boundary of Whatcom and Sehome.
Bellingham's downtown streets feature artistic benches by Ries Niemi and Anthony Cava, Michael Jacobsen, Colin Reedy, and Jane Burns in 2002 and David Tuthill in 2011. Downtown sculptures include Brian Goldblum's 1987 granite "Days Go By," Tom McClelland's 1978 "Steel & Stone," T. Ellen Sollod's 2009 stainless steel "Sentinel," Anthony Howe's 2009 kinetic stainless steel "Axiom Dyno Trylobite," Julia Kerl's 1986 metal "Ingress," and John Sisko's 2007 bronze "The Goat Cart."
Boulevard Park
Michael Jacobsen's interactive "Western Stone Garden" and Tom McClelland's wood and iron "Conference Table" were installed in 1978, concurrent with Boulevard Park's grand opening. Thomas Wood created the mural on "Timber Park Pavilion," a newer performance stage.
One of Michael Jacobsen's 2004 cornerstones on South Bay Trail marks the Bellingham-Fairhaven boundary.
Fairhaven
Many of Fairhaven's public art accompanied the 2003 development of Fairhaven Village Green. Brian Griffin oversaw the renovations alongside Fairhaven Village Green committee, dedicating Robert McDermott's statue of Fairhaven founder Daniel Jefferson "Dirty Dan" Harris. McDermott and Griffin would add a bust of C.X. Larrabee to Fairhaven in 2008 and a J.J. Donovan bench in 2014, and Griffin dedicated Gary Lee Price's Mark Twain bench in 2018. Village Green also includes bronze plaques of Fairhaven Hotel and Gamwell House.
Other public art in Fairhaven includes Robert Jepperson's 1977 wood "Seabird" at the Bellingham Cruise Terminal, Shirley Erickson's 2003 steel and glass "Earth Guardian" outside the Fairhaven Library, and John Zylstra's 1986 steel "Spiritscape #10" at Fairhaven Park.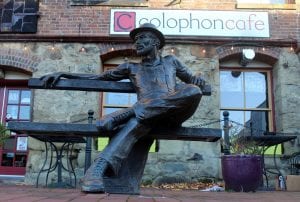 Other Public Art
Bellingham continues to install art in public spaces. In 2018, the city added street mosaics on Maplewood Avenue and an artistic fence for the Water Treatment Plant. Also in 2018, the city turned the industrial "acid ball" at newly-opened Waypoint Park into a lighted installation. 2019 saw the installation of a pond-based sculpture at Mahogany Avenue, anamorphic mural on a Commercial Street parking garage, and traffic box artwork in the downtown arts district.
All throughout Bellingham, local art connects onlookers to natural and cultural histories.