In the world of marijuana, "420" is much more than a number. It's been used as a secret code and a public rallying cry, and over the years has become synonymous with the date 4/20, or April 20th. Downtown Bellingham's Piece Of Mind Cannabis is marking this underground holiday by rolling out some changes that keep them at the forefront of the cannabis retail industry.
It's not hard to get a cannabis user to talk about what the number 420 means, and what the number means to them personally. "Some people say it's a Rastafarian king's birthday," says Chief Marketing Officer Pinney Mishraki, who felt the biggest impact of 420 while in college. "I went to Humboldt State University, and on 420 thousands of people would make their way up to Redwood Park near campus and sit in circles of 15 to 20 people, smoking weed and listening to music. Police would hang around and watch us and it was a really unique day for people who loved cannabis."
"I think the most common misconception is that 420 was police code for smoking marijuana. But it came from some college kids in the Bay Area, who would meet up around that time, after class," says Piece of Mind Cannabis Owner Quinn Sharpe. "Because of marijuana oppression, cannabis enthusiasts rallied around this day and it spread like wildfire. It's very much a holiday for activism, for getting out in public and letting people know that it has medicinal uses, and that it's actually a safe recreational intoxicant."
Now that cannabis is legal in Washington, the emphasis is on celebration—so Piece Of Mind Cannabis makes sure their medical clients get what they need before the crowds show up. "Half of our customers are here for health and well-being, and we tend to see a spike in categories like topicals, edibles and drinks before 420," Mishraki says. "I attribute that to all the non-stoners who don't necessarily smoke, and don't want to deal with the crowds. So expect to see lots of deals on those categories during that week."
For the rest of their shoppers, the store has already shifted into high gear. "We start planning for 420 in December," says Sharpe. "We're trying to be of service to our community, so it's all hands on deck. There are always lines out the door, and we have door-buster deals. It's a chance for us to give back in the way that we know how."
Because giving back includes some special offers and generous discounts, they suggest people visit their website and do their homework before the big day. "We're doing promotions with different vendors, like Fairwinds Manufacturing, starting on the 16th of April. And with every purchase you make on the 20th, you'll get double the loyalty points," Mishraki says. "Folks can check for deals beginning on the 16th, and I would check back periodically after that as we add more deals."
Piece Of Mind Cannabis has used the expectation of large crowds as motivation to expand their online menu. "We realized a year or two before the pandemic happened that online ordering was an underutilized platform. We're also on the cusp of starting online payment, so that's going to be another way for customers to make that transaction quicker," says Sharpe. "It's basically Venmo for cannabis, a bank-to-bank transfer that we can apply discounts to, so people can use their loyalty points. It only takes a minute to set up the account, and you're good to go."
Online customers will also see a new addition to the website that revives an old tradition. "The paraphernalia that we added to the menu is a big deal—we've been waiting to do that for a long time," says Pinney. "Piece Of Mind started as a glass store back in '97, so now we can have all those cool heady pieces that were such a big part of our history on our online menu."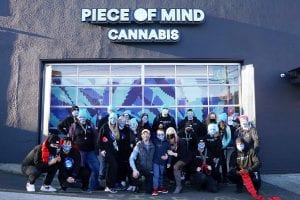 They are also rolling out a new online option to improve the customer's experience. "We launched curbside service in Bellingham on the 15th of March," says Mishraki. "The curbside service along with the online payment makes the experience safer due to COVID, and it makes it faster for people as well. Some of our customers now get messages that their orders are ready within seconds." These efforts are a continuation to build upon what ownership created with Satori MJ to continually create a better customer experience through Piece of Mind Cannabis.
The people who work in the cannabis industry will be too busy to take part in the celebration themselves, but Piece Of Mind Cannabis has their eye on a bigger prize. "You're always going to have your diehards that are after the experience, who don't mind waiting in line," Sharpe says. "But convenience is king, right? It's important for the customer to be able to browse all those options on our carefully curated menu, then come into store with all that knowledge."Visit the Piece of Mind Cannabis promos page for details on 420 deals.
Sponsored