It's the question on everyone's mind these days: Am I eligible for a vaccine? And if so, where can I get one? Luckily, vaccine distribution and access is more widespread than ever, and the Whatcom County Health Department is quick to offer information to those who are looking to protect themselves, their loved ones, and their community against COVID-19.
If you have access to technology, online is the best place to get information about vaccines, find out your eligibility, and schedule an appointment. The Phase Finder tool is no longer available for use; the easier place to get more information is covidvaccinewa.org. Once on this page, you can click 'When can I get the vaccine,' and it will take you to a page with a summary infographic describing who is eligible and the approximate time frame. Starting on April 15, everyone ages 16 and older will be eligible for vaccination.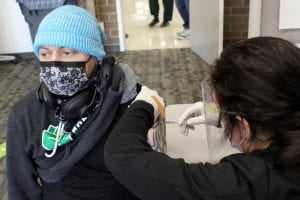 There are many vaccine providers in Whatcom County, and the best way to find one near you is to go to vaccinelocator.doh.wa.gov and search by zip code. Each provider will have links about how to schedule an appointment at many healthcare clinics, including PeaceHealth, Family Care Network, and Sea Mar, as well as at pharmacies like Costco, RiteAid, Safeway, and Haggen.
Melissa Morin, the Health Department's Public Information Officer, notes how inspiring it's been to see the way the community has supported each other through this unprecedented process. "It's been wonderful to hear about people helping other people find vaccine appointments," she says. "With supply being limited, we know it's been frustrating at times. I've been impressed by the ways that our community has stepped up as friends or neighbors to help others."
Morin is excited to be able to see the glimmer of light at the end of this long pandemic. "The vaccine is really our pathway to getting back to the lives we all want. The more we see folks getting vaccinated, the closer we are to being able to open things back up. Eventually, it will be safe to hug people and get together and celebrate and do all those things that we've missed. And there will be safety and peace of mind. We've all been living with a lot of fear and anxiety, and we'll be able to get past that towards a sense of safety and security."
The COVID-19 vaccine is a chance for our community to be part of an ongoing, global public health effort to improve people's lives. "All these vaccines that are available right now are very effective at preventing serious illness that would lead to hospitalization or death. That's a huge thing," Morin says. "When I think about the history of public health, there are so many diseases we don't even have to worry about because we've been vaccinated. That's what this is—an opportunity for us to do the same, to have that peace of mind."
For those who have hesitations or fears, Morin recommends talking to other people who have been vaccinated. Friends, family, and neighbors can share their experiences. And be sure to get your information from quality sources like the CDC and the Health Department. Whatcom County Health Department has a Facebook page where they share information about vaccines, answer frequently asked questions, share information about supply, and remind people how to make appointments.
Vaccination isn't just a chance for us to protect our health. It's a chance to redirect our energy, time, and resources back into growing jobs and supporting a healthy, resilient community. "We'll be able to more fully devote our resources towards important things like mental and behavioral health, especially for youth and young people," says Morin. "We can address housing and homelessness. We can support healthy starts for families and young children."
Many of our healthcare resources have been devoted to responding to the pandemic, as well. "We've had to do so much surge planning to prepare for if we were to see cases rise and hospitalizations go up," Morin adds. "Knowing that people are vaccinated, that's not going to be in the back of our minds as something we need to be able to respond to."
While vaccine news is often changing, one thing is for sure: This spring is bringing new hope to Whatcom County, Washington, and the world.
Sponsored