Maybe you've heard the saying 'It takes a village to raise a child.' Well, it definitely takes a village to end a pandemic, and that's exactly what the Community Vaccine Center is: a multi-partner operation that's providing thousands of vaccines—and the hope they represent—to the people of Washington and Whatcom County.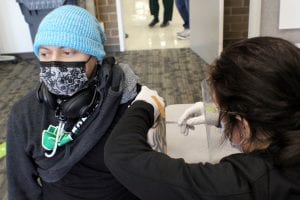 The Community Vaccine Center is a mass vaccination site at Bellingham Technical College that has support, resources, and personnel from Unity Care NW, Whatcom County Health Department, Whatcom Unified Command, Sea Mar, PeaceHealth, Family Care Network, Bellingham Technical College, Whatcom Community College, and Hoagland Pharmacy. This center is a collaborative effort intended to vaccinate a large number of people in one safe, effective, and accessible place.
The planning for the CVC began in early January, when the group of aforementioned healthcare organizations met to discuss Whatcom County's vaccination strategy. Shanon Hardie, chief operating officer for Unity Care NW and co-chair of the Community Vaccine Clinic Steering Committee, knows firsthand what incredible time, effort, and passion have been put into the project.
"In January," she says, "we were talking about how we were vaccinating our own employees and patients, but there wasn't any planned effort from the state about having a mass vaccination center that would focus on people who didn't have a primary care provider or had one at a small clinic without vaccines, or just couldn't get in. We knew that none of us could individually take this on, but thought we could collaborate and develop a large scale vaccine center."
And that's just what they've done.
On March 6 they had their pilot clinic, giving 240 vaccines at 40 vaccines an hour, with the hope of having their full scale program eventually do 100 vaccines an hour. At the pilot clinic, they focused on seniors, including Meals on Wheels, healthcare workers that hadn't been targeted or reached yet, including home health aides and community health workers. The patient experience was positive, and the team moved forward towards their goal of 100 vaccines an hour.
While vaccine availability has been a challenge, especially since the Community Vaccine Center wants to increase vaccine access and not divert it from other providers, Hardie and her team were able to host another clinic on March 13th, vaccinating 400 patients at their goal of 100 vaccines an hour.
"Overall, it worked really well," says Hardie. "Patients loved it, they were in and out, it was well organized. March 20th, we administered 400 vaccines again."
April 3rd they plan to vaccinate 700 additional people as more and more Washingtonians become eligible. As vaccines become increasingly available from the three manufacturers—Pfizer, Moderna, and Johnson & Johnson—access will become easier. Hardie is especially excited for President Biden's plan to allocate vaccines three weeks in advance making planning easier and more streamlined. While the CVC has only been doing clinics on Saturdays, they plan to expand to additional days and hours as vaccines become more readily available.
The Community Vaccination Center is hosted at Bellingham Technical College, and it's been an extremely rewarding partnership. BTC has the space, a location with plenty of parking, ADA access, and public transportation routes, as well nursing students to help staff the site. Whatcom Community College nursing students have also stepped up to help staff the clinics. Hoagland Pharmacy is providing pharmacy staff at every clinic, a big commitment for a small pharmacy.
Equity has played a key role in the center's development, as well. "There are a lot of vulnerable populations in our community that may not have access to transportation, telephones or technology. We're doing a lot of work to try and identify and reach those communities, including partnering with organizations that have established relationships there," says Hardie.
The CVC is a true community effort. Everyone who participates knows what an incredible opportunity this is to make a huge difference in the lives of so many. Hardie has been working in healthcare for over 30 years, and says, "I'll look back and know that this is one of the most important contributions I've made in my career, helping my own community get to the other side of the pandemic, saving lives, saving folks from sickness, and helping our economy recover."
Before every clinic, the team has a huddle, and we share what an incredible collaboration this is, and how much of an impact it makes. "I want the students on our team to understand, 'You're just starting your career, but someday you'll have grandkids on your lap telling them how you helped save lives and got people to the other side of a pandemic.' I want them to feel the sheer amazement of what we're accomplishing."
At the CVC, Hardie and her team see people's gratitude, tears, laughter, excitement, and enthusiasm. "It's a sign of hope," she says.
There are two ways to schedule an appointment at the Community Vaccination Center. If you have access to technology, go to www.vaccinatewhatcom.org. Phone appointments at 360.778.6075 are available for people who do not have an email, internet access, need interpretation services, or are having difficulty navigating the site.
Sponsored