Djouvensky Schlenbaker's first opportunity to play football came at the age of six, with flag football through the Boys & Girls Club and in the back yard with his brother, Austin, who is six years his senior. Schlenbaker had only recently arrived in Bellingham, adopted by his parents Kendra and Brett Schlenbaker from his native country of Haiti. The Schlenbaker's had been working on the adoption process for three years when the 7.0 magnitude earthquake hit; Brett flew down to the reeling country just weeks after the earthquake to bring Djouvensky and his older sister to their new home.
Schlenbaker wanted to play soccer when he arrived, which was the most popular sport in Haiti, but the league holding him back led to him making a switch. "They wouldn't let me play up, so I kind of ditched soccer and played football," he says. As it turns out, that shift worked out well and football became a passion.
Schlenbaker's passion was put on hold this past fall by the pandemic, but the long-awaited start to the football season finally got under way on February 20 with a Squalicum win over Sedro-Woolley; Schlenbaker ran for 141 yards and two touchdowns in the 36-14 victory.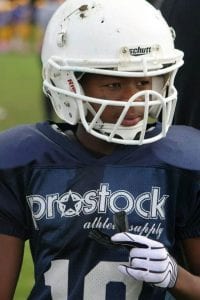 The Squalicum High School junior and his teammates didn't know if there would be a season this school year, so are thrilled to be back playing the game they love. Schlenbaker was excited to get out there and play but more importantly for getting to have a final season with his senior teammates.
A week later, in a game where Squalicum bested Mount Vernon 38-24, Schlenbaker ran for 199 yards, achieved a personal best of 30 carries, and scored three touchdowns in the second half.
"Just looking forward to the rest of the season with my boys," says Schlenbaker. He's played with many of these seniors since he was young.
Like so many things these days, the preparation for the season was unique. There had been no training through the school, so Schlenbaker stayed in shape training on his own or at local gyms to be ready when the opportunity to play eventually came around.
When they finally got the green light for football, they had just two weeks to practice before their first game. "In the first game we actually got to tackle some people, because we're not really supposed to get too close to everyone during practice," Schlenbaker says. This live game action was a welcome step towards normalcy for Schlenbaker.
In addition to getting this time with his teammates, he's excited to get out on the field and show people what he can do. Schlenbaker is currently being recruited by Colorado, Virginia Tech, Cal, Air Force, the University of Washington, and Washington State University to be a running back on their football team. He also currently plays outside linebacker in high school, but has no plans to play defense at the next level.
Deciding on a school has been challenging both because of the quality of the options and the inability to have any official visits. He's been able to see some of the campuses in the past, but COVID-19 has limited the normal process of selecting a school. Schlenbaker is hopeful that he'll have the opportunity to formally visit schools and make a decision in the coming months.
With school still 100% online, Schlenbaker has appreciated just how helpful his teachers have been throughout the process. They've been available to help him with whatever he has needed to make sure he stays on track with his academics.
The Bellingham School District does have a plan for bringing students back on campus in a phased-in approach and Schlenbaker is looking forward to that opportunity. In the meantime, Schlenbaker will continue to work towards his academic goals at home and enjoy the time he has on the football field this season.
The month-long season concludes on March 20th at home against Oak Harbor, which will be his final opportunity to play with his close senior friends. Next year, he hopes to have a full senior season in preparation for playing running back at whichever university he ends up selecting.
A football program is important when selecting a school, but of course academics are important, too. Schlenbaker currently has a 3.7 grade point average and his favorite subject is math. He hopes to study architecture or engineering in college with the dream of helping design stadiums.
Kendra Schlenbaker mom recalls her son saying that if he couldn't play in the stadiums, he was going to build them. At this point, Schlenbaker is setting himself up to have both options.