When most people think of Wild West banditry, the Pacific Northwest rarely comes to mind. The region's settlement in the late 1800s marked the end of the era in American history. But this cultural moment took one last ride north of the border at the turn of the century when, in 1904, Bill Miner became the only successful train robber in Canadian history.
Born Ezra Allen Miner in Michigan in 1846, William "Bill" Miner's criminal career began with horse rustling and stagecoach robbery in California. He served five terms at San Quentin State Penitentiary over 33 years, released at age 54. A year before his legendary 1904 robbery of the Canadian Pacific Railway, Miner attempted a CPR holdup in Portland where he fled armed resistance. Another failed heist in B.C. in 1906 would lead to his capture and escape from the Pacific Northwest.
Miner completed his notorious heist alongside John "Jake" Terry and William J. "Shorty" Dunn. Terry was Miner's San Quentin cellmate and a Sumas resident nicknamed "Cowboy Jake" and "Terrible Terry" for his violent demeanor. Dunn was an American that Miner befriended in Princeton, B.C. after the Portland holdup. Legendary in Canada, Miner's story has had untold influence on Whatcom County.
The Canadian Pacific Railway Robbery
Miner, Terry, and Dunn's successful CPR heist lasted 30 minutes on the night of September 10, 1904. The men snuck aboard the train and held the engineer and fireman at gunpoint. Miner forced the crew to stop the train and open its safe. The bandits made off with $6,000 in gold dust, $1,000 in cash, and approximately $300,000 in negotiable bonds and securities.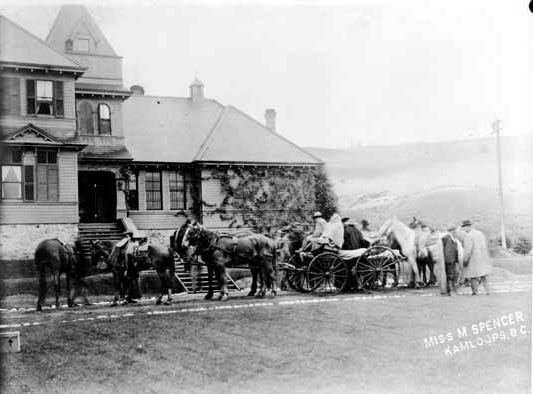 British Columbia Provincial Police and Pinkerton Detective Agency led the search. CPR and British Columbia's government offered $11,500 rewards for the bandits' capture.
Miner was a key suspect after his attempted Portland heist, but Terry and Dunn remained unknown. Miner plotted to return the traceable bonds and securities through Terry, but CPR declined Terry's negotiations out of distrust.
Miner and Terry were suspected but never confirmed responsible for a 1905 Great Northern Railway Flyer holdup in Ballard. In Miner's 1906 holdup, Miner, Dunn, and transient Louis Colquhoun targeted a CPR train near Kamloops, B.C. They forced a stop at gunpoint again, but only managed to rob liver pills and $15.50 from the baggage car because the express car had been left behind. This failed heist prompted another $11,500 reward. The Provincial Police and RCMP tracked the bandits to Douglas Lake, surrounding them and forcing their surrender.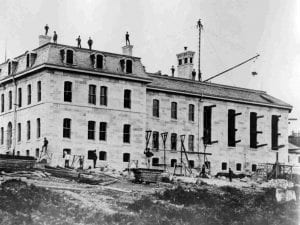 Miner and Dunn received life sentences at British Columbia Penitentiary following a May 1906 trial. Believed too old to escape, Miner fled through the prison brickyard in August 1907. The event spurred controversy due to lax security and Miner's refusal to return the bonds and securities without a guaranteed pardon.
Miner never returned to Canada. He pulled a final 1911 holdup in Georgia, where he was again captured and died in 1912 of gastritis following an unsuccessful escape attempt.
Whatcom County Connection
Whatcom County enters this story as Miner and Terry's rendezvous point before Miner's Portland holdup. Miner traveled to Bellingham in 1902 under pretenses of visiting his sisters and harvesting oysters. He intended to meet with Terry, who smuggled him into B.C. after the Bellingham Herald reported on Miner's cohorts implicating him in the failed heist. Multnomah County Sheriff William Storey collected Miner's bloodstained overcoat in Bellingham as evidence of his culpability.
Miner and Terry smuggled opium and Chinese immigrants into the U.S. in the years leading up to their successful holdup. Miner assumed the alias George W. Edwards, maintaining it until his capture. Having been a railroad engineer, Terry planned the successful heist with Miner using his knowledge of CPR's operations and Whatcom County border crossings. In these respects, Whatcom County set the stage for two historic holdups.
In 1907, telegraph lineman Gus Lindley shot and killed Terry for having an affair with his wife Annie. Hundreds of onlookers surrounded his undertaking, none attending his burial in an unmarked grave at Bayview Cemetery. Miner's grave in Georgia remained unmarked until 1964, when historian James C. Bonner added a headstone dubbing him "The Last of the Famous Western Bandits."
'The Grey Fox' in Popular Culture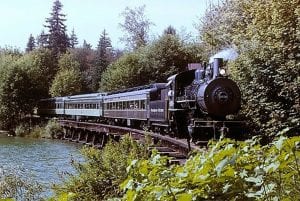 Popular culture remembers Bill Miner as the "Grey Fox" or "Gentleman Bandit"—an unusually polite older man, as bandits go. He reputedly coined the phrase "Hands up!" and instructed accomplices to fire guns only as a warning, never to kill. Many Canadian place names, restaurants, and artworks reference Miner's exploits.
The Grey Fox became the title of an award-winning 1982 Canadian biographical film starring Richard Farnsworth as Bill Miner. It features sets from B.C. and Whatcom County, including Lummi Reservation and Lake Whatcom. Northern Pacific Railroad's historic Locomotive 1070 (owned by Lake Whatcom Railway) stands in for the CPR train.
Across time and borderlines, Miner's story has connected the Northwest to its Wild West heritage.
Bill Miner's "Gentleman Bandit" nickname and popularity in Canada began with the publication of this photograph in 1907. Photo: Wikimedia Commons / Mary Spencer / public domain

Miner and Colquhoun surrendered to police without resistance, but Dunn received a life sentence and leg injury from trading gunshots with officers. Photo: Vancouver Public Library / Mary Spencer / public domain

Miner was under strict supervision for his first year at B.C. Penitentiary after stating intentions to escape. When security relaxed, he escaped alongside three other inmates (later caught) by tunneling under a fence and scaling the wall. Photo: Wikimedia Commons / public domain

Bill Miner's escape from the B.C. Penitentiary in 1907 caused a media frenzy. His whereabouts remained unknown until resurfacing in Georgia in 1911. Photo: Vancouver Public Library / public domain