Years of rising early to train, and then clocking even more pool time in the evenings has earned Teigen Detta a spot on the Southern Illinois University swim team.
The Mount Baker High School senior has worked hard in the pool from 5:30 a.m. to 7:30 a.m. and 5:30 p.m. to 7:30 p.m. every Monday, Wednesday, and Friday for the last five years. She's also mixed in shorty swims and weight training to ensure she did all she could to reach the next level.
When pools were shut down last spring, Detta and her teammates didn't want to fall behind in training, so they mustered the courage and headed to one of Whatcom Counties chilly lakes. "My first day at Lake Padden with a couple of other swimmers was April 11th," Detta recalls. "We brought wetsuits and said, 'All right, let's get in!'"
Being this committed to the sport comes with sacrifices. Detta missed out on some things as a high schooler but knew it was all building towards something—and that something, now, will be swimming in college.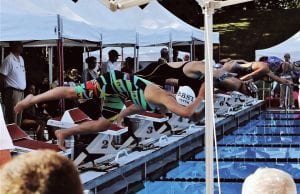 Detta's dedication for swimming started at a young age when she wanted to join a dive team but didn't know how to swim. Her parents, Renata and Brent Detta, put her in swimming lessons—and she never looked back. She joined the Bellingham Bay Swim Team at age eight and has now been on the team for nearly 10 years.
Her love for the sport has only continued to grow, from both an individual and team perspective. "My favorite part is being a part of a team but also having individual goals," says Detta. Individually, Detta competes in the 50m freestyle, 100m freestyle, 100m backstroke, and 200m freestyle. She also competes in most of the relays, which gives her the opportunity for both team and individual achievements.
After a long delay, Detta is finally back in the pool and competing again. She's excited to finish out the year out with her five fellow seniors. They've been swimming together since they were little and credit much of their combined successes to having pushed each other. All six have committed to colleges where they will continue to swim.
Parting ways with her long-time teammates will be difficult, but Detta is excited for new opportunities. Selecting a school wasn't easy and Detta admits she was fearful of Midwest winters. Fortunately, the campus if pretty far south, giving some reprieve from the brutal cold.
During the process of selecting a school, she talked to both coaches and some of her future teammates.
"I talked to a couple of freshmen on the team and I talked to the captains that are there this year," Detta says. "And just get the feel that it's such a team mentality."
After the discussions, Detta was leaning Southern Illinois, but visiting the university with her Mom over the Martin Luther King Jr. Day weekend sealed the deal. The training facility—impressive for the size of the school—was a big draw for Detta. She looks forward to that pool being her new home.
Having visited, Detta is now excited to live somewhere new and see what's out there. The university has approximately 11,000 students which, while a big jump from Mount Baker High School, is still a modestly sized school. The campus is located just two hours from Nashville, so there will be lots to explore and do.
Swimming in the NCAA will be a big change, but Detta looks forward to it. NCAA seasons feature a lot of dual meets, which put even more emphasis on the team aspect of swimming. Detta is looking forward to this set up and doing all she can to help the team reach its collective goals. In college, Detta expects to narrow her races down to the 100m freestyle, 100m backstroke, and 200m freestyle and in doing so push herself to be even better.
Now that Detta has achieved her goal of being part of a university swim team, she's setting her sights on her next goal. The swim program at the University of Sothern Illinois has had recent success and she wants to be a big part of future achievements. "I'd love to compete in the NCAA championship and compete well," Detta says.
She knows getting to that level won't be easy, but she's not afraid of the hard work it will take to reach that goal.