Submitted by Assistance League of Bellingham
The shop is all ready and waiting for our faithful customers and friends to return. A warm welcome to all you new shoppers, as well. We are thrilled to announce that our Thrift & Gift Shop will reopen Thursday, March 4th. We will resume our COVID hours of being open each Thursday and Saturday from 10 a.m. to 5 p.m. Donations will be accepted in the back alley on Thursday and Saturday from 10 a.m. to 2 p.m.
Where else could you find quality and clean merchandise delivered to you by our volunteer members who love what they're doing? You can't beat the prices either! Once you have shopped at our Thrift & Gift it is hard to shop anywhere else! We know how to make you smile.
Let's take a look at some of the many items you will find…
Furniture and Wall Art
Yes, we do have furniture! Sofas, chairs, dining room and kitchen sets, benches and so much more. Any day there could be something new waiting for you to find.
Our wall decor ranges from originals to prints to sculptures, mirrors and woven hangings. We often have works from local artists.
Vintage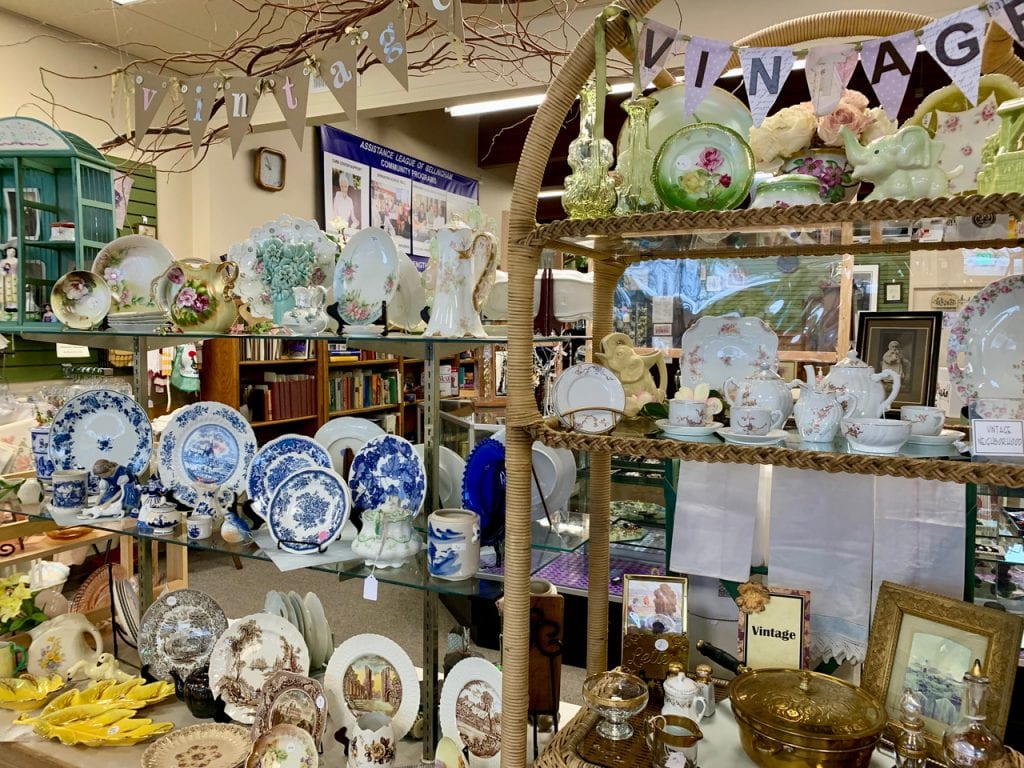 Missing a piece of china from your set? We just might have a replacement for that cup dear Aunty Mildred broke last Thanksgiving!

Starting a new collection from the past? You will find a wide assortment from mustache cups to salt cellars! It's fun to figure out the original purpose of an unusual piece. If you like the look, and you buy it…it can become anything you want!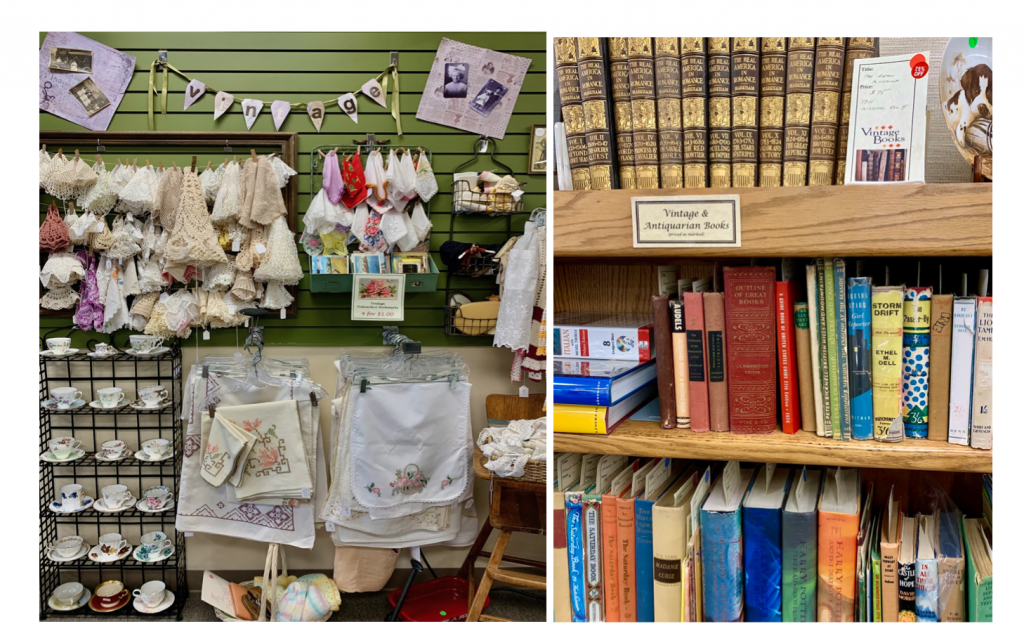 Looking for vintage linens, doilies, dolls, cups and saucers? Come take a look at what Grandmas have shared with us, so we can share them with you! Memories are waiting…
Our vintage book collection brings the past to life in great glory!
Jewelry
Every girl needs a new bangle at least once a week. We have precious stones… and stones you will find precious! Our watches work, and come with new batteries. Some need to be wound…remember those?!
Men's & Women's Clothing
We have a great selection of both men's and women's clothes, all checked and double checked, steamed and beautifully displayed.
Don't let the low prices fool you…they have all their buttons, and hems are intact.
And, oh yes…we have hats, scarves, gloves, socks and ties too.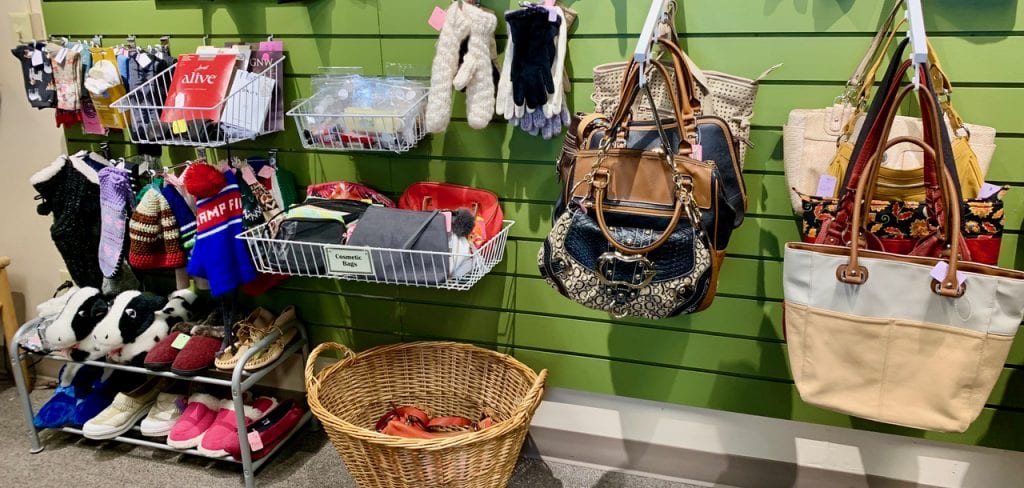 Accessories can make an outfit and we have a wonderful selection.
Pretend you are Cinderella or Cinderfella and see if our shoes fit.
Kitchen Items, Small Appliances and Glassware
Does your kitchen need a fresh look? How about a picture or clock?

Dishes looking "over-scraped?" Dish sets and singles are here to be discovered.
Cooking tools and gadgets are in great quantity. Find what you need, and what you didn't know you needed!
Glassware from serving dishes to drinking glasses all share a sparkle of just being cleaned. Pots, pans, mixing bowls and baking dishes…all you would need for preparing a meal.
We have lots of small appliances and all are in good working condition. If it does not make the right sound…or no sound at all, it goes out our back door.

You can buy a new or like-new appliance for next to nothing!
Linens
Our linen department allows only the best for you to choose from. You'll find bedding from sheets to spreads, coverlets, quilts, afghans, and blankets. For the bathroom there are towels, shower curtains, rugs, and accessories, too.
How about a lovely new tablecloth, runner or placemats with matching napkins and napkin rings? Don't forget the accent pillows for your sofa and bed!
Toys, Luggage and Crafts
The young ones will find lots to look at and ask if they can take them home. The nice thing is, the prices are so good, they probably can!
We may just have the bag for you. Spend your money on your dream trip, not on your luggage!
We have a plethora of craft supplies for just about any project you are thinking of!
Be crafty, and come in early for the best choices.
Books, Cards and Music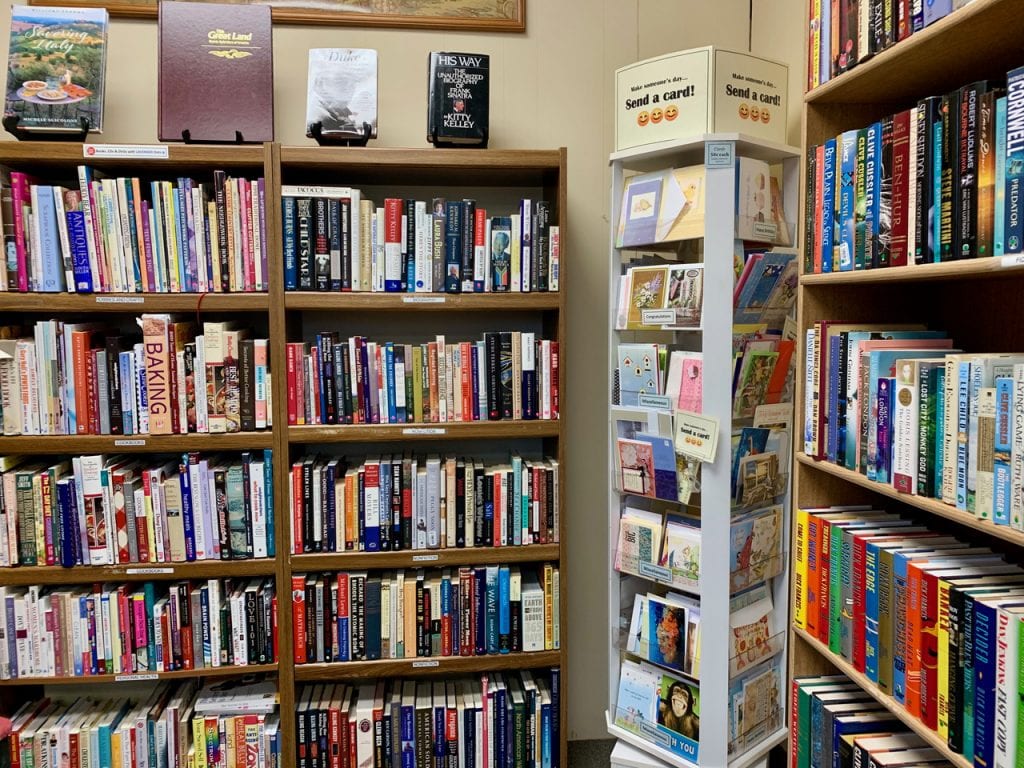 Did you become a bookworm over the last year?
We have plenty of good reading waiting for you in our cozy "Book Nook." You'll find hardbacks and paperbacks in many genres.
They keep company with vinyl records. Yes, you read that right! We receive a wide variety of vinyls; come check them out.

Reach out to someone with our selection of gift cards just waiting to be mailed.
Hardbacks normally sell for $2 and softbacks for $1. But…if you want to cut that price in half, you will want to visit us every Saturday!
While you are browsing around, check out our selection of CDs, and DVDs. With your new movie all you'll need is popcorn!
Free magazines are available for your enjoyment.
Gardening
Always ready for the gardeners, "weather" inside or out! We have large containers for your big plantings outside too. Be sure and check out the many vases, plant
stands and yard art donated throughout the year. Happy gardening!
Deals…as if our regular prices were not low enough…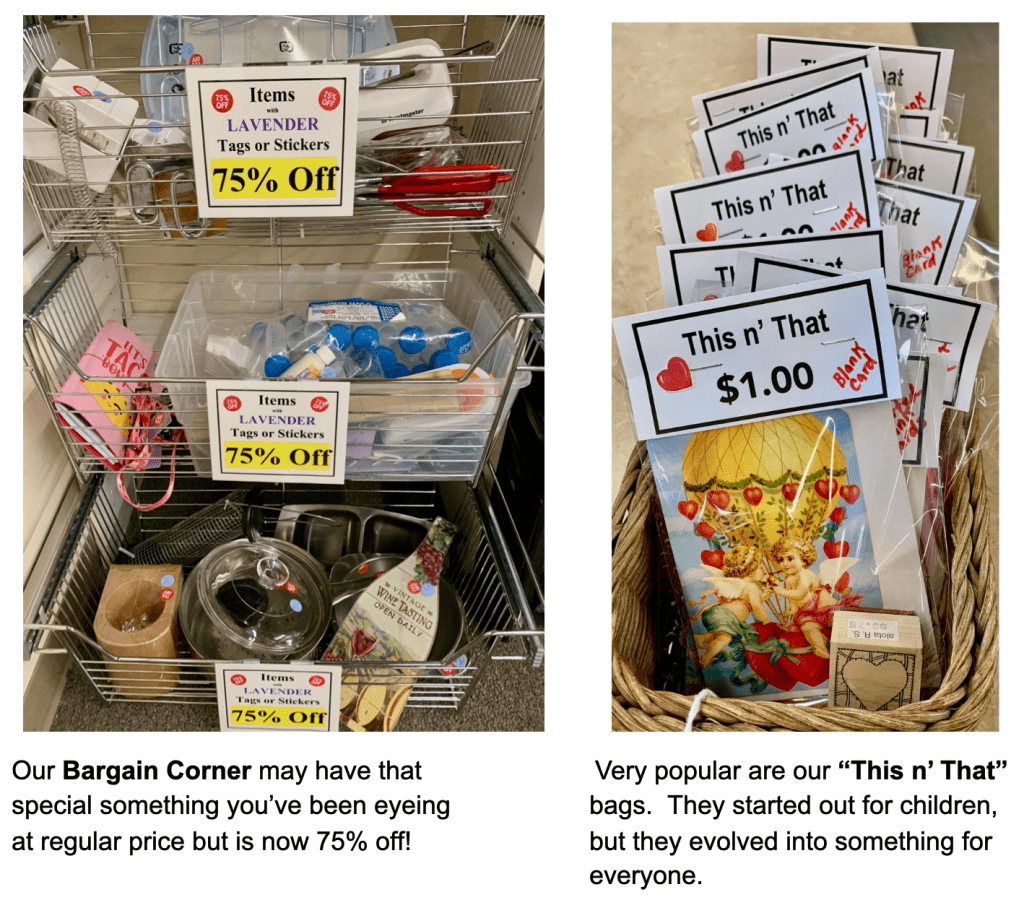 Every Thursday is Senior Day. Patrons 65 and older get 20% off all of their purchases unless already marked down. See, it pays to be O.L.D.!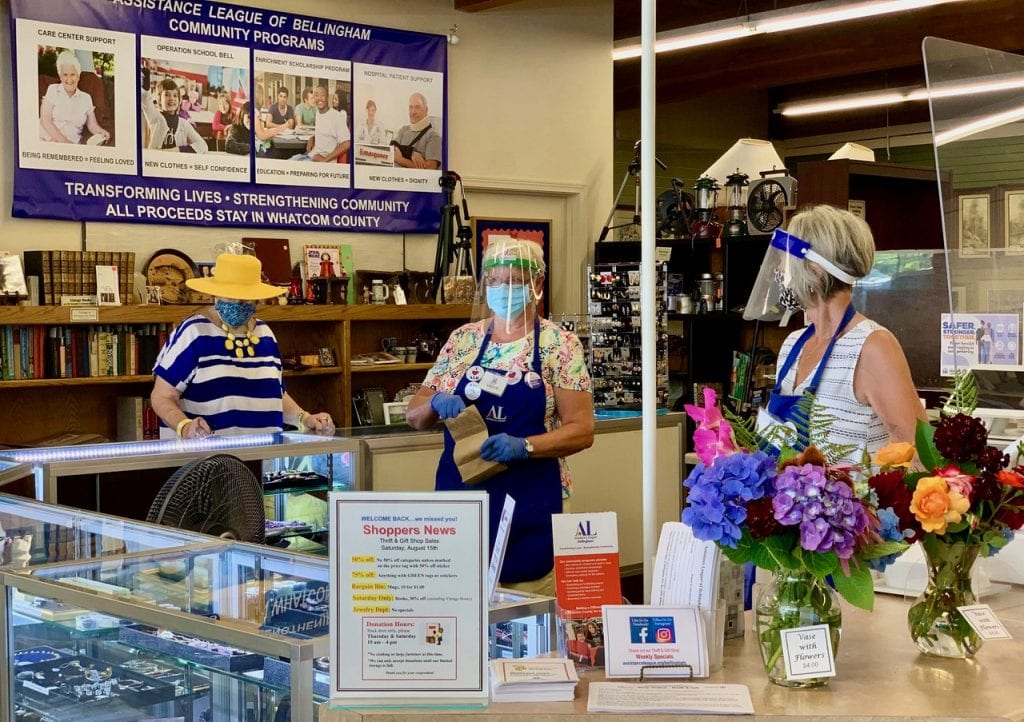 We are ready for you! The shelves and racks are filled to the brim. The shop has been cleaned, from items to the air. We can't wait to see your smiling faces and catch up with all your latest news.
Assistance League of Bellingham has been successfully making a difference in Whatcom County for over 40 years!
You can support us by:
Making a donation on Assistance League of Bellingham's website "Donate" page.
Mailing a check to: Assistance League of Bellingham
P.O. Box 2998
Bellingham, WA 98227
Shopping on our eBay site. To find us on eBay click this direct link to alb_thriftshop.
All funds stay in Whatcom County
to support our five community programs.
Learn more about us at assistanceleague.org/bellingham
Thrift & Gift Shop
2817 Meridian Street
Bellingham, WA 98225
360-738-2803