Submitted by PeaceHealth
The American College of Cardiology (ACC) has recognized the PeaceHealth St. Joseph Cardiovascular Center for its demonstrated expertise and commitment to treating patients with moderate to severe heart valve disease with transcatheter valve implantation (or TAVI, also known as TAVR) procedures. PeaceHealth's TAVI program is now officially certified, the first health care provider in Washington state and among fewer than 30 in the nation to receive this esteemed distinction.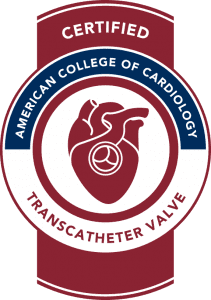 The certification from the ACC is based on evaluation of PeaceHealth's ability to meet standards for multidisciplinary teams, formalized training, shared decision-making and registry performance. The Cardiovascular Center developed processes to standardize patient care and increase quality measurement.
Eric King, DO, PeaceHealth cardiac interventionalist, said, "This is a wonderful recognition of the quality outcomes of our cardiology and cardiothoracic surgery programs. TAVI offers an important alternative to traditional open-heart surgery for our patients with significant valvular heart disorders."
The ACC's Transcatheter Valve Certification is an external review and certification process that pairs with established national clinical databases to monitor patient safety and real-world outcomes related to transcatheter valve therapies. Participation in established national clinical databases is required for hospitals interested in achieving Transcatheter Valve Certification.
"The PeaceHealth St. Joseph Cardiovascular Center has demonstrated its commitment to providing Bellingham and surrounding areas with excellent heart care," said Phillip D. Levy, MD, FACC, chair of the ACC Accreditation Management Board. "ACC Accreditation Services is proud to award the PeaceHealth St. Joseph Cardiovascular Center with Transcatheter Valve Certification."
The PeaceHealth St. Joseph Cardiovascular Center completed its first TAVI procedure in 2015 and celebrated its 250th procedure in February 2021. TAVI is a minimally invasive heart procedure that replaces the aortic valve without open-heart surgery. It's a lasting solution that helps patients with aortic valve stenosis beat the 50% odds of dying in two years if their condition is left untreated and improves quality of life. Find out more at peacehealth.org/TAVR.