When Margie Kimberley retired from teaching, she chose to get serious about publishing a book. During her years of teaching—most of which were spent in Bellingham at Whatcom Middle School and Squalicum High School—she'd been writing manuscripts but had never taken one to the point of being published.
"It had always been a goal of mine," Kimberley says. "I love children's literature. I was read to a ton by my Mom, as were my four siblings. Then when I was a mom myself, I loved a good picture book, I loved a good story, and loved reading to and with a child." With the goal lingering, she embarked on the journey that ultimately lead to her publishing What Makes You Smile As Big As The Moon?
As she started the process, which she knew nothing about, Kimberley began adding layers of meaning. The first major impact came as she sought out an illustrator to bring her story to life. Kimberley had watched her niece, Michelle Marques, create art for years and thought a collaborative children's book would be a great place to showcase her talents.
An initial discussion led to Kimberley sending over manuscripts for Marques to choose from. Marques chose What Makes You Smile As Big As the Moon? which lead to three years of weekly video chats that brought the book to life. This time spent with her niece became one of most enjoyable aspects of the process.
The next layer of meaning came when Kimberley decided she wanted her book promote children's literacy. To achieve this, Kimberley has chosen to make a donation with the sale of every copy. She will do this nationally through The National Children's Book and Literacy Alliance, and locally through the Whatcom County Library System's Raise a Reader program.
With story selected, illustrator on board, and mission in place, Kimberley set off to figure out what the heck to do next. She found direction through Village Books and their program to work with self-publishing authors.
Village Books' involvement once again deepened the meaning the book would carry. "A fun pastime for me was going and sitting in Village Books, and in the old Village Books they had this cool white wicker couch in the back," Kimberley recalls. "I would just get a pile of books and read through them and pick out the ones I wanted to bring home." The place where she once plucked books from the shelves would become where hers was first placed.
As the process progressed, Marques asked for photographs to paint from. Kimberley and Marques agreed that they wanted to select a diverse group so the story would be relatable to any child who read the book. They selected family and friends to serve as models and characters. Each character comes to life on the pages and one of the final pages tells the story of each individual.
Kimberley writes because she loves to play with words. She enjoys how words can have motion and how they move one's tongue. With What Makes You Smile As Big As The Moon? she wrote a rhyming book intended to be both fun to read and listen to.
Her love for books made that piece important, but she also wanted the book to have an impact on the children who would spend time with her story. "I want children to be able to talk about their emotions with the adult who is reading that book and feel the way they want to feel and be okay with that," she says. "Everything I do in my life, I want young people to feel they matter and belong, and I think this book underscores that."
As a lover of stories, Kimberley's intention was to deliver a fun book for both reader and listener. One that as a kid she would have loved to listen to her mother read—and that she would enjoy reading to her children and grandchildren.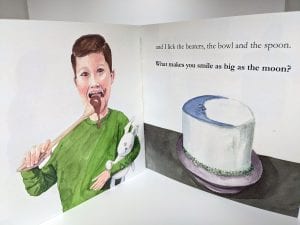 As someone who educated children for 32 years, grades two through 12, she wanted to ensure that the tools were in place for the reader to connect with their audience. The final page offers a guide for readers to help them use the book as a tool for starting a conversation with a child about emotions. The story, in its short time in publication, has found its way into homes and classrooms, making Kimberley's goal a reality.
Copies of What Makes You Smile As Big As The Moon? can be purchased locally at Village Books and will be available nationally in the coming weeks with a release of the hardback version.