In March of 2020, the world as we knew it changed. For those on the frontlines caring for their community amidst unprecedented turmoil, the COVID-19 pandemic required expert response and extraordinary courage. Unity Care NW was one of Whatcom County's community health centers that stepped up to the monumental task, coordinating a pandemic response that is a true success story: there has been no transmission of COVID-19 at their health centers to staff or patients.
Unity Care NW's emergency response was comprehensive and exceptional. They were one of the first places to require universal masking for all staff, patients, and visitors, which made a huge difference in their fight against COVID-19.
"We instituted an emergency response team, and screened all patients before entering our health centers," says Medical Operations Manager Rachel Herman. "By August, we had opened our first respiratory clinic, where we were able to continue to provide services to our 'sick' patients in a safe environment while keeping the rest of our health centers open for patients without symptoms. That first respiratory clinic is in Bellingham, and we opened a second in Ferndale."
That hasn't been the only shift in Unity Care NW's services. In fact, every department has adapted with grace and success to the challenges of the pandemic. The dental department instituted special safety precautions with new air filtration devices. The pharmacy department quickly developed many innovative practices, including curbside pick-up and home delivery. The behavioral health department rapidly implemented telemedicine. Herman says, "Normally telemedicine like that could take up to a year to roll out. We did it literally overnight for our behavioral health department."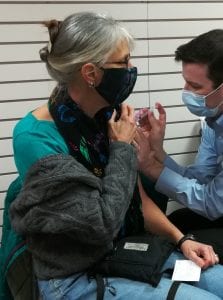 That's not to say that the whole process has been easy. But Unity Care NW leadership has been diligent about supporting staff and patients during the pandemic.
"We've had to think about how we restore our energy along the way," says Unity Care NW CEO Jodi Joyce. "We've been really intentional about using gratitude exercises to self-replenish. We have mindfulness built into most of our agendas. If we're not taking care of ourselves, we're not going to be able to take care of others well."
The arrival of the COVID-19 vaccine will enable the Unity Care NW team to take even better care of themselves and their community. "The vaccine is a huge resiliency booster," Herman says. "We are approaching this as a celebration. In our staff clinics, we have music playing and lollipops. By the end of this week, we'll have 60% of our staff vaccinated. Our staff who have been dealing firsthand with this virus understand how dangerous it is and how important the vaccine is."
"These vaccines are some of the best that have ever been created," says Director of Planning and Development Chris Kobdish. "You don't get better than 95% efficiency. I know there are concerns about the speed, but they meet the markers of safety. This is a safe and effective vaccine and it will save your life. It is definitely a light at the end of the tunnel. This is how we get to the end of the pandemic."
Kobdish adds, "Please don't call your provider. They will be reaching out to you to get the vaccine. We know if you fall in the eligibility categories. Be patient, supplies will increase, and people will have access in the coming months."
In the meantime, it's more important than ever to practice COVID-19 safety, especially with Whatcom County's current numbers. "I call it the three W's," Joyce says. "Wear a mask, watch your distance, and wash your hands. These are really important. The data on masking is so clear."
And even after vaccination, she stresses, masks will remain important, as research does not yet show if someone can still spread the virus. "But there are lots of reasons to be hopeful. I'm grateful for our state government and governor; the way they're distributing the vaccine is very science-driven."
Unity Care NW's gratitude extends to all their staff, as well as their community. "This has been a really trying time for us," Herman says. "It's brought us closer together and helped us realize what we're capable of doing. For everyone who works in a community health center, the mission is why we're here, keeping our patients and special and underserved populations as safe and healthy as possible."
Kobdish is grateful for the support of the Whatcom community. "There was a group from Ragfinery that made cloth masks, back in the beginning when we were scrambling to find PPE. They delivered hundreds and hundreds of masks."
Joyce adds, "The generosity of our community has been so appreciated. I have so much respect for the people who make up Whatcom County and the people who put their support behind us."
Unity Care NW is a true beacon of hope for Whatcom County, and beyond.
Sponsored