In February 2011, Chad DeRosa chose to simplify life and move into his 1991 Volkswagen Westfalia. He couldn't have known then that millions of folks would eventually follow along with him (virtually) on his adventures.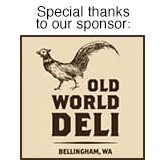 Raised in Whatcom County, he'd worked in the construction industry for years, but building had taken an economic hit. Knowing it was time for a change, he decided to pursue his passions of photography and videography. DeRosa was uncertain how he'd make money going down this road, but knew that having less overhead would help. "For me," he says, "it was a matter of being able to chase my dreams of becoming a photographer and filmmaker, and ultimately live a life more fulfilling, doing something you love to do."
Over the years, DeRosa bounced back and forth between a more traditional home and living in his van—and the more time he spent living on wheels, the more he loved the freedom it gave him. With work taking him around the world, he found satisfaction in not being tied to a foundation.
The flexibility that was a means to pursue his passions eventually became a passion in itself, and DeRosa has now lived in his van full time since 2018.
This lifestyle—and the adventures it takes him on—is also now his profession, thanks to the popularity and success of his Living the Van Life YouTube channel. DeRosa's videos get millions of views. People love to watch where he takes the van—and that he does so across all four seasons.
A stock 1991 Vanagon has its limitations, so upgrades were necessary to make these excursions possible. DeRosa swapped out the original engine for a Subaru's, creating more power and speed. He's done almost all the work on the van himself and there have certainly been learning curves along the way; DeRosa is often forced to do repairs on the fly while on a trip. It's still a 30-year-old van, but these modifications allow him to ride out blizzards and take it to the top of mountains, even reaching a 10,000-foot mountain peak in Idaho.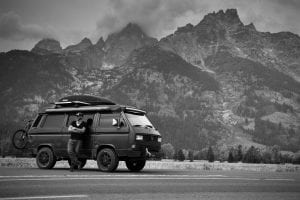 He and the van have been on many adventures, but DeRosa does have a favorite. "The White Rim Trail in Canyon Lands probably takes the cake as the coolest spot," he says.
While living the van life has its advantages, it also comes with limitations. DeRosa must carefully edit what he chooses to live with. Most essential item? His camera, because that's how he makes his living, but he also couldn't make it without his batteries.
"It's got to be the battery system that's installed in the van, because essentially you're living off grid. Being able to power—essentially, your life—you've got to have a good battery system to back it up." From the road, DeRosa must be able to film and edit his videos, all from the power provided by these batteries, which are charged by a combination of the van's engine and solar panels.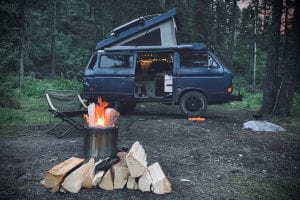 When DeRosa posted his first video to YouTube, in August of 2011, he chose not to tell anyone. It was outside his comfort zone at the time, but he wanted to share what he had learned in his first six months living in the van as a means to give back to the van community.
His goal now is to show people what's possible and hopefully encourage them to get out and explore. He knows not everyone is going to move into a van, but if sharing his story encourages someone to try out camping for the first time, or go on a road trip, he considers that a success.
His channel is all about sharing, so DeRosa covers it all, whether that be an awesome spot to stay the night or how to navigate bathroom and hygiene needs.
DeRosa recently revealed that Living The Van Life is entering a new chapter; he's purchased a 2020 Sprinter Van, in which he will soon live, travel and work. He's just beginning the build out of the van and will, of course, share videos along the way. DeRosa hopes to have it completed in the next few months.
While his VW is like a member of the family, and he'll keep it for future adventures, his new vehicle will allow him to grow what he does. "I have plans for taking the channel to a whole new level, having a vehicle that can go out and travel across the country in a matter of a few days without having to worry about it. I want to do more stuff expedition-style," says DeRosa.
DeRosa chalks up all the opportunities that have come his way to making the choice to live in his van. To share in those experiences, follow DeRosa's adventures on Instagram @livingthevanlife, on his Living the Van Life YouTube Channel, and at www.livingthevanlife.com.
Always testing the limit of the 30-year-old vehicle, DeRosa takes his van up Hurrah Pass in Moab, Utah.