Emily Pacheco's journey to herbalism began with a special plant: osha root. Living in New Mexico and working as a waitress without health insurance, she had a sore throat and wasn't sure what to do. A coworker gave her a tincture made out of osha, an herb that grows in the Southwest and is commonly used to soothe sore throats.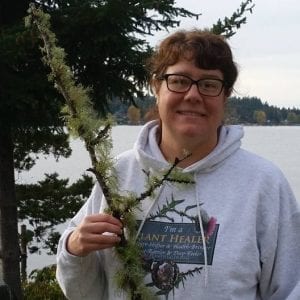 "I felt better!" Pacheco recalls. "I asked my coworker, 'What was that?' and she explained that it was a plant that grew in New Mexico, and she harvested it and made her own medicine. I was flabbergasted. It was a whole world that had never occurred to me, and it was like a veil had been lifted."
Pacheco's curiosity grew, and she sought formal schooling. She received her Bachelor's of Science in Botanical Medicine in Albuquerque and returned home to the Pacific Northwest after graduating. Pacheco is fourth generation Whatcom County, and despite having her herbal awakening in the desert, her love of plants was first born and nourished here among the firs and ferns.
"When I was a kid, I used to explore the shores of Lake Whatcom," Pacheco says. "I interacted with the plants, learning about native plants and edible berries." It only made sense to have her business, Em's Herbals, celebrate the natural beauty and medicine of this area.
"We're here to support our community," says Pacheco. At the core of her work is the motto 'Think Global, Act Local.' She's passionate about working in partnership with Pacific Northwest farms, keeping plants local to reduce carbon footprints, as well as support the thriving agricultural community of this area.
Some of Pacheco's favorite herbs are native to Whatcom County. They might even be native to your backyard or alleyway, especially if we're talking about calendula, an herb that's near and dear to Pacheco's heart. "It's one of my favorites," Pacheco raves. "Our logo is based on the calendula flower. It's easy to grow, and the lay herbalist can grow it in their garden easily. It's self-seeding, has so many uses, and is completely safe and gentle. Calendula is a beautiful, vibrant orange color that's just like sunshine."
Em's Herbals flagship product is a calendula salve, made with flowers grown in Skagit County. "It's a skin healer," Pacheco explains. "You can use it on cuts, scrapes, scratches, sunburns, bee stings, and is gentle enough to be used on a newborn infant for diaper rash."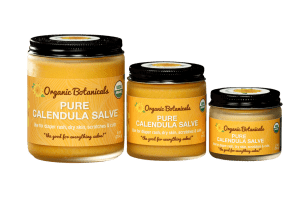 Of course, the power of plants extends well beyond a single flower. Roots, berries, leaves, and more all play starring roles in Em's Herbals products. "I'm continually amazed and in awe," Pacheco says of the healing properties of herbs. "We have an arnica salve, which is topically applied for pain relief. I put it on when I had shoulder pain, and the level of relief I felt was incredible."
This winter, Pacheco will be turning to some beloved classics to keep herself, her family, and her customers healthy. "Echinacea and elderberries are my first go-tos," she says. "We also have a tea called Open Air, which helps people who get colds and congestion in their lungs."
Pacheco prides herself on making tea blends that make herbs accessible. "My goal is to make it easy and taste good as a beverage. And people love to drink them; it's a positive sensory experience as well as good for their bodies."
The reaction of her customers is the most rewarding part of Pacheco's work as an herbalist and businesswoman. "It's so fulfilling to see the look of amazement on peoples' faces when they realize that herbs really work," she says. "There are simple and noninvasive ways to help the body. Something as simple as chamomile can affect such a big change."
And big changes go beyond cups of tea. Pacheco has a mission to share the gifts of herbalism with her community. She wants to partner with local farms and growers to source her herbs, move toward a zero-waste business, and give back to organizations like the Lighthouse Mission, where she recently donated herbs and spices. A particular passion of hers is "empowering women to make their own choices regarding birth and healthcare."
Em's Herbals shares teas, tinctures, salves, and more that bring joy and healing to the body and to the soul.
Sponsored