At Bellingham Training and Tennis Club, community comes first. "Since we bought the club back in 2000, we've worked hard to create a place where people feel welcome, recognized, and part of this family," says General Manager Robin Robertson. "That's important to me."
The club has a rich history that dates back to far before Robertson took the helm. Joann Roe, a club member and local historian, has taken a deep dive into the club's fascinating past. "Long before tennis came to Bellingham," Roe explains in her book, Bellingham Tennis Club: An Informal History, "another sport was popular in Fairhaven." Apparently, a bordello was located on the site—one of several in existence during Fairhaven's rough-and-tumble pioneer days.
Roe's book goes on to describe Dirty Dan Harris's residence near the club, on Padden Creek. And just two blocks away, at 6th and Harris, where two men were wounded and one killed at Butch's Saloon in 1902. Other historical spots nearby include a 1913 bunkhouse for Chinese laborers in the salmon cannery just off 6th Street, and state archaeologists unearthed artifacts and fire pits nearby of Indian campsites that date as early as 1500 B.C.
The annals of this place continue to grow more exceptional—though perhaps less Wild West. Robertson was recently selected as Manager of the Year for Large Facility by the United States Professional Tennis Association (USPTA), chosen from a field of 17 regions across the United States.
"I do three things," Robertson says. "I take care of our team here, making sure that they are well-educated and understand what they need to do. I take care of the business and keep things like marketing, memberships, and facilities in order. And the third thing is I do my darndest to create an amazing experience for our guests."
That hard work, dedication, and passion have all paid off, as Robertson was presented with the prestigious award. "I felt shocked and proud," she says. "We're a little club tucked away in the Pacific Northwest, and I was so humbled and honored. It wasn't even an employee or member who nominated us; it was a board member from the USPTA."
As board members visited Bellingham Training and Tennis Club over the years, they noticed one thing in particular: it just kept getting better. "We work hard to always improve," says Robertson. "It was such a huge recognition. We're like the little club that could!"
That drive to improve is part of the club's code of ethics. Five principles guide the work they do to help people embody their healthiest and happiest selves. The first is Build Confidence, as the club's team helps both staff and members feel empowered and confident. The second is Bring Care. "We're all about community and helping each other," says Robertson. "We want to help everyone who comes in the door." The third, of course, is Always Improve. The last two are Serve First and Enjoy Life. On that point, Robertson says, "We think the club should be a fun part of everyone's day, whether you work here or are a member. Community is the key."
Robertson has taken these five principles to heart and gone above and beyond. She comes from a background in environmental science, or as she puts it, "working on external environments." And while she found great meaning and purpose in her environmental work, her focus has now shifted to what she terms "internal environments."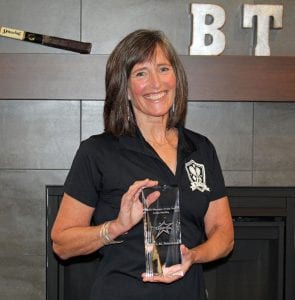 "I just love being part of people's healthy and happy lives," she says. "When people spend time working on their health, when they're healthier and happier, they have more energy to go out and do things in the world and make it a better place."
Robertson has also fearlessly led her team through the pandemic as they've adapted to changing guidelines and public health recommendations. "I'm so proud of our team's ability to be flexible and find new ways to connect," Robertson says.
Bellingham Training and Tennis Club has developed several innovative programs that keep their focus on community alive, with Robertson inspiring her members to change themselves—and change the world.
Sponsored