Matt French is a visual artist with reverence for his roots and a vision for the future. His family has lived in Whatcom County for generations, and inspired much of his artistic drive today. And he imagines using his love of art and community to create a brighter, more colorful future for his home.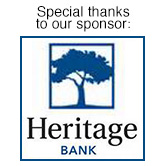 "My grandpa used to own the Mount Baker Theatre and my great aunt was the first female doctor in Bellingham." French says. "My mom was a graduate of Western and got an art history degree, which underlines the fact that she had come from a long line of artists."
His mother's art made a strong impact on him, including a mural she painted on the living room wall of his childhood home, depicting the view from the farm she grew up on at Point Whitehorn. "My mom put a crayon in my hand from the time I was in a high chair," says French. "As a kid, I was all over the place, so my mom incorporated art in my life as fidgeting management." His mother always kept a small notebook and pen in her purse, and when it was time to stop being rambunctious or to be quiet and not distract others in the room, she passed them to her son.
French carried his love of art with him into school. "Especially when it wasn't time to," he says. "Something that became a baseline for me was getting in trouble for artwork, and that seems a little bit backwards to me. Because if you look at people who are in art and design, they are the people that create things that, in the future, entire societies will be judged by."
Sometimes that judgment is much more immediate. "At 19 I was arrested for painting on a building that was not mine to paint on," French says. Many young artists used a vacant industrial building in Ferndale as a canvas, but French was caught in the act. "The punishment for me doing that led me into doing art professionally. For community service, I painted murals at the animal shelter over by the airport."
Unfortunately, the story didn't end there. He says an office worker misfiled a piece of paperwork that led to French being in violation of his probation, and it was decided that he would spend 25 days in jail. "In jail, all the distractions of being outside are gone and what you're left with is the question of what can I spend my time doing?" French says. "The first couple days I played cards, but after that I got paper and pencils and colored pencils from the commissary and started making money doing artwork in jail. People started hiring me to make stationary that would match an envelope, so I'd do the art on both."
French was able to turn this temporary negative into a long-term positive. "Upon getting out of jail, I was looking at a Thrashermagazine, the premiere skateboarding publication, and I saw a section where they'd publish the artwork on envelopes that people sent them. I thought, 'I was just doing this! They print these?'" He began drawing on envelopes and Thrasher published them, which gave him the confidence to think there might be room for him in the world of skateboarding.
Since then, French has worked with major names in the skateboard industry, including Nike, Vans and Volcom. He was invited to the US Open of Surfing, which brought him before an audience of over 875,000. And while he continues to work in the industry, he made the choice to stay in Whatcom County and use art as a means to improve his surroundings.
French would love to see outdoor art used as tool to beautify neighborhoods. "Murals fight crime; they clean up the place," he says. "If you go into a troubled area and paint a mural that has impact, that's different, that engages and draws people in, then that problem area [becomes] a destination. It clears out the people doing dangerous and illegal things."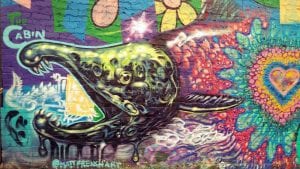 Another plan is to use that same principle on a much larger scale. "When people see a picture of a mural, the first question out of their mouths is not, 'Who did that?' it's 'Where is that?' The interest is going there and seeing it in person," says French. "It attracts people that come and bring revenue, because they have to eat lunch, they have to get gas. The next thing you know, you have people showing up and spending money."
All of which leads him to his idea for Whatcom County's future. "I have this vision to fundamentally change the look—and the reason—people visit, Bellingham. I want to change Bellingham into an art garden that attracts people from all over the world to visit, just because of what an amazing place it could be to view art."
French would love to hear from people that share his goal and want to help make these dreams a reality.
An attractive subject, some intriguing details, and a heartfelt message come together to make this piece a public broadcast. Photo credit: Steven Arbuckle

Finding others to join him in his crusade to turn Bellingham into an internationally known arts destination is a big part of French's life. Photo courtesy Matt French