The Douglas firs and cedars are wrapped in mist. Little creeks are flowing through the forest, and even though it's raining, I feel a lightness in my body and mind. How is this possible? I ask myself. It's winter in Whatcom. A notorious season in a place notorious for gloomy days. However, I find myself channeling the spirit of the USPS in that "neither snow nor rain nor heat nor gloom of night" can keep me from the trails.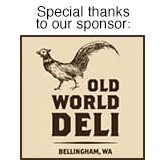 Whatcom County may be rainy, but it's also incredibly beautiful, as anyone who lives, works, or plays here knows well. All that precipitation nourishes mosses, ferns, lichens, and fungi, making winter hiking a lush, green adventure amidst the flora and fauna.
Every trail is a treasure, but there are some hikes that are especially wonderful in the winter. Hiking, or walking, as the case may be, isn't just good for your body. According to the burgeoning field of ecopsychology, time spent in nature is an antidote to stress, a nervous-system soother, and a mood booster. And this time doesn't have to be spent trail-running, mountain biking, or any other extreme activity (though of course those will do the trick, as well). There are many hikes for all levels and accessibilities in Whatcom County.
---
Cornwall Park & Squalicum Park
Let's start with something sweet and simple. I recently seriously sprained my ankle and have to spend outdoor time on a knee scooter. At first, I thought nowhere would be able to accommodate my new limited mobility. But on a rainy mid-November day, my knee scooter and I headed to Cornwall Park, a 70-acre green space in the heart of Bellingham. Paved and gravel paths loop around the park, and I stopped to watch people playing disc golf, families biking, and clear creeks flowing. Another accessible trail is found at Squalicum Creek Park, where a paved route curves through fields of grass, chicory, and yarrow. Even in the gloom, both these parks have a quiet beauty that leaves me feeling calm and nourished.
---
Stimpson Nature Reserve
Stimpson Nature Reserve is one of Whatcom County's more hidden gems. There are Douglas fir trees over 400 years old, and it has many of the characteristics of an old growth forest. In the winter, it's especially beautiful, as hikers, runners, and walkers are protected by the vast canopy of green. Banana slugs slither through maidenhair ferns, and it's much less crowded than the Chuckanuts or other popular recreation areas.
---
Chanterelle Trail
The Chanterelle Trail is a relatively new hiking spot in Whatcom County. Beginning at North Lake Whatcom, the trail switch-backs through wide cedars and ends at a scenic lookout 2.5 miles later. It's definitely steep, so be prepared with water and snacks; you'll gain 1000 feet of elevation. At the top, you're rewarded with views out to the bay, and you can even see a bit of Alger to the east. Winter is the perfect time to spot a variety of birds, and if you plan ahead, you can even bring a thermos of tea to the top to stay toasty as you enjoy the view—or lack thereof, as the case very well may be.
---
Rock Trail
Speaking of the Chuckanuts, however, I'd be remiss if I didn't take a moment to tell you just how much I love them. Larrabee State Parkis one of Washington's most beloved state parks for a reason. Thousands of feet of saltwater shoreline run beside the Interurban Trail and tree-covered mountains, making it the perfect place to bike, hike, or simply take a stroll along the beach. I love the Rock Trail. The trailhead is found up at the very end of Cleator Road, with expansive views of Puget Sound. You can see all the way to Canada on a clear day. The Rock Trail is well-named; sandstone cliffs dotted with caves line the trail. It ends at Lost Lake, which is beautiful even in a drizzle.
---
Edfro Creek Trail
Take a peaceful stroll beside a river on the Edfro Creek Trail, located near Acme. Serene any time of year, Edfro Creek becomes a muddy adventure in the rainy season. And lest that turn you around, let me just say: it is really fun to stomp around in the mud. Especially when bald eagles are perching in a nearby tree and the only sound is the rushing of clear glacial water.
Whatcom County is full of spectacular nature. While it can be easy to appreciate it in the peak of summer, winter hiking can bring peace of mind and strength of body to the intrepid souls who don rain gear and head out into the wild world.