Submitted by Lighthouse Mission Ministries
Shopping for socks and underwear may not be as exciting as buying other gifts, but they are something everyone needs, especially if you're homeless. Our unhoused neighbors may only have one or two of each to get them by.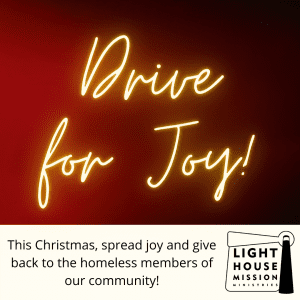 Lighthouse Mission Ministries of Bellingham is hosting Drive for Joy from 10 a.m. to 1 p.m. Saturday, Dec. 5 at the Barkley Woods Coffee, 3008 Cinema Place. Drive for Joy is a contact-less, drive-through and drop-off event to collect essentials for our vulnerable neighbors. (Wearing masks and physical distancing are required.) Christmas music will be provided by PRAISE 106.5.
Woods Coffee is offering $1 off on Dec. 5 to all who donate financially online for Drive for Joy that day. Just show them a donation receipt at any Woods Coffee location.
Cash donations may be made online at https://www.thelighthousemission.org/donations/drive-for-joy/.
Donated items will be assembled into Christmas gift bags for homeless men and women and handed out on Christmas Eve and as needed throughout the winter. Drive for Joy is seeking men and women's underwear, socks, deodorant, hats, non-knit gloves, razors, hand warmers, toothbrushes, toothpaste, hand sanitizer and wet wipes.
"Drive for Joy gives dignity to the vulnerable among us with a special Christmas gift. By offering this kind of care during the coldest time of year, you set the stage for lives to be transformed," said Hans Erchinger-Davis, Executive Director of Lighthouse Mission. "I am so thankful for the community linking arms with us in breaking barriers and changing lives."
Lighthouse Mission Ministries has been welcoming all in homelessness since 1923. It supports up to 310 people each day and provides a continuum of services aimed at ending homelessness through street outreach, enhanced 24-hour shelter services, addiction recovery, spiritual support, and aftercare. To make a donation or volunteer, call (360) 733-5120 or visit www.thelighthousemission.org.