Rosewood Villa Assisted Living in Fairhaven is focused on making a home for residents in their retirement. They've made it their mission to get to know each of their guests, and to personalize the services they offer them. "I'm constantly trying to find what's best for our residents," says Executive Director Melinda Herrera. "We really try to cater everything to what the residents are looking for, what's going to make their lives more fulfilled."
One of the perks of Herrera's job is getting to know a wide range of people, and hearing the fascinating stories that make up their lives. One example is Gladys Kirkland, whose journey took her to the far side of the moon and back before she landed at Rosewood Villa.
"My life has been an adventure from day one," Kirkland says. "I was a pain in the patootie when my mother was giving me birth, and she said I never did change."
Kirkland was born and raised in South Louisiana, about 50 miles from the Gulf of Mexico. She lived on a farm and pick cotton, and went to school to be a nurse. "And then I got married and I moved to Texas, and that's when my life really began," she says. "I went to work for the federal government."
She found her place as an accountant, which was quite a change from her chosen field of nursing. But Kirkland was ready to learn. "I don't know if you've ever worked for the government, but when you're dealing with their money, it's quite different than any other place I ever worked. I had a pretty tough job, since we handled so much money for so many different things. It was great—a lot of fun, and a lot of anxiety," Kirkland says.
Fun and anxiety might not be the first things to come to mind when you think about accounting—but when you're an accountant for the National Aeronautics and Space Administration, excitement is never far away.
"When I came in and signed my little name on the dotted line in 1963," Kirkland says, "they were leaving for the moon the next day."
Kirkland worked in travel, and dealt with the money the astronauts spent while training on Earth. "Before we sent them to the moon, we sent them everywhere you could possibly think of so they could make an adjustment to the atmosphere, the temperatures, everything," Kirkland says. "They had to go to various areas of the United States to get all the education they could possibly get; everything that pertains to what they were going to run into, every little thing they thought they were going to have to repair."
All of that education paid off when things didn't go exactly as planned, and Kirkland recalls her front-row seat at some of the events that made history.
"The boys gave us a real scare one time," she says. "You heard that over the television, but I heard it sitting there at NASA. When they lost the boys behind the moon, we thought that we had lost them for good. The backside of the moon was not a very good place to be."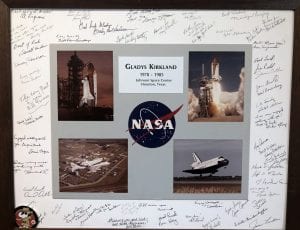 It took about an hour and a half before the astronauts emerged from behind the moon and were able to get back in touch with Earth via radio. "That was a scary time, kind of a nail-biting time. We gathered together, and when we finally heard them we all screamed in the big auditorium," Kirkland says. "Can you imagine, everybody that was part of our group was in there, because that's where all of the big screens were. When we got the news that they were all right, we all started screaming and crying and laughing—I thought the roof was going to come off."
Even though she didn't make history every day, Kirkland does value the opportunity NASA gave her to keep learning every step of the way. "I remember every single thing that I did, and I'm not exaggerating. It's amazing to think that I didn't go to college, that I went there from high school and I was handling all that money," Kirkland says. "So my advice to anybody is: if you have the opportunity, get an education in everything you can."
It's a wonderful reminder that we never know exactly where we're going, or what we're going to do along the way.
"It's amazing what you can do with your life," Kirkland says. "I'm a little old country gal from South Louisiana [who] picked cotton when I was a little girl and would up in NASA. I'm just one lucky gal. It's a wonderful feeling, to know that you are someone that helped a guy put his foot on the Moon."
Sponsored