Submitted by From a Child's Point of View
The community is invited to view a new four-panel mural highlighting the thoughts and concerns of 4th grade students from Sunnyland and Birchwood Elementary Schools. The installation hangs on the side of Bellingham Wind Works in the Fountain District, across from the historic fountain location, and will be available for viewing until October 2022.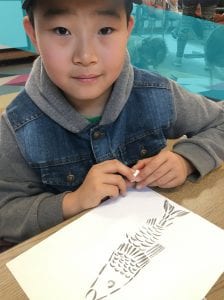 The students' comments, under the main title of "What I Want You to Know About Me," come from in-class and journal exercises that accompanied an educational drama project called From a Child's Point of View.
In its third year of engaging local students, the From a Child's Point of View project uses imagination, storytelling, and drama investigations to engage 4th graders in explorations of global issues—such as how human activities impact planet earth.
Lisa Citron, program director and founder, creates this special opportunity for kids to tackle overwhelming problems with creativity and empathy. The project's premise is that children "want to be seen, need to be heard, and have ideas that matter." All three years' projects have culminated in freely accessible public art installations in the Bellingham community where students' understanding of the world are shared.
The 2020 Mural project features the work of students and instructors from the following classes: Matt Burns and Leann Smith's Birchwood Elementary 4th graders, and M'Lyn Avera and Luke Hostetler's Sunnyland Elementary 4th graders. Along with other explorations, students wrote in their journals what they want us to know about them: their favorite color, favorite food, tender family moments, their concerns for the land and animals, something they are sad about, and their experiences of sitting "like a mountain."
Through their work these students invite the Bellingham community to see what they are thinking about and worrying about, and their ideas about how certain problems can be solved. Citron encourages local youth to continue to share their thoughts, concerns, and solutions during this challenging time of isolation on a public forum on the website: https://fromachildspointofview.org/share/
From A Child's Point of View operates under the fiscal sponsorship of Allied Arts of Whatcom Co. a nonprofit 501(c)(3). Project team members include the Bellingham Youth Media Project and Dr. Deb Currier of the Theatre Education and Outreach Program at WWU. From A Child's Point of View's project was funded in part by a grant from the Whatcom Community Foundation.