The magic of the holiday season won't be missing in Fairhaven this year, despite the coronavirus pandemic putting a chill on the annual Winterfest celebration, says Historic Fairhaven Association Executive Director Scott Ward.
While the Winterfest holiday festival, which typically runs between the Friday after Thanksgiving and Christmas Eve, won't have some of the traditional draws of the season, such as the carriage rides and visits with Father Christmas—many of the festival's favorite activities will still take place (albeit some modified for the times).
Winterfest began four years ago as Ward's brainchild, to elevate the holiday lighting program the merchants' association already had in place.
"Why not take advantage of how beautiful Fairhaven is and make it a special place for the holidays?" he says.
That first year, they stepped up the lighting around the Village, hosted a tree lighting ceremony, started a window decorating contest, and more. The festival has grown and changed over the years and was set for more growth with new events this year—until COVID put the brakes on gatherings.
The Historic Fairhaven Association (HFA) worked with a group of business students from Western Washington University last fall to come up with ways to expand Winterfest in 2020. Ideas that were set to be implemented included a pancake breakfast and holiday movie showing at the FireHouse Arts and Events Center.
Once the realities of COVID sunk in, Ward says, "we really had to step back and anticipate: What is it going to be like at the holidays?"
Fortunately, the HFA has rallied to keep the holidays jolly. For instance, the holiday lights and Christmas tree will remain (although without a formal lighting ceremony), as will the window decorating contest.
Father Christmas, who usually visits with children at the Fairhaven Village Inn, will sit in the window at Current & Furbish at the corner of Harris Avenue and 12th Street on Saturdays from November 28 through December 19. He won't be able have children tell him their Christmas wishes (we don't want to get Santa sick), but kids can drop off their letters with him at the store on Saturdays. Any other day of the week letters can be dropped at the North Pole mailbox on the Village Green. Children are encouraged to leave a return address or email address if they would like a reply from the North Pole.
Also taking place on November 28 is an outdoor Holiday Market on 10th Street. The market will be configured similarly to the Farmers Market, in that vendor booths will be spaced 10 feet apart as well as adhering to other COVID-19 safety protocols.
Last year was the first year for the Firelight Stroll, a luminaria walk on the trail behind Bellingham Training and Tennis Club—and it will be back for 2020. This year, the walk will be monitored to make sure walkers are all going one way and are appropriately spaced for safe distancing. The stroll will take place on two nights this year, Saturday, December 12, and Thursday, December 31, for New Year's Eve.
New this year is the Lighted Bike Parade, which will take place on Saturday, December 5. Everyone is encouraged to decorate their bikes and meet up in the Hillcrest Chapel parking lot at 4:30 p.m.
"We'll circle around the Village a few times, and then end up at Lairmont Manor," says Ward.
While celebrating the holiday season is paramount for the Winterfest experience, Fairhaven merchants also hope people will find their way into their shops for holiday shopping.
"I think people are a little bit unsure about how it's going to go," Ward says. "We really want people to consider shopping early—start now to avoid the crowds."
Ward says he is encouraged that, so far, the second half of the year has brought more people to Fairhaven who are intentionally shopping and dining to support local businesses.
"We're hoping that trend continues into the holidays," he says. "In fact, I'm starting to be a little more optimistic this could be a really great holiday season because people are wanting to get out and have that more personal experience, and they can have that when they shop in Fairhaven."
The association is offering two fun ways during Winterfest to connect with merchants. The first are Winterfest Holiday Cocktail Kits. Ward says eight to 10 restaurants and bars will offer take-home cocktail kits that can be purchased online at EnjoyFairhaven.com and picked up on the Friday and Saturday after Christmas. The kits take the place of the Vino in the Village wine walk that was to have taken place in September.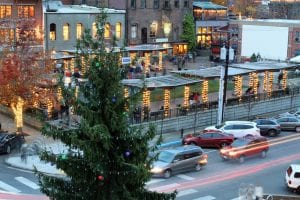 Taking the place of the planned Fall Brunch, an HFA fundraiser, the association will host an online auction at EnjoyFairhaven.com from November 29 through December 13.
"All of your favorite things in Fairhaven are being donated," Ward says. Spa and dining gift cards, hotel stays, toys, art, and items from local retailers will all be part of the auction.
After the auction ends on the 13th, winners can pick up their goodies and gifts, just in time for holiday giving.
Ward hopes everyone takes the time to enjoy the magic, fantasy and wonder of the season in Fairhaven—whether it's taking a safely distanced stroll, shopping online, getting takeout from a local restaurant or doing some old-fashioned holiday shopping.
Sponsored