Submitted by Barkley Village
Barkley Company, in partnership with Northwest Gastroenterology and Endoscopy, has announced the official groundbreaking for a 23,817-square-foot medical building, the latest addition to the Bellingham's Barkley neighborhood.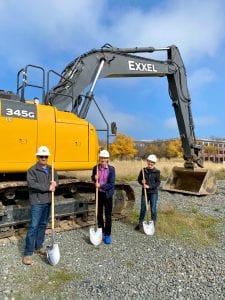 Located near the center of this growing mixed-use neighborhood, the Medical building will consist of 2-stories 11,972 SF endoscopy center and 11,842 SF of clinic space all set on a 1.72 acre parcel on Woburn. The new build will incorporate innovative and integrated design features with a modern, state of the art gastroenterology center.
Northwest Gastroenterology and Northwest Endoscopy Center are independent, physician owned and operated practices that have served patients in Whatcom county since 1979. Their team of providers includes 9 Physicians and 4 Advanced Practice Providers, as well as approximately 90 additional staff dedicated to providing quality care for patients with gastrointestinal issues.
"We are excited about this latest addition to Barkley Village. Our Team has worked diligently over the past year in coordination with partners at NW Gastro, our design partners, and our building partners to design a building that will be both a state of the art facility for the medical operations, as well as an excellent addition to the Barkley Village community." Michael Bayless, CEO, Barkley Company
"As the population of Whatcom county and the surrounding areas continues to grow, we have outgrown our current facilities and look forward to practicing in a larger, modern new facility which can better accommodate the needs of the community. We are especially excited to relocate to Barkley Village with its convenient location and numerous surrounding amenities." Benjamin Siemanowski, MD, Medical Director, Nortwest Endoscopy Center, Northwest Gastroenterology and Endoscopy
The building team for this project includes Exxel Pacific, General Contractor, Carletti Architects, Pacific Survey & Engineering, Kingworks Structural Engineers, Andgar Corporation and Express Electric.
Barkley expects to complete this project in December of 2021. The Barkley Company is the master developer of Barkley Village a 250-acre urban village with a mix of residential, retail, office, and civic uses located in Bellingham.