Every year as the days darken, the rains fall, and the cold winds blow, our immune systems get tested. Preparing for cold and flu season can take many forms, but one of the simplest options to protect yourself, your loved ones, and your community is to get a flu shot. This immunization is always helpful in preventing unnecessary illness, but this year more than ever it's one of the easiest ways to help out in the fight against COVID-19.
Supporting healthcare and essential workers can be as simple as stopping by a Walgreens or Rite Aid on your way home from work. You can even combine it into a grocery shopping trip at Safeway, Haggen, or Fred Meyer. At many of these locations, the immunization is free with most insurances. At Safeway, even without insurance, the flu shot is free! All these places provide flu shots and make it convenient for you to protect your own health as well as those around you.
The flu shot isn't just to ward off your own illness, although of course it does that, too. It protects those who are unable, for age or medical reasons, to get one themselves. Children under the age of 6 months can't get a flu shot, and there are other exceptions, as well.
"If we all as a community get our flu vaccines, we are helping to protect those little children and anyone who is immunocompromised," says Maria Elena Munroe, a charge nurse at PeaceHealth St. Joseph Medical Center. "If we are part of the lucky majority who can, it's our obligation to protect those in our community who can't."
Munroe stresses the importance of everyone getting the annual vaccine, because the flu strikes people indiscriminately.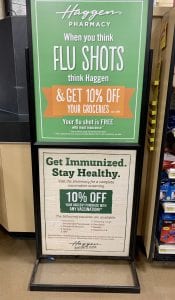 "Young, old, it doesn't matter. Seeing people suffering and critically ill from something that could possibly have been prevented by getting a flu shot is something that is hard to watch and I would like to avoid," she says. "Working in the pediatric unit, I got to see firsthand how little children under the age of 6 months, who can't get a flu vaccine, get exposed to the flu and get sick, sometimes so sick they have to be hospitalized."
Munroe—and all her colleagues at the hospital and in the healthcare field—do the difficult work they do because they know it matters. "The most rewarding part is connecting with patients, restoring them to health, and knowing I serve the greater community," she says.
That dedication and service has been of paramount importance during the COVID-19 pandemic. "We have a plan in place in the hospital and we are well-prepared for COVID," Munroe explains. There is a specific unit for COVID patients, and a second unit that can be used when needed. "The hospital didn't get any bigger, and it would be a shame to tax it unnecessarily with flu patients."
It's important to let Munroe and all other healthcare workers focus on what they do best: caring for people and helping them heal amid a global pandemic. Battling COVID-19 and influenza at the same time puts an unnecessary strain on hospitals and essential workers like Munroe.
If you're ready to protect yourself and your loved ones, a quick call to your physician can help you schedule a flu shot or find out more.
There's no vaccine available for COVID-19 yet, but there is one for the influenza. By getting a flu shot, we're saying that we care about our own health as well as the health of those around us. Getting immunized is as easy as stopping off at a pharmacy, grocery store, or your doctor's office after an afternoon running errands, and lets Whatcom County know: we're all in this together.
Sponsored