It's going to be a Halloween like no other.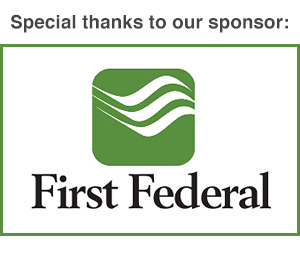 Typical indoor haunted houses are not allowed under Safe Start guidance and the Whatcom County Health Department is recommending people focus on safer Halloween activities, like pumpkin carving or decorating their homes or apartments rather than trick-or-treating. But if you do plan to have your kids go door-to-door, here are some considerations:
Keep six feet away from members of other households.
Wear a cloth face covering or mask if older than 2; plastic masks are not a substitute.
Wash hands before and after trick-or-treating and carry hand sanitizer so kids can wash their hands while trick-or-treating.
The Washington State Department of Health has also provided the following recommendations for giving out treats to the trick-or-treaters:
If you plan to give out treats, wear gloves and consider a different candy distribution method, like a "candy chute" or spacing individually wrapped bags of goodies around the year to avoid excessive touching of candy and bowl among the ghosts and goblins.
Do not encourage grabbing treats from a common container (e.g. a bowl).
When possible, make treats available in a large area to prevent crowding (e.g. driveway, porch, yard). If you expect to have trick-or-treaters in your neighborhood, consider how many have come in the past and if you will need to establish six-feet markers for possible lines.
Set aside any candy that comes from outside your household for 24 hours before allowing children to handle it. Reality check: We know that it's too much to ask of kids to wait to eat their candy; you might purchase a small amount of candy in advance so that you can have candy on hand!
Local Haunted Happenings
For those who really want participatory events for the kids, there are still activities planned across Whatcom County that will be enjoyable.
Downtown businesses in Ferndale are encouraged to assemble a scene of "pumpkin people" following this year's theme of celebrating holidays missed this year. People will vote for their favorite scene starting the weekend of October 23 and a winner will be announced October 30.
City of Frightdale 2020
Residents in Ferndale are encouraged to put up Halloween decorations and contact the city to receive a yard sign with an identifying number. Passersby will vote for their favorite decorations. Participants can travel around the city visiting all the spooky locations on a Frightdale Map, which will be live on Halloween at www.cityofferndale.org/Frightdale.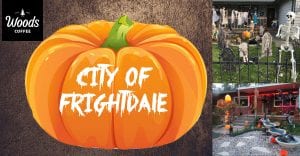 Find the spooky houses and score them as you visit. The highest scoring houses will receive gift cards donated by Woods Coffee. Anyone who scores more than five Halloween decorations will be entered into a drawing for Woods Coffee gift cards.
"We're excited for this unique opportunity to explore our neighborhoods, see some spectacular displays and win prizes," says Riley Sweeney, City of Ferndale Communications Officer. "What's more fun than that?"
Trip or Treat
The Bellingham, Birch Bay, Blaine, Ferndale, Lynden and Mt. Baker Chambers of Commerce are offering a collaborative, county-wide Halloween event on Friday, October 30. From 3:00 p.m. to 7:00 p.m., this socially distanced "Trip-or-Treat" experience will allow parents to get the kids out of the house and into their cars for a drive around the county.
Click this link to find the map with all the participating stops and the community members that helped make the event possible.
There's a "respect the rules" section so that this can be as safe as possible. To add to the fun, compete in a virtual costume contest that will take place on the Facebook event page.
Downtown Trick or Treasure
Due to safety concerns as a result of the ongoing COVID-19 pandemic, the Bellingham Downtown Trick-or-Treat is cancelled this year. However, the City of Bellingham Parks and Recreation Department is organizing "Downtown Trick or Treasure," a no-touch scavenger hunt for families with young children (ages eight and younger).
The scavenger hunt will be open from October 12 through 26 and take about two to three hours to complete.
On Halloween, you can pick up a treasure goody bag at one of the Trick or Treasure pick up stations. Put on your costumes and follow clues to find all the signs hanging in downtown shop windows.
"There are 18 secret participating organizations who will have a sign to find in their window," says Rosa Caldwell, Education Programs and Activities Coordinator for the parks department. "We highly encourage people to take detours to visit other downtown shops, because local businesses that aren't on the destination list are planning to have wonderful window displays this year."
Take a selfie with each sign, and then submit them; you'll receive details on how to submit pictures on your registration receipt.
"We're so excited folks will have a reason to come downtown for Halloween, even if it doesn't look quite the same as before," says Katy Tolles, artist services coordinator for Allied Arts of Whatcom County, one of the participating organizations. "Hopefully it will help create some new memories for the kiddos."
For details and to register, call 360-778-7000 or go to parks@cob.org.
Escape From Old City Hall
Whatcom Museum and Bellingham Parks and Recreation Department host a virtual "Escape from Old City Hall" through October 31. In the spirit of all things spooky, participants ages 12 and older can discover the secrets held by the building at 121 Prospect Street— working from the basement up to the attic—by solving puzzles and riddles on the way to making a great escape. Play on your own or with a team. For details and to register, call 360-778-7000 or go to parks@cob.org.
Costume Creations With Aireekah
The parks department is also offering a "Costume Creations" session in collaboration with local professional party starter Aireekah from Glitt3r Lyfe. Aireekah will lead Costume Creations for individuals experiencing disabilities on October 19 from 4:00 p.m. to 5:00 p.m., just in time for a special Halloween karaoke edition of SPIN Dance at Home.
Costume Creations is $10 and includes a bag of supplies delivered to participants. SPIN Dance at Home is a free program that collaborates with the Max Higbee Center to offer for people experiencing disabilities. Glitt3r Lyfe does the DJing for these virtual parties, which run every third Monday of the month from 6:00 p.m. to 8:00 p.m. They are free, but people need to register for them to receive their link and password.
The Paranormal Detective Agency
Bellingham Parks and Rec is offering yet another spooky program called The Paranormal Detective Agency. Parents can drop off their children (ages 7 to 14) for a night at Woodstock Farm spent solving a silly paranormal mystery from 5:00 p.m. to 7:00 p.m. on October 23.
Good Time Girls Events
On October 21 from 7:00 p.m. to 8:00 p.m., Kolby LaBree of the Good Time Girls Bellinghistory Tours will lead a virtual tour, "Buried Bellingham," through Bayview Cemetery. She will highlight some of its fascinating history, including filmed footage and historical photographs.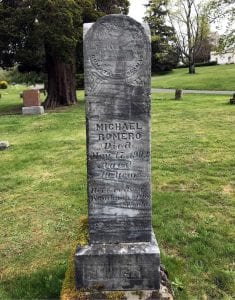 Founded in 1887 when the town of Whatcom purchased a 10-acre plot along the road to Lake Whatcom, Bayview Cemetery is Bellingham's only remaining cemetery. It's a beautiful place to respectfully explore, and LaBree will fill folks in on some of the fascinating history behind the Bellingham burial grounds, explore how the cemetery has grown, and highlight some of the history of its most interesting monuments. There will also be a Q&A session at the end.
This activity is rated PG, as there are themes of death in the activity. For details and to register, call 360-778-7000 or go to parks@cob.org.
The Good Time Girls' "Woodstock Farm Gore & Lore: Chuckanut Ghost Stories and Creepy Tales" is from 7:00 p.m. to 8:00 p.m. October 28. Live (or perhaps undead?) from the historical Woodstock Farm Park, the ghosts-of-good-time-girls past will discuss some history of the farm, along with several creepy tales from the Chuckanut Bay area of historical tragedies and true crimes, wandering spirits and mysterious monsters.
You'll hear about spooks that may haunt the train tunnel and trestle, the old "Cowman's Cottage," as well as horrifying true crimes and unsolved mysteries. Some historic and current photographs and footage of the area will be shared, and a Q&A session at the end.
Chuckanut Gore and Lore is modeled after the Good Time Girls' "Gore and Lore Tours." At least one of those stories involves some gruesome true crime, so parental guidance is suggested. Probably not great for the younger kids who might be prone to nightmares, but teens will like it.
Question and answer session included with the $10 fee. For details and to register, call 360-778-7000 or go to parks@cob.org.
Farm Fun
Stoney Ridge Farm
Stoney Ridge Farm at 2092 VanDyk Road in Everson is open in October from noon to 5:00 p.m. Fridays, and from 10:00 a.m. to 5:00 p.m. Saturdays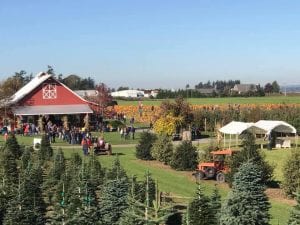 The admission price of $3 per person includes parking, entry, wagon rides, a corn maze, farm animal displays, and the chance to snap photos galore. Mini cider doughnuts and pumpkin doughnuts will be available at all times.
JT's BBQ Truck will be there on Saturdays, as well as a kettle corn vendor. There'll be fresh, pasteurized cider pressed at the farm, available to buy, as well as Jonagold apples to snack on while you shop for your perfect pumpkins and squash, or choose from some already picked for you. Fall and Christmas decorations and crafts will be available, as well.
Enjoy apple and pumpkin u-pick, as well as a selection of squash, gourds and ornamentals to decorate with.
Cash or checks only please; Stoney Ridge does not accept credit or debit cards.
For more information, please send a message via Facebook for the fastest response or call 360-966-3919 during business hours, Monday through Friday from 10:00 a.m. to 5:00 p.m. For more details, visit http://stoneyridgefarm.com/directions.
Bellewood Farms
Bellewood Farms, 6140 Guide Meridian Road, offers its annual Fall Harvest Happenings, with free bin train rides to the orchard for u-pick pumpkins and free admission to the corn maze from 9:00 a.m. to 5:00 p.m. Wednesday through Sunday through October 31 (u-pick closes at 4:00 p.m.). Cider doughnuts, apple cider, and fresh apple pie will be available in the cafe. Details: https://bellewoodfarms.com/events.
Willetta Farm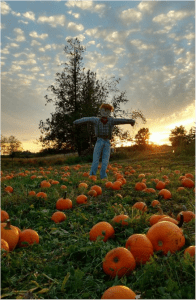 Willetta Farm's Pumpkin Patch will be open on Fridays from 10:00 a.m. to 1:00 p.m. and Saturdays and Sundays from 10:00 a.m. to 5:00 p.m. at 1945 E. Badger Road in Everson.
Pick your favorite pumpkin from the patch for carving or decorating. Enjoy a horse drawn wagon ride into the back of the property. Take a ride on a draft horse and get the chance to feed the goats and chickens. Launch a pumpkin with their Pumpkin Launcher. Shop homemade crafts, and warm up with fresh, local apple cider.
Taste their freshly made Oliebollen (a Dutch treat), irresistible pumpkin loaf, and much more. Choose from many cute backdrops for family photos.
Visit https://willettafarm.weebly.com/ for more details or call 360-220-9336.