Submitted by Whatcom Transportation Authority
A wise person once said, "All the human services in the world are useless if people can't get to them." For that reason, WTA is seeking local organizations who offer important community services, and who may need some help with transportation.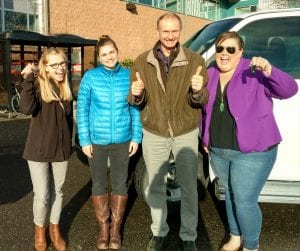 WTA is making up to three retired vanpool vans available to local community organizations, through its Community Van Grant Program. To apply for a van, organizations must be non-profits with 501(c)(3) designation or government agencies who provide a valuable community service.
During a competitive selection process, WTA staff will evaluate applications based on the recipients' ability to ensure a community benefit, bridge a transportation gap, and administer the program. Administering the program includes insuring and maintaining the van, managing transportation logistics, and reporting ridership results. The retired vans will be awarded to the highest scoring applicants.
While the retired vans are no longer suitable for the long daily trips required by vanpool vans, they are in good working order. Both twelve- and fifteen-passenger models are available.
WTA General Manager Pete Stark said, "We're excited to partner with some great local organizations, to help them meet a transportation need within our community."
Interested organizations can download an application here. They can also request an application by calling 360-788-9312, or sending an email to michaelh@ridewta.com. 
Applications are due to WTA no later than 3:00 p.m. on Friday, November 13, 2020.