Husband. Friend. Accountant. Tenant. A 40-year business at the Bellingham Herald building. Michael Crane could be called many things, but above all, he is best described as the "most honest and caring man" his loved ones had ever met. Michael passed away recently, but not before leaving his mark on the many who knew him and the city he lived in.
Michael's business was one of the longer-term tenants of the Herald Building, becoming a notable part of the day-to-day life at the building. Michael befriended other tenants in the building and would help them out by dropping off their rent checks to the Daylight Properties Office.
Daylight Properties' staff, who manage and work at the Herald Building, have many fond memories of seeing Michael in the hallways and chatting with him when he stopped by their office.
"We will all miss seeing Michael around the building—running into him in the elevators or seeing him in the office," says Daylight Properties CEO, Kane Hall. "He was a charismatic man and became a familiar face around the Herald Building and parts of downtown Bellingham. You could always count on seeing him eating lunch at Leaf and Ladle just down the street."
Linda Grosjean-Melim, Leaf and Ladle owner, remembers Michael as one of their most beloved regulars. "He ate here four or five days a week for a number of years," she says. "We're just right down from the Herald Building [where Crane worked] and he would come down and have lunch—same thing every day! He was always trying to eat his greens per his doctor's recommendation, but sometimes he and my granddaughter would share her bag of chips."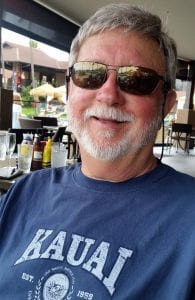 Linda has installed a plaque to honor Michael at the place where he used to sit. "He would bring his Kindle and read detective novels," she reminisces. "He would chat with us and our employees, and then spend some time reading. He ended up being friends with other regulars who came in and would chat with them, too."
Linda's granddaughter, Vada, was born a few months after Leaf and Ladle opened and has always spent a lot of time there; they even had a barstool-sized high chair for her to sit in. 
"She'd always go, 'Hi Michael!' and he would sit next to her and read her a story and chat. They did that regularly over the years," says Linda. "Every year when she'd get a school picture she'd bring one to give to Michael."
Michael made connections wherever he went, even in his work. Connie Ellis worked for Michael for 25 years. "He treated many like family and loved to just chat with them and give financial advice. I think he knew just about every tenant and their dogs in the building," she says. "He was so amiable and personable. He took the time to get to know people, and was always there to help out when anyone needed his help. I remember one time when I had a VW Bug that wouldn't start. He instantly just helped me out and pushed it down the hill for me so I could get it started. That's just the kind of guy he was. Never too busy for anyone."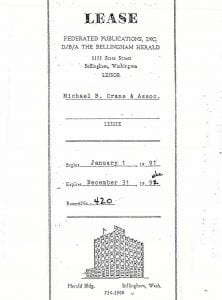 Michael's work was all about helping people, and many of his clients became close friends. Just ask Wayne Lawrence, who says he would "stop the world to talk about his buddy Michael." Michael was Wayne's accountant, but they became fast friends—a friendship that lasted over 35 years.
"To tell you what kind of person he was, let me tell you a story," says Wayne. "My father had a heart attack and had to have a five-way bypass surgery. We got home and he couldn't go back to work. I had a trucking company and Mike was the accountant. My dad brought all his paperwork to Mike, and Mike sat there and went through all his financial records and life insurance and told him what to do. After, my dad asked him, 'How much?' and Mike looked at him and said, 'Friends do not charge friends.'"
Perhaps no one knows more about Michael's generous spirit than his wife, Gayle, who shares that he voiced repeatedly how privileged he was to have had an opportunity to have his firm in the Herald Building for 40 years. "He worked very long hours," she says, "happily giving his all to so many, both corporate and individual client's taxes and accounts alike."
It warmed Gayle's heart to hear so many clients' stories when they came in after learning of Michael's passing.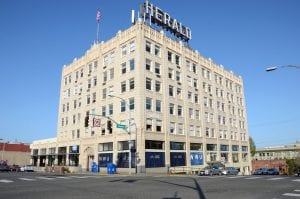 "Many with tears in their eyes, others with flowers and food from their restaurants," she recalls. "With words like, 'Michael was such a great mentor to me, really a guru with my business'; 'He was so very thoughtful and thorough in his work,'; 'He was very patient, with that zany sense of humor he had with everyone he met,'; 'What an all-around great guy he was! He will be sorely missed.'"
Michael loved being there for his friends, clients, and loved ones, and loved belonging to the Herald Building community, too. "Michael was very proud to be part of the Herald Building legacy for so long," Gayle reiterates. "And I was very proud of this man for what he brought to his community, and beyond, and what he brought to me, in our own lives together."
Sponsored