Unity Care NW, a Whatcom County community health center, is working to deliver wellness resources directly to your home with a new series of videos.
Have you been looking for ways to move your body for weight management or just to clear the cobwebs from your head? Have you been trying to up your home cooking game as we all stay home and stay healthy?
Unity Care has taken many of its traditional in-person offerings and brought them online to continue providing healthy-living resources to the entire community, not just Unity Care patients.
"One of the key tenants of our practice is prevention and addressing the challenges people face to being healthy," says Jennifer Moon, communications and public relations associate at
Unity Care NW. "From a mission-driven perspective, we want to have as many resources available as we can that highlight prevention for everyone in the community—even if they aren't our patients."
Now, everyone can access Unity Care's yoga, Qigong, cooking classes and more on its website at unitycarenw.org/wellness.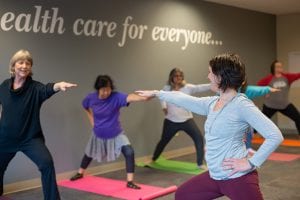 Yoga, taught by Cat Enright, an instructor at 3 Oms Yoga, and Qigong, taught by instructor Bob Shapiro, were weekly in-person classes. "With COVID, those classes came to a stop," Moon says. "We started offering Facebook Live events instead."
Yoga takes place on Fridays at noon and Qigong takes place Tuesdays at 11:00 a.m. Both are available live via Facebook or can be accessed after the classes via the Unity Care website or the Unity Care YouTube channel. (As always, be sure to check with your health care provider to make sure these classes are appropriate for you.)
The classes started out specifically as tools for Unity Care patients as alternatives to opioids for chronic pain management, Moon says, but everyone can benefit from regular movement as a way to manage pain and reduce stress.
"There's so much research on the relationship between stress and inflammation and the immune system," says Moon.
Inflammation sets up our bodies for poor health, including lowering our immune system's defenses. Movement, time spent in nature, and making healthy food choices all mitigate the stressors we're experiencing during the pandemic, and Unity Care's resources address all these avenues for better health.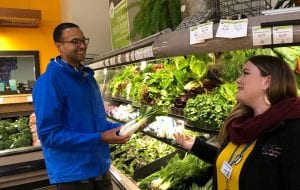 Unity Care's Parkscriptions program, in partnership with Recreation Northwest, encourages people to spend time in nature as a way to improve their health. Unity Care's new Wellness Resource Coordinator Megan Stephenson shares how to access maps to local walking and biking trails in one of the videos found on the website. Along with the message to make time for getting out in nature—even if just in your own back yard.
"The mental and physical benefits of time spent outdoors is certainly something that we can continue as long as we keep our masks on and physical distance," Moon says.
Along with Unity Care's VeggieRx program, aimed at people living with Type 2 diabetes, Unity Care's new dietician Antrim Caskey has begun her own series of videos on nutrition and cooking skills. From "Beans, Greens & Grains" to knife skills, viewers are sure to pick up on some new tips for in the kitchen.
Caskey is focused on sharing budget-friendly dishes to add a healthy variety to our everyday diets. The added benefit? These foods also provide the building blocks for strengthening the immune system.
These videos are just the start, Moon says, to more online offerings.
"In some ways, (COVID) has created an opportunity to rethink some of the things we were doing, and also to live up to our community health focus and put out as many resources as we can to the broader community in a time of crisis," Moon says.
"One of our goals is to build out the Wellness page with more information and more videos about health and wellness."
So, check back on a weekly basis for more yoga and Qigong, as well as videos on nutrition, getting outdoors and more. Then, take the next step and get off your couch and start participating in a healthier you.
Sponsored