Driven by a deep love of the game, Avery Carlson pushes hard to reach her goal of playing soccer at the next level. This Squalicum High School senior has always strived to get better at her craft—and in doing so, now plays alongside the top talent in the country.
Carlson worked her way up and earned a spot on an OL Reign Academy team, the highest level of soccer a youth player can achieve. To reach this goal meant sacrifices and hard work.
Joining the team halfway through her freshman year of high school, Carlson drove to Bellevue or Seattle four times a week for practice. Having to leave school early on those days but still needing to balance school and soccer meant often doing homework on the car rides back and forth. Carlson acknowledges that there has been a level of sacrifice to reach her goal. "It's been worth it though," she says. "The hard work really does pay off and I'm glad I've done it for this long."
Carlson, a true student athlete, aspires to play soccer in college and is interested in studying something to do with sports medicine. With her eye always on the prize, she's kept academics a top priority alongside soccer.
She enters her senior year with a 4.0 grade point average and begins her second year of Running Start through Whatcom Community College. Obtaining the college credits that Running Start offers is a great opportunity and the flexible schedule has helped add balance to her life. I's also given her more time to spend with other friends in the program.
Like many seniors right now, COVID-19 has added cumbersome twists and turn to the process of making college plans. Carlson had planned to take the SAT and ACT over the summer, but local options for that were not available.
COVID-19 also prevented her from visiting McNeese State University, in Lake Charles Louisiana, and the University of Idaho, in Moscow Idaho, which are among her top school choices. Western Washington University is also on her list of potential schools, but Carlson is waiting to decide until she's explored all options, ultimately going where the best opportunities lie for both academics and soccer.
Her soccer quest began at a young age, when she first tried the sport at three years old. She found early success and played for the Rapids—now called the Rangers FC—which is a higher level of soccer than a normal rec team.
She then took another step up, given the opportunity to play for Northwest United in Burlington. New to the team and her skill level not completely known by coaches, she was placed on the B team. Determined to play on the A team, Carlson did what she had to do to improve.
"I practiced with boys to get better and worked on my fitness and technical skills and basically everything I could to work my way up the top," she says.
The extra work paid off. She landed on the A team her second season, coached by Kristian Powell. Carlson gives credit to Coach Powell for turning her into the player she is today. It was also Coach Powell who secured her the opportunity to try out for the Reign.
Carlson was offered a one-day tryout to impress the Reign coach—and impress she did. The coach wanted her to join the team immediately so she could go to the National Cup with them for the 2017 season. Not wanting to abandon her Northwest United team in the middle of their Washington Cup run, Carlson stayed loyal to her teammates and joined the Reign when the season ended.
"I'd been with the team for four years; I grew up with them," she says. "I didn't want to leave them stranded."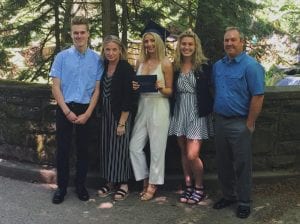 This is simply the type of teammate Carlson is. She's out there to do what her team and coach need to have success. Primarily a defender, or center back, wherever the coach asks her to play, she will play.
Due to COVID-19, soccer life has changed a bit for Carlson. Games have been canceled and she currently only practices with the Reign two or three days a week. To compensate, Carlson hones her skills on her own and has found some boys in Whatcom County to train with, as well.
"You've got to keep yourself in mental and physical shape for when soccer actually starts back up again," she says.
It's still uncertainty what soccer will look like during her senior year but what is certain is that Carlson will be prepared, always working hard to achieve her next goal.