"Clay has been life-changing for me, after 50 years of stressful corporate life," says Lynn Giuliani, a board member of Jansen Art Center in Lynden. 
As an artist who has her own studio at home, Giuliani loves coming to the J for the camaraderie and sharing of ideas. Although the groups are smaller now due to COVID (only four at a time), she says "the spirit still prevails to immerse yourself in clay and let all one's worries fade away as you create."
"It is so fulfilling."
A few months ago, inspiration struck.
Giuliani had purchased a heart-shaped bowl in Placerville two years ago at a celebration of life for a former classmate.
"I thought we could make these at the ceramics studio at the Jansen and give them to local caregivers and first responders." She presented the idea to Vin Quenneville, Jansen Art Center's executive director, and he loved it.
"We have all been through grief and stress in one way or another and the ceramics studio has been closed," says Giuliani.
"We needed something to pull us back together and this project was perfect for us to work together in a common spirit of giving back to our community and saying thank you for what others have done for us."
Giuliani showed everyone her bowl as a sample and did a simple demonstration of how to turn a thrown bowl into a heart shape. The instructions were simple: use 1 ½ pounds of clay and make bowls of your own design to give back.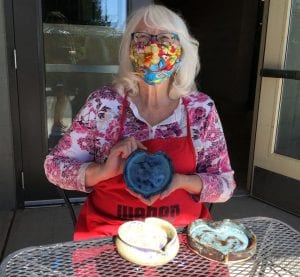 Initially Giuliani contacted Anne Rasmussen who represented both PeaceHealth and Whatcom Hospice, a program of PeaceHealth, thinking they would give half to each group. Giuliani's mother had been in hospice so she knew firsthand of their dedication and the nature of their job responsibilities.
The artists then completed the two-month project of making 35 hand-made, wheel- thrown heart-shaped bowls for the first responders of PeaceHealth St. Joseph Medical Center, and the caregivers at Hospice House.
Rasmussen requested giving all the bowls to the hospice team as they needed it so much and would use them as part of their 10-year anniversary celebration on September 15, by way of a raffle. Their leadership team loved the variety of the bowls—all different sizes and variations in color. As each of the artists has their own personality, so do the heart bowls they have made.
"We were so happy with their appreciation of our work and excitement. It was simply heartwarming," says Giuliani.
Jodi Newcomer, project manager at Whatcom Hospice and Hospice House, says, "This donation has made a dark time brighter for our whole team. Folks are touched and love them so."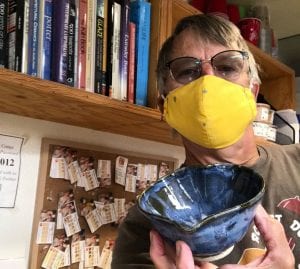 Newcomer made the executive decision to give one of the larger bowls to the Hospice House to be used as the vessel that holds the lavender water used to bathe the deceased. "Sometimes family participates in this, if not just staff, and we wash arms and hands and face," she says. "It will add to the sacredness of this ritual."
The artists also gave large bowls to Christian Health and Lynden Manor.
"Christian Health Center had all their staff—including their CEO, Patrick O'Neill—come outside for the presentation in appreciation," says Giuliani. "They will be displaying their large blue centerpiece heart bowl for all their residents to see."
"Lynden Manor also brought their team out and we all shared a lovely conversation of sharing what the J does for our community, and of thanks."
Giuliani welcomes others to come to the J, at 321 Front Street, and find their escape in whatever medium speaks to them, whether it be clay, painting, jewelry, weaving, music, dance or many others.
For more information on Jansen Art Center, visit https://www.jansenartcenter.org/ or call 360-354-3600.
Ann Zaslow

Ann Godbolt

Ann Godbolt
Sponsored