How long has it been since you've seen the dentist? Your friends at the Unity Care NW dental clinics want you to know that they are open and operating safely.
For most people, the twice-a-year visit for a regular cleaning has been put off due to the COVID-19 pandemic. For a short time, dental offices were completely shut down, before the state provided guidance to allow them to reopen.
Unity Care NW reopened their three dental offices—two in Bellingham and one in Ferndale—in mid-May, and with the reopening have implemented additional safe practices for keeping patients and employees healthy.
"Dental is no stranger to sterilizing the rooms between patients," says Unity Care NW's Dental Operations Manager Lorrie Stuit. "COVID isn't when we started wiping down pens and clipboards. We've always done that."
New guidelines from the U.S. Centers for Disease Control and Prevention and the American Dental Association have been implemented, and some new equipment has been added to make procedures even more safe.
Dental Director Carrie Shane explains that a number of dental procedures create those tiny aerosol droplets that most easily spread COVID-19. Cleanings and fillings are two examples of everyday procedures that create aerosols because of the equipment used that creates extra water droplets and encourages spread of aerosols. Some procedures, including x-rays or simple tooth extraction, do not create aerosols.
Aerosol generating procedures, including a standard cleaning, require a COVID test two days prior to the dental appointment, Shane says.
"That's to keep the patients and staff safe, so we're not aerosolizing COVID into our clinic system," Shane explains.
The testing is done by Northwest Laboratories, and Unity Care NW sets up all the lab paperwork, so all the patient needs to do is go get the test. The test is now a simple nasal swab, instead of the more invasive test originally used for COVID testing.
Once in the dentist's chair, a new overhead venting system, called an air extractor, sucks up the air with the aerosol droplets into its hood and safely ventilates it elsewhere. Along with the ventilation system, staff are protecting patients in numerous ways, including the hygienist standing by with a high-speed handheld suction unit, as well as staff wearing masks, face shields, gloves and gowns during procedures.
"We're taking every precaution we can think of to try to make sure we keep the entire clinic safe," Shane says. And she believes they're doing an excellent job.
"To me, it seems much more risky to go to any of the stores," she says. "Here, we're taking all the precautions. The only difference is that with dental we're working in the mouth, so we're definitely at a higher risk for breathing COVID."
When patients come to their appointment, they'll notice a few different things that have changed since reopening. First of all, they will see fewer people in the waiting room. This is in part because they are scheduling fewer patients per hour, operating at about 65% pre-COVID capacity, Stuit says. This allows for the operatory rooms to "rest" between patients, so the rooms can air out and be thoroughly sanitized.
Seeing fewer patients also means fewer patients in the waiting room. Parents are asked to keep kids home if they aren't having an appointment, and only one caregiver should accompany a child to an appointment. Once checked in, patients are quickly escorted back to the treatment room.
Of course, during this whole time, patients are required to wear a mask, which they remove only when it's time for their procedure. If patients don't have a mask for whatever reason, Unity Care NW can provide one. At the start of every appointment, patients will also be asked to use an antibacterial mouth rinse.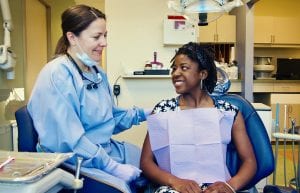 One other advantage to seeing fewer patients, Stuit says, is that dental staff are less rushed and less likely to forget all the necessary procedures and precautions for keeping everyone healthy during this time.
And because some people have decided to not visit the dentist during this time, even though there are fewer appointments during the day, booking an appointment is only about three weeks out.
Shane says if people don't need to come to the dentist for an emergent problem, they're encouraged to keep up their self-care at home. This means brushing teeth twice a day and flossing once a day, as well as limiting sugary foods and beverages.
For patients who are concerned about their dental health but aren't sure if they need or want to come in, Unity Care NW also provides telephone consultations with a dentist every day, Monday through Saturday. Patients just need to call in with their question, and they'll receive a call back as soon as the first available dentist can do so.
"We don't want medically compromised patients to come see us just for routine care," Stuit says. "If they need to come and are medically compromised, we're going to do our best to protect them."
All patients coming into any of Unity Care NW's clinics are temperature checked outside before entering the buildings. Anyone with a fever or other possible COVID symptoms is asked to go home.
Only two patients out of 600 tested have received positive test results for COVID, and because they tested prior to their appointments those patients were able to stay home, keeping patients and clinic staff safe.
Further good news is that all dental staff members are healthy. "To this date, we haven't had any employees with COVID," says Shane. The extra emphasis on safety is certainly paying off.
"The bottom line is," Shane says, "as the dental director would I say it's safe to come in for dental care? I would say it is safe to come in for dental care."
So, if you need to go to the dentist, by all means go. The staff at Unity Care NW is ready to take care of your pearly whites and keep you healthy.
Sponsored