Submitted by the Port of Bellingham
The Port of Bellingham and Whatcom Transportation Authority (WTA) will provide short-term, emergency transportation service from Point Roberts beginning Tuesday, August 25th to help Whatcom County residents who have been unable to access critical goods and services due to the closure of the Canadian border during the COVID-19 pandemic.
Passenger-only ferry service between Point Roberts and Blaine Harbor will be provided by the Port free-of-charge, one-day-per-week on Tuesdays. Space on the ferry is limited so advance reservations are required and will be granted on a first come, first served basis. Passengers may register at Point Roberts Ferry Reservation Sign-up and will be sent an email confirmation from PTRFerry@portofbellingham.com
WTA will provide a transit connection from Blaine Harbor to Cordata Station in Bellingham. A separate, advance reservation with WTA is required for this service and can be made by calling (360) 733-1144.
Departure and arrival times on future Point Roberts emergency transportation service may change based on passenger input, so please check the Port's website each week at www.portofbellingham.com for the latest schedule and reservation information.
If demand is high, the Port and WTA may increase the frequency of service from Point Roberts to a maximum of two times per week.
Ferry service will be provided on San Juan Cruises' 50-foot vessel Salish Sea and 100-foot vessel Salish Express. Face masks are required on both ferry and WTA connections, and the number of passengers will be limited.
Point Roberts is not physically connected to the continental United States, but it is part of Whatcom County. Point Roberts can only be accessed by crossing a vehicle through Canada, flying in on a small plane or by private boat. The US/Canada border has been closed to non- essential travel since March and border restrictions have been extended through at least September 21. US residents entering Canada without COVID-19 symptoms are currently required to quarantine for 14 days. Due to its unique location, Whatcom County residents living in Point Roberts have been disproportionately impacted by US/Canada border restrictions.
The Port has been working with Whatcom County's Federal Delegation and a US/Canada cross- border task force on a border exemption which would address the unique challenges of US residents living in Point Roberts. Transportation service to Point Roberts is being offered by the Port and WTA as a temporary, emergency solution.
Point Roberts to Blaine Harbor Temporary, Emergency Ferry Service Schedule as of 8/20/2020: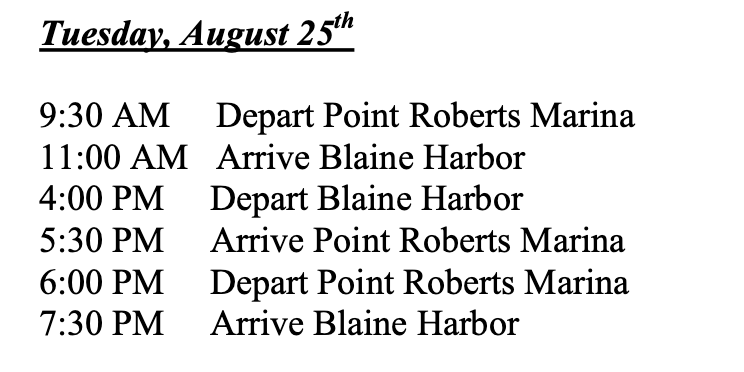 Blaine Harbor to Cordata Station Temporary, Emergency Transit Service Schedule as of 8/20/2020: