Few things in life are more relaxing than walking along the beach listening to ocean waves roll upon the shore. Thankfully, located just a short drive away, are the pristine beaches of Grays Harbor. Take a day trip to walk the beaches of Grays Harbor and feel your worries slip away.
North Beach
A visit to the North Beach area of Grays Harbor can include a stop in the bustling communities of Ocean Shores or Seabrook offering plenty of shops and restaurants or a quieter visit to one of smaller communities in between. No matter where you visit, you'll be just minutes from direct beach access and a day making memories to last a lifetime.
Damon Point Trail
Head south on SR 115 until Point Brown Avenue in Ocean Shores. Proceed south on Point Brown Avenue about 4.5 miles. The entrance is just past an RV campground.
The Damon Point Trail is frequently visited and offers both walking and hiking paths totaling in at just over three miles, although the length can be extended by walking directly on the beach. The Damon Point Trail path loops along the coastline to provide fantastic views all year long. Birdwatchers will be delighted to find fantastic locations to watch for the perfect coastal bird swooping by.
Mocrocks Beach
2nd Street, Moclips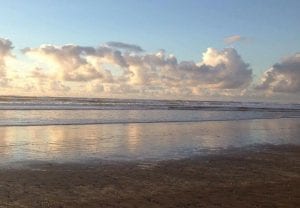 Extending from the Copalis River to the small city of Moclips, Mocrocks Beach sits to the south of the Quinault Indian Reservation. As the area is 15 miles north of Ocean Shores, it tends to be more secluded, making for a romantic destination to walk with a date, or to run and play with your dog.
Oyhut Wildlife Recreation Area
Accessed from Toquin Avenue off of Point Brown Avenue, Ocean Shores
Perhaps one of the most unique areas of the North Beach is Oyhut Wildlife Recreation Area. As the name suggests, wildlife abounds in this unique corner of the Washington Coast. What makes the area extra special is the fact that it's one of only four remaining nesting sites in the state for the western snowy plover. Put on your hiking shoes and explore nature at its finest.
Grays Harbor National Wildlife Refuge
1131 Airport Way, Hoquiam
Grays Harbor National Wildlife Refuge is located at the mouth of the Chehalis River making up the second largest watershed in the state. Views out to the ocean can be spotted after a short walk down the well-maintained boardwalks suspended over the watershed. The refuge is one of just four major staging areas for migrating shorebirds in the Pacific Flyway, which attracts thousands of visitors each spring. Whether you're in the area during migration season or not, the trail is worth exploring for beautiful views of the coast.
Seabrook Beach
4275 SR 109 Pacific Beach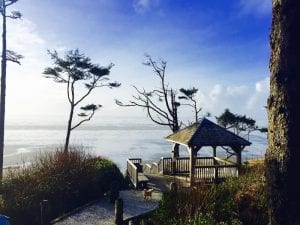 The Seabrook Beach in the picturesque community of Seabrook is the ultimate destination for strolling while the sun sets into the Pacific Ocean. You'll find that the access point is perched high above the sea, requiring stairs to reach the bottom, but beautiful views can be found from all vantage points. Pack a picnic and descend the stairs to ultimate relaxation.
Pacific Beach State Park
49 2nd Street South, Pacific Beach
A day of beach fun can surely be found at Pacific Beach State Park. The massive park is made up of 2,300 feet of Pacific Ocean beachfront. As the park also serves as a popular camping destination, expect the beach to be busier than others in Grays Harbor. Nonetheless, the area is a wonderful choice for mingling with other tourists and walking along the flat, relaxing shores.
Griffiths-Priday State Park
From Hoquiam, head north on SR 109 to Ocean Shores. After 21 miles, turn left on Benner Road and drive a short distance to the park.
Get the best of both a walk along a calming river and on the sandy shores of the beach during a visit to Griffiths-Priday State Park. Located at the mouth of both Connor Creek and the Copalis River, this sprawling area comprises a 364-acre state-operated, public recreation area that will quickly become a family favorite.
Ocean Shores Beach Access
598 Damon Road, Ocean Shores
Spend the day wandering the shops that make up Ocean Shores before popping down to the public parking area and entering the nearby beach access point. This area can be heavily trafficked due to its proximity to downtown, and when festivals are in full swing, can be a great place to hang out with friends.
Ocean City State Park
148 WA-115, Hoquiam
Ocean City State Park is a state-operated, public recreation area situated about two miles north of downtown Ocean Shores. While visiting the park, you may spot various species of birds and other wildlife that are attracted to the nearby North Bay Natural Preserve.
South Beach
The South Beach area of Grays Harbor is known for the famed Westport Marina, the largest fish landing port in the state. On top of that, the area is also known for its quiet beaches where wildlife is in abundance and relaxation isn't hard to come by.
Westport Light State Park
1595 W Ocean Avenue, Westport
Appropriately named for its proximity to the tallest lighthouse in Washington State, Westport Light State Park totals in at 560 acres. Visitors can park just feet from the entrance where you can easily access the beach and take a relaxing coastal walk through winding pathways covered in softly blowing beach grass. After your day on the beach, climb to the top of the lighthouse for uninterrupted views of Washington's magnificent coastline.
Bottle Beach State Park
33 Ocosta 3rd Street, Aberdeen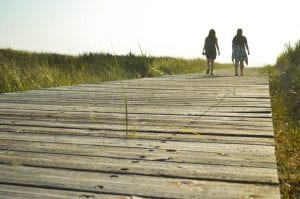 Bottle Beach State Park consists mostly of tide flats that play host to over a million migratory shorebirds and seabirdseach spring. While birdwatching is a hot commodity here, Bottle Beach State Park also boasts 6,000 feet of shoreline. Stroll down the boardwalk trail that leads past Redman Slough to a picturesque beachhead viewing shelter. Since this area does not allow camping or dogs, you will easily find the quiet slice of heaven you've been longing for.
Grayland Beach State Park
925 Cranberry Beach Road, Grayland
While the city of Grayland may be known for its long history in the cranberry growing and harvesting business, Grayland Beach State Park also has its own reasons to brag. The public recreation area spans out over 580 acres where visitors happily camp, fish, beachcomb and hike.
Twin Harbors State Park
3120 WA-105, Westport
Perhaps one of the most popular beaches on the South Beach is Twin Harbors State Park. Between the windswept pine trees that dot the land and the easy access onto the beach, the 225 acres of land is a must-stop destination. The site also boasts history and was once a U.S. Army training ground before the state began acquiring it for park use in 1937.
So, what are you waiting for? No matter what beach you end up visiting, you will no doubt uncover walkable trails followed up with incredible views of the Pacific Ocean. While in the area, plan an overnight stay in Grays Harbor for even more beach time and dig for razor clams, comb for treasures, storm watch or simply relax.
Sponsored