We're fortunate to have people in our community like Doug Starcher, who's stepped up over and over during this time of COVID to help others in need. I recently received a packaged meal from Doug for my family; it was the second time since March. And I'm far from only person Doug has fed or helped in some way.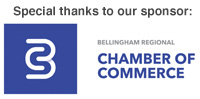 About half of the things Doug does in our community are in response to requests for help. Sometimes, he says, he notices something needs to be done or has overheard someone mention a need in passing. "Help when you can" was the lesson taught by his parents, he says. "It's how I was raised." Doug learned early in life that he's his best self and doing his best work when he's in service to others.
By his account, Doug has lived in Whatcom County "forever" and "knows everyone." (He even knows the true identity of "Bellingham Harold.") For examples of Doug's giving nature prior to—and during—quarantine, I reached out to a handful of the many people he's supported over the past five months.
Prior to the pandemic, Doug was already connecting with new and old friends via the internet, to regularly check in, cheer up friends who were ill or lost loved ones, or to respond to home emergencies. He's also been known to get motorcycles running, unstick cars stuck in garages and snow drifts, send dog treats, help with local businesses, and provide transportation in emergencies.
But what have you done for me lately?
When Whatcom County entered quarantine, Doug reached out right away out to Teri Grimes. They've been friends for decades and he wanted her to know he was there for her. He showed up with a container of navy bean soup.
Cooking for his community evolved from a potluck group Doug took part in that watched Seahawk games together. Coincidentally, most of the group were employed in industries that had temporarily shut down, and many suddenly found themselves out of work. He wanted to cheer them up and figured most folks like to eat good food—especially meals they don't have to cook themselves.
Local journalist and Pickford Film Center projectionist Carey Ross likes good food, and is also fortunate to have been on the receiving end of Doug's cooking. Early on, one particular food production resulted in four dozen enchiladas individually distributed to group members. When she and another mutual friend compared notes, they realized Doug was feeding the whole group. She says the best part of getting food from him is the socially distant visit that comes with it. "He's like a little ray of sunshine."
Shortly after the shutdown, Doug learned longtime friend Bonnie Southcott was leading the Whatcom County Community Face Mask Team; he offered to be the point person. Doug saw a Facebook post by member Ramona Abbott who needed her sewing machine repaired but did not want to leave her property. He found a local repair business, drove to Ramona's, picked up the machine, and delivered it to the repair shop. When it was finished, he returned it to Ramona, along with supplies for additional masks.
Since then, Bonnie says, Doug has picked up and delivered thousands of community-made masks, as well as the materials to make them. Doug leverages the work of others and enables them to do more than they otherwise might have.
Doug brought Mish Kriz N95 masks and face shields to use in her job as a dental hygienist. He also brought some of his navy bean soup (which she admittedly wasn't looking forward to). As it turned out, she loved the soup, and will happily accept more. "Saying nice things about Doug is not hard," Mish says. "The way that other nuns look at Mother Theresa is the way regular humans look at Doug."
"He's been a sweetheart in delivering to me items I have a hard time getting due to my lack of a vehicle," adds Carlee Takizawa "He checks to see if I need more rice whenever he's shopping and even helped transfer some items I'd donated to the BLM protest downtown when I was unable to make it."
About a month after quarantine started, friend Heidi Sackerson's mother moved temporarily to Bellingham. Doug checked in often to make sure the two women were safe and had all they needed. Heidi graciously refused help—until Doug offered to bring quiche. She swears it was the best quiche she's ever had.
After that, Heidi and her mom were on Doug's regular distribution list. Once, after Doug brought navy bean soup to Heidi, she talked about it on "The Hucklebug," a podcast she's co-hosted with friend Bet Bowles for more than a decade. Bet told Heidi she would love some of the soup. Doug heard the episode, vacuum-packaged a few servings, wrapped them in cold packs, and shipped them to Bet in Virginia.
Hucklebug podcast listener Sierra Rein lives in New York. She was quick to tell me that Doug's care and feeding of her friends, especially during this time, is very special. "I'm really jealous of the food," she says. "And knowing my friends are taking care of my friends, all of that brings me great comfort. It's tempting to put blinders on and hide during a pandemic."
"He's an amazing human—and I've never met him!" says Chicago listener Michelle. "I posted recently about my dog's arthritis and Doug sent some dog treats to make him feel better. He goes out of his way to be kind. On NPR, you hear a great hero story, and with Doug, I feel like I know one." Michelle muses on how many others Doug has surely inspired to become more giving, caring or involved with people in their lives.
The woman behind the man
By his own admission, Doug is only able to do what he does in the community because of Lynn Starcher, his wife and life partner of more than 35 years. Shortly after their marriage, they invested in rental properties and Lynn says Doug was able to combine his knowledge of home repairs and strong people skills to be of service to his tenants, while still having time and opportunity to stay involved with the community.
When thank you isn't enough
Doug's fans share a struggle to find appropriate ways to thank him. Bonnie and her wife, Ellen, recently turned the tables and brought food to the Starchers. Knowing how much Lynn loves crab, the duo delivered a fresh batch of the local crustaceans they'd just caught. They knew it would especially please Doug that someone made an effort to make his wife happy.
Heidi says that every time he shows up to drop something off at her home, he's just been somewhere doing something for someone else—and then heads off to help another after their visit. When Doug left my house that day, he was headed to Heidi's to surprise her with a hard to find, out of production beverage she'd been looking for. What he didn't know was that she had a surprise waiting for him: a cape that reflects his "Super Doug" status. He left Heidi's to drop off food for Bonnie and Ellen, where he modeled his cape for them, as well.