Art has always been a part of cultural transformation. Throughout history, artists have been inspired by their times to reflect world and personal events back to their community and audience. And the COVID-19 pandemic is no different. David Syre, an Everson-based artist, has found deep and lasting inspiration in his quarantine, resulting in a new body of work that focuses on plurality as the driving force behind lasting and essential social change.
Syre's journey as an artist has taken him around the world, from Argentina to Santa Fe to Burning Man. He has made art his whole life; his creative process began in childhood, and though he had an initial career in development, he has returned to art for its power to transform and express his beliefs and dreams for a more unified world. Syre "imagines a world in which all humans live together in peace and harmony with nature."
Viewers can explore Syre's vision for this world at Gallery Syre, which is open after a three-month hiatus Tuesdays through Thursdays from 11:00 a.m. to 4:00 p.m. and by appointment. His work is always vibrant and expressive, and these new pieces are no different. They range from evocative abstractions in shades of black and white to riotous expressions of joyful color and unity.
There are 60+ new works that Syre created during this time that have their very own language and message for a better future. Mostly abstract and painted with powerful colors, these recent canvases inspire people to take a leap into the unknown, to think about new forms of living together and a new world in which humans can coexist with nature again.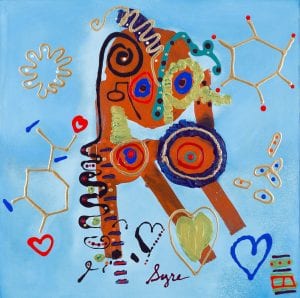 Ideas of collaboration, community, and plurality have become especially important to Syre as of late. "The COVID-19 emergency forced the entire world to stop and stay home and to find pleasure despite this situation. We had time for our families, time to reflect, time for nature, and for ourselves, time to assess what was working and what was not."
For Syre, this time involved creating new art as well as extensive study of some of his favorite subjects: spirituality, ancient wisdom, and personal evolution. Syre "keeps drawing inspiration from nature, from spiritual practice, and current events." He is eager to have his art act as a conduit for "inspiration for a better, more joyful and harmonious future."
While in quarantine, Syre has been reading books and watching films to provide creative nourishment. In Vita Activa and the Human Condition, he stumbled upon the words of German-American philosopher and political theorist, Hannah Arendt, who wrote, "Men, not Man, live on the earth and inhabit the world." To Syre, this meant that the plurality of things represents not an aspect but a condition. This plurality is the law of our existence, and Syre's new works aim to explore and unveil it.
Since plurality is at the heart of this new work, it seems only right that the line between artist and audience becomes increasingly blurred. After all, the creation of a new world is not the work of one man alone, but the work of community and the collective. That's why a key and culminating aspect of this project will be its participatory nature. Every visitor to the gallery will be invited to comment on Syre's works and share their impressions and dreams on a sticky note. These sticky notes will be collected on a public canvas, which will be displayed at the entrance to the gallery. The intention is to create, by the end of the exhibit, a collective vision board for a better future.
David Syre: Envisioning a Better Future opened on July 21 and runs until November 7, 2020. The gallery is committed to maintaining a healthy and safe environment. All visitors to the gallery and staff are required to wear masks at all times. The space is very large and provides plenty of room to social distance; it is also air conditioned.
Syre's better future is a collaborative one; all great social transformation takes the power of collective contribution and creation. So if you'd like to participate in this artistic awakening, make an appointment to stop by Gallery Syre. Appointments and more information can be accessed by contacting info@davidsyreart.com or www.davidsyreart.com.
Sponsored