From multimillion-dollar blockbusters to dime store page-turners, comic books and the superheroes inside them are an ingrained part of American pop culture.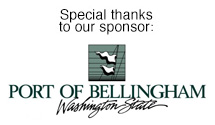 For Lynden resident Jeremy Lott, they've been both an important part of childhood and an enthusiastic part of adulthood. Recently, the 41-year-old began taking homemade comic book concepts and hiring independent illustrators to bring his ideas to life. The result is a series of comic books with unusual and relatable superheroes, saving the day in local settings like downtown Bellingham.
For Lott, a freelance writer and author of several books, the allure of comic books is all about fun.
"I really do prefer comics as escapism as opposed to comics as social commentary," he says. "I like a wide variety of comic books, but especially now, the world is pretty awful. Why not read about something that isn't awful?"
Learning to Fly
Lott's passion for comic books began with a little-known, live-action superhero movie from about 40 years ago. During a childhood visit to a video rental store, his parents let him pick out a film. Lott immediately gravitated towards the Disney shelf, where he found a VHS tape of Condorman.
"My parents regretted that," he says with a laugh. "I probably had them rent that, I don't know, 20 times or something. I just watched it over and over again."
Condorman features a comic book writer who becomes involved in international intrigue after agreeing to a simple favor for a friend in the CIA. The writer winds up facilitating the defection of a high-level Soviet KGB agent, who wants to work with Condorman because she mistakenly believes he's a high-level American agent. The adventure allows him to act out the fantasies of the hero he illustrates in his own comics.
The film not only began Lott's idolization of comic book writers and artists, it even affected his early politics.
"I hated the Russians," he says. "They wanted to stop this nice lady from defecting and going to watch a baseball game in America."
During the 1990s, Lott independently bought and sold thousands of comics. He thought it'd be cool to eventually own a comic book store or become a comic book creator, but eventually dismissed the ideas as childish. After moving to Washington D.C., Lott spent seven years working as a writer for think tanks and magazines.
Eventually, when he moved back to the Pacific Northwest and began a family, he also rediscovered his love of comic books.
"I've been reading and collecting ever since," he says. "Mostly reading. I don't particularly care if I have a complete collection of the X-Men or whatever."
Drawing It Out
A couple years ago, Lott noticed many independent comic book stores and distributors having financial issues and closing down. With fewer comic book opportunities and plenty of illustrators needing work, he felt now was the time to either create his own comics or regret not doing so.
Drawing on dozens of ideas he'd collected, Lott began writing out story scripts. Through the internet, he then solicited illustrators from across the world, paying them what he could and working with them to craft the proper panels for his written story concepts.
Lott says he loves working with artists who have very different styles, giving each of his comic concepts a different look and feel. Seeing his ideas come back to him as an illustrated reality, he says, is like walking into a comic book store on new issue day.
"It's so much fun," he says. "I sort of have an idea in my head of what something will look like, and I love it when an artist takes it and does something similar to what I said but different, and just completely surprises me."
His first comic book is Movie Men, a 20-page story Lott crowdfunded for about $2,500 last year. The fundraising exceeded expectations, allowing him to break even on illustration and publishing costs. He offered Doug Curtis, an artist from Minnesota, the chance to design the main characters, who are local movieplex employees forced to deal with an unexpected situation. Lott says he was inspired by frequent movie-going a few years ago.
"Regal Cinemas had re-designed their uniforms in a way that I thought kind of looked like dorky X-Men costumes," he says. "I went to several employees and asked, 'Does that costume make you feel like a superhero?' They all looked at me funny."
In the comic, the five employees are forced to deal with the fallout of a 'reality bomb,' which knocks villains off their screens and into the community. Bellis Fair Mall and other local landmarks make cameo appearances through the pages of the first two issues of the comic. Lott walked through downtown Bellingham while working on the story for the second issue, and his wife took photos of various settings that were then given to Curtis to illustrate.
The comics are being distributed by Wikid Publishing, an indie comic company that also distributes a comic called Sporkman—a superhero whose costume prominently features a combination fork-and-spoon. Lott has already approached Sporkman's creator, and yes—there will be crossover issues.
Another of Lott's soon-to-be-released comics is Ptero: Soar, his love letter to Condorman and Spider-Man. It features a main character with a flying suit like a pterodactyl, and is set in Seattle. The beginning of the comic features the protagonist attempting to buy the knife another man threatens him with. The protagonist offers paltry sums of money for the purchase until the man walks away, shouting "you're a better con artist than I am."
This actually happened to Lott years ago, while attending Tacoma Community College. A man with a knife approached him in a parking lot, and incident ended the same way. Most of his comic ideas, however, aren't autobiographical, including one for another soon to be funded project: Murder, about a mysterious character that forms a unique relationship with a group of crows.
For now, Lott's comics are available as 99-cent digital downloads, and are available in physical form to those who help his crowdfunding campaigns. Eventually, the plan is to make physical copies available at The Comics Place, a comic book store in downtown Bellingham.
In the meantime, Lott says he's continuing to have a lot of fun making up superheroes, especially street-level ones readers can relate to more than those with otherworldly powers.
"Honestly, when you have characters that can do everything, it gets boring," he says. "We have flaws, and we want to see that reflected in our characters. We have limitations, and we want to see that reflected in them, as well."