Submitted by Barron Heating & Air Conditioning
Heat pump, meet solar! As home heating and power solutions evolve, we'd love to introduce you to the hottest trio on the block: solar, a heat pump, and a heat pump water heater. From ultimate energy-efficiency and cost savings to rebates and tax credits, these three prove to be smart, green investments in sustainable energy and your home.
Big changes are expected in the coming years relating to energy sourcing and usage. Our state, and specifically Whatcom County, have been at the center of the conversation, actively exploring our future of sourcing renewable power. One of the buzzwords many of us have been hearing is electrification, or the conversion from fossil fuels to electric power. "Going solar" with your home is a fantastic way to do just that.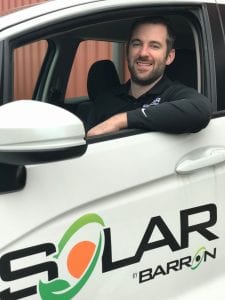 Solar power is an all-electric solution that harnesses the natural energy supplied through radiation from the sun and converts it into energy used to power your home. Solar allows you to own your own power and generate it at the point of use, reduce your dependency on fossil fuels, and increase the value of your home. In fact, studies show your home's value can be increased by an average of $18,000 by adding solar power. And with high-efficiency savings and financial incentives, reducing your environmental impact is now more affordable than ever. Washington State offers tax exemption on any solar installation and the federal government offers tax credits, granting a dollar-for-dollar tax decrease to homeowners and businesses alike.
Looking to step up your heating and cooling game? Combine heat pump technology with your solar system for even better energy efficiency. While heat pumps of old were often known for running in short, inefficient cycles, the units of today have jumped on the energy-saving train. Modern systems are increasingly smart, continuously running at low, energy-conserving levels to reach your desired temperature and maintain it throughout the seasons. Take the Daikin Fitsystem, for example. A sleek, high-efficiency advancement in electric heat pump technology, the Fit meets your comfort demands with the efficiency to go easy on your pocket.
Your heating and cooling system may be one of the first things that come to mind when you consider the energy usage in your home. But have you thought about your water heater? Switching from a standard electric water heater to a modern heat pump water heater can reduce your energy consumption by up to a whopping 60%. While still an all-electric option, these water heaters can save you up to $300 a year on water heating costs and can qualify for utility rebates and tax credits. What's more, most heat pump water heaters have much longer warranties compared to standard electric models—typically between 10-12 years.
Can you picture it? Walking in the door after a long workday to a perfectly maintained temperature in your home. You jump into an instantly hot shower, wash the after-dinner dishes, then give your kids a bath…all using your very own power your solar system has been generating. Talk about ultimate energy efficiency! GO SOLAR and combine it with heat pump technology and never pay for heating or cooling your home again. 
Choose a company you know and trust. Let Barron's licensed technicians install both a heat pump AND a state-of-the-art heat pump water heater with your solar system—the trio that will transform the comfort and energy demands of your home. All qualify for exceptional energy-smart financing options, savings, and rebates. Add in a 26% solar tax credit and we're talking thousands back in your pocket.
Give Barron a call for a free estimate and learn about all-electric technologies to achieve ultimate energy efficiency today.