When Washington State legalized marijuana a few years ago, Satori became downtown Bellingham's first and only pot shop. Just a few months after opening, Satori hired Jessi Thomas, who worked her way into a role as a buyer. Unlike many other careers, there's no educational path to this position, so she learned the ropes as she went along.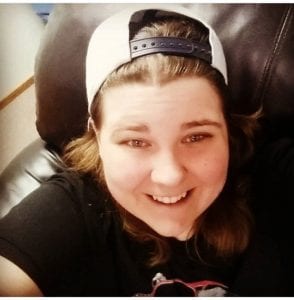 "I was born in Nevada, grew up a little bit in North Dakota, then we moved here when I was younger," Thomas says. "I really enjoy Bellingham for its diversity in different ways. We're seeing now how open our community is, and how strong it is, and that's something I really enjoy."
After spending a few years working at Lowe's, and then some time at Rent-A-Center, Thomas joined a family business. Her brother asked if she'd be interested in working for him if he opened a medicinal marijuana collective. She wasn't sure he was serious, but two weeks later he had opened and asked Thomas to work for him. "I didn't really know anything about cannabis at that point," says Thomas. "He was in charge of the flower and the concentrates, and I was in charge of the edibles and the tinctures. And that's how I started working in purchasing."
When Initiative 502 passed and medical collectives yielded to retail stores, Thomas moved with the tide. She was happy to find a home with a company that reflected her experience thus far. "They focus on medical cannabis as best they can; that's what drew me to Satori," she says. She started at Satori as a budtender, and worked her way up to assistant store manager. Now she works for a different portion of Satori, doing the buying. The work she did with her brother has been helpful in the position. "A lot of the folks from medical have transferred over to I-502 companies," she says, "so I was really lucky to have a lot of relationships prior to Satori."
Providing for patients who are using marijuana as medicine presents its own sets of challenges—for retailers as well as growers. "Medicinal patients can have higher levels of THC and CBD in their edibles, and there are very few companies who make products like that," Thomas says. "If it's going to be medical-grade cannabis, is has to go through rigorous testing. By Washington law they have to send it in to a testing facility, who test for particular micro-toxins, pesticides and things like that. It's more expensive as well, so that's why it's hard to find."
Along with Dana Plotzki, who works out of Satori's Spokane location, Thomas values doing business with local growers, and also enjoys bringing products in from other parts of the state. "We pride ourselves on having quite a few local options, and we do well with them," she says. "A lot of them have actually gone on to our two other locations, because we like to show other parts of Washington what Bellingham has to offer, and vice versa. We have Spokane farms here that do really well."
One challenge is learning about the vast variety of products available, each with its own specialty and use. "There's indica, which has the very calming, relaxing feel that some people go for, and then there's sativa, which is very excitable, uplifting and artistic," says Thomas. And then there are hybrids, which are a mix of the two.
"Particular strains have been known to help with particular things," she continues. "Blue Dream is a sativa dominant hybrid, but whereas sativas are known to make some people anxious, it's actually been known to help with Post Traumatic Stress Disorder, because of its cannabinoid structure. We try to find a mix of all of those to have in store, because everybody is so different."
That broad range of customers is one aspect of the job that Thomas enjoys. "We see a wide variety of folks, and the Bellingham location has a quite a few members of the queer community that work here. I think that's incredible. I am also gay, and working in this area has been very comfortable for me—I've never had a really bad experience because of who I am," she says. "Satori should be really proud of how inclusive they are. I work here because of how wonderful they are, and I do think that people would like to know this is a safe space for all walks of life."
From her beginnings in the back room of her brother's business to her position as a Satori purchaser, Thomas is happy to have found a home matching products to customers. "It's a really incredible industry to be a part of, and there's a really good community of people who really support each other."
Sponsored